JUNE 19, 2019 — Aviation has an august history of firsts. You may know many of their stories — Wright, Earhart, Armstrong and Naylor.
Wait…Naylor?
John Naylor is an Air Force veteran and aviation pioneer you may not know. His dream is to revolutionize aviation by making airports more sustainable.
As the Chattanooga (Tenn.) Airport Authority vice president of Airport Planning, Naylor was in the position to make his solar dream possible.
"We were the first airport in the nation to meet our renewable energy goal by building a utility-grade solar farm," Naylor said proudly. "Travelers today look for airports and airlines that can meet their needs, AND they look to their airports to be leaders in sustainability."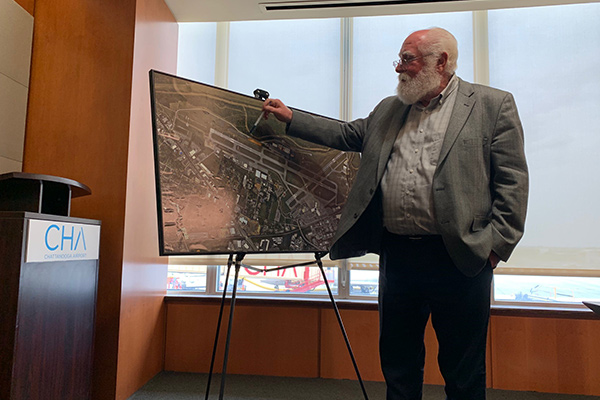 On June 19, 2019, the airport celebrated the grand opening of their solar farm with project partners including TVA and local power company EPB. City of Chattanooga Mayor Andy Berke also attended to make a joint proclamation with the government of Hamilton County declaring June 19 as "Going Solar Day" to mark the occasion.
After nearly 50 years in the airline industry, Naylor will retire in June 2019. We caught up with him to capture his thoughts on how renewable energy will impact the airports of the future.
What got you into the aviation industry?
I grew up in the country and used to lay on my back in the fields watching aircraft fly overhead. That started my interest in and love of aviation. I wanted to become an architect when I graduated from high school and applied to several universities that had architectural programs. My parents were poor and couldn't pay for my tuition so I applied for scholarships.
It was also during the Vietnam war and I was going to be drafted. I took the test for the military and was told that I was qualified to pick any military occupational skill I wanted. I had just watched the movie Airplane and choose Air Traffic Control. Silly reason, but the rest is history. The long and short of it is that I have spent the last 48 years living my two passions: aviation and architecture. I have had a great career with no regrets.
How have travelers' expectations changed over your career?
When I started passengers wanted to go from point A to B on time and safely. Today, travelers also want airports to be leaders in sustainability. We do that at the Chattanooga airport. That means more than just reducing our electricity consumption — it also means taking steps to reduce the impact of fuel. For example, we've taken measures that allow planes to be turned off while they're at the gate while maintaining power for the crew still onboard. That saves 30 to 45 minutes of fuel being burned for every flight.
What do you envision as the future of energy for the aviation industry?
I see the future of aviation is continuing to lead in the sustainability movement. I expect airlines and aircraft manufacturers will go to more efficient engines that burn less fuel or use biofuels, which produce less emissions. There's even testing happening now for battery and solar aircraft!
For airports, we'll see them continue to reduce their carbon footprints. I envision a completely electrified airport in the near future as more equipment gets converted to electric. My ultimate vision — I see blue skies and clean air!
How has the role of renewable energy evolved over the course of your career?
There's been a lot of things changing in renewable energy. When I started 48 years ago, the only renewable energy around was made by TVA's hydro-electric dams. Solar has been around a long time now, but you didn't hear much about it until about a decade ago. Progress was slow in the beginning of the movement toward greener energy, but advances come along fast these days, and we're proud to be part of it.
What has the airport done to be more sustainable?
In 2007, the airport used 5.6 MW of power. Over the next three years, we took steps to reduce our consumption. Taxiway lights were switched to LED, the terminal's heat and air systems were replaced with high-efficiency units, and heat and air are only run when needed. With these measures, we reduced our power consumption by 2 MW per year. Yet our power bill remained the airport's biggest bill.
Why did the Chattanooga airport go solar?
The airport's president tasked me with finding more solutions to reduce our electric bill. In 2010, I developed a vision for leveraging solar power and presented it to the Federal Aviation Administration. We requested to build a solar farm that would generate 3 megawatts of power. We were ultimately allowed to pursue 1 megawatt as a pilot. We were awarded a grant where 95% of the cost of the installation was covered by federal funding. That solar array went online in December 2011.
In 2013, we went back to ask for more funding from the FAA and were able to build the second phase of the solar farm. In 2018, we went back for a third phase of funding and brought the final phase online on April 15, 2019. We now can generate 2.64 megawatts of power.
We were the first airport in the nation to achieve our renewable energy goal of generating an amount of green power to match our airport terminal's energy usage.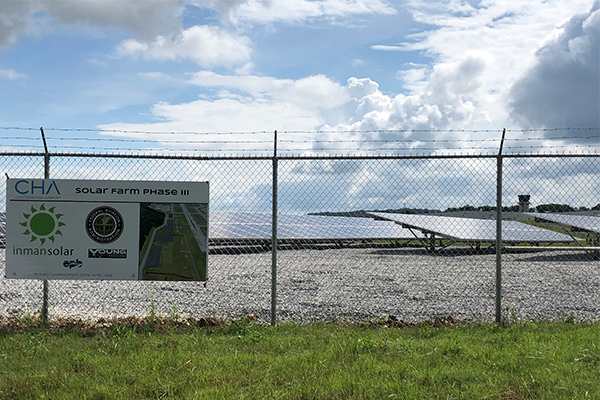 Was solar an easy sell or did opinions change over time?
At first the FAA was worried about solar installations at airports due to reflectivity issues interfering with pilots' lines of sight as they're landing. They really pushed back on us during our first grant application. We had to bring the solar panel manufacturer to the table with the FAA's regional office staff to help allay their concerns. Ultimately, we changed the angle of the panels to put the reflection above the pilot's line of site for final approach, which made them comfortable enough for us to proceed.
Renewable energy has become more accepted and there's more interest in solar from the general public. People contact us all the time to ask about what we're doing with solar, and we get a lot of interest from the education sector – doing tours of the installation, speaking to classes, etc.
Fast forward to today, there are several airports around world that have gone 100% solar. After Chattanooga, you had Atlanta and Nashville, Boston, Denver, San Francisco. Even in Saudi Arabia, where they have all the oil they need!
Did partnerships with your local power companies play in your solar project?
Absolutely. Airport authorities must develop strong partnerships with their local power companies. Without Electric Power Board (Chattanooga's power company) and TVA, the airport's solar project would never have happened.
Even with all the assistance we got from federal government, we had to have our local partners to make it work. We can leverage what all of us bring to the table to do a whole lot more than if we tried to go it alone.
The Chattanooga airport is here solely to support our community and customers, and one way we do that is by helping clean the air as providers of green power.
If we didn't have these partnerships, we couldn't do as much for our community. Not only are we helping clean the air, but the money we save allows us to keep costs low for airlines. In fact, we haven't raised costs on airlines in 7 to 10 years, which makes us attractive to airlines and helps us get more routes. That means more convenience and better service to our customers.
Why is renewable energy important to Chattanooga and the Tennessee Valley?
It's important because in Chattanooga, we sit in a bowl. The mountains around us are beautiful, but they trap emissions in the valley. The more emissions produced, the worse our air is, which you could see in the 60s and 70s when it was so bad here. If we make renewable energy, it helps clean the air because it's not producing emissions. When anyone in the Valley contributes to reducing emissions, it helps everybody.
Thinking of other businesses in the Valley with high energy demands, what advice would you give them going forward?
I would tell them to think outside the box about renewable energy. Nobody was talking about solar farms at airports when we started down this path. Start small by taking steps to reduce your energy consumption, then reinvest those savings into larger projects.
I'd also tell businesses to get TVA and EPB to the table from the start. We're a team. Our move to produce renewable power started out about saving money. But it's not about money. We're not netting money on this solar farm. It's about serving our customers, and TVA, EPB, and the airport all have the same customers. We're proud to provide green power to the Tennessee Valley!