SEPTEMBER 16, 2019 — Last week, TVA flipped the switch on another solar project.
A new 6MW solar facility at the Naval Air Station in Meridian, Mississippi includes more than 15,000 solar photovoltaic panels on approximately 38 acres that will produce enough energy to power 750 homes. It's the result of a partnership between the U.S. Department of the Navy, Silicon Ranch, East Mississippi Electric Power Association and TVA.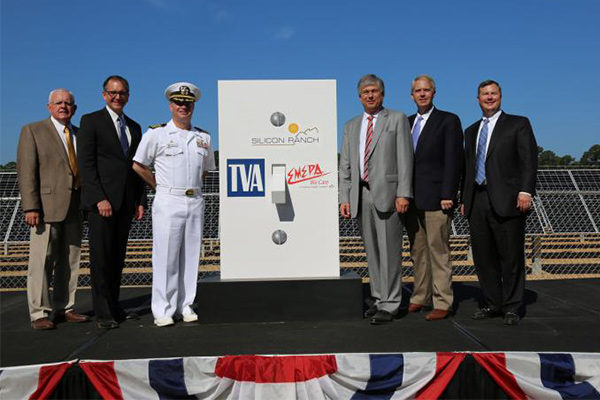 This solar power site will provide clean, renewable power to the electric grid at a cost-competitive rate. It also supports the Navy's initiatives to focus on energy resiliency, efficiency and reliability.
"Partnerships like this one strengthen Naval Air Station Meridian and enhance our ability to perform the critical function of supporting warfighter capabilities and readiness," said NAS Meridian Captain Brian Horstman.
"TVA is committed to being a trusted energy partner as part of our mission of service to the Valley," said Vice President of Commercial Energy Solutions Doug Perry. "The solar installation at Naval Air Station Meridian reflects TVA's ongoing commitment to provide clean, local, renewable energy generation as a fully integrated part of the larger power system to best serve the power needs of the nearly 10 million residents of the Tennessee Valley."