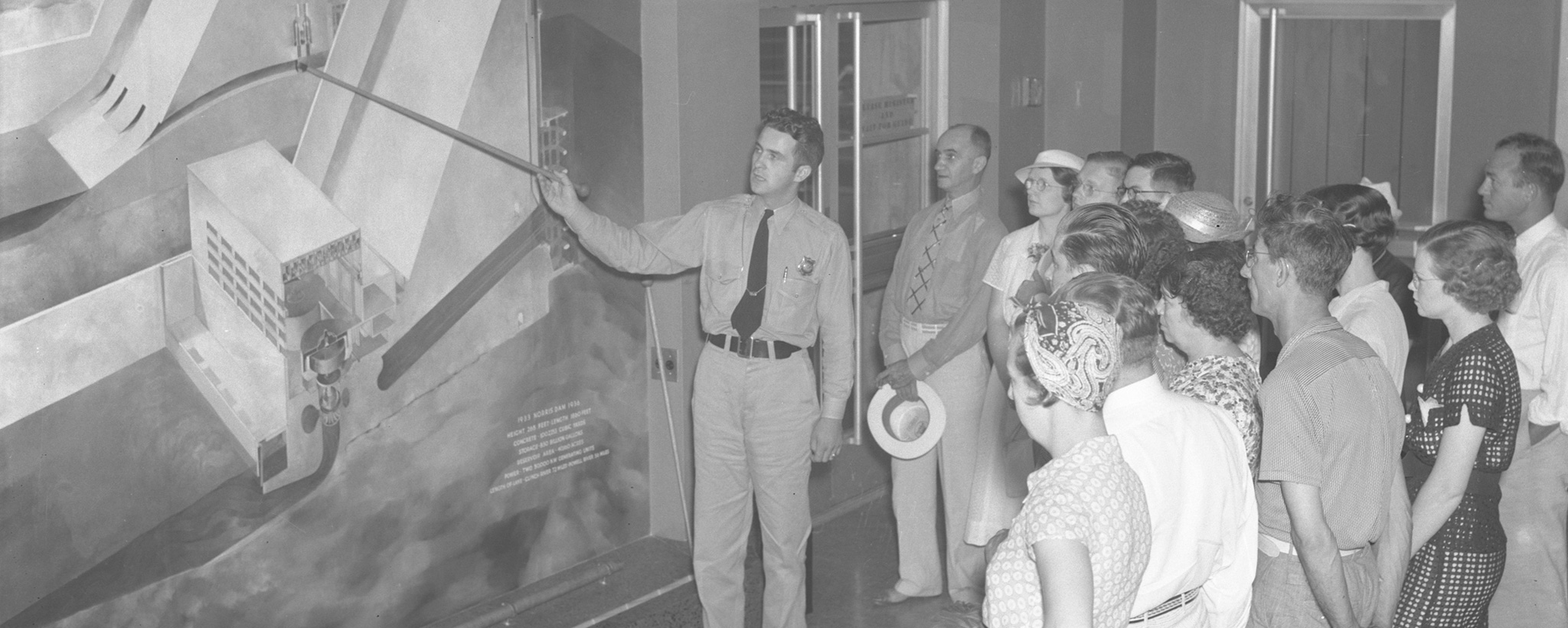 TVA Turns 90
Join us in celebrating TVA's 90th anniversary in 2023! This summer, we're offering the opportunity to tour several of our monumental dams. You can also catch our road show at various community events, follow Pat and Ashley's adventures, or read Heritage articles and other historic content.
Dam Tours
This summer, TVA offered tours of seven of our dams to randomly selected members of the public, allowing them to see the inner workings of a dam and learn how we produce clean hydropower while ensuring the health of the waterways. We appreciate the tremendous interest and are planning future tours as operational, security, and personnel needs permit.
Virtual Tours Inside Our Dams!
Go behind the scenes to see how some of our most celebrated dams work and discover the unexpected beauty deep within.
Kentucky Dam
Take a virtual tour of TVA's longest dam—a muscular powerhouse that connects the Tennessee River to the National Inland Waterway.
Fontana Dam
TVA's tallest dam was built in a hurry to help power the industries that would help win WWII. Read and watch for more.
Guntersville Dam
This southernmost dam in the TVA system is a hidden art deco gem. Take a virtual tour.
Norris Dam
TVA's very first dam, constructed in 1933. Take a virtual tour.
Raccoon Mountain Pumped-Storage Plant
In TVA's largest hydroelectric facility, water is pumped to the reservoir on top of the mountain and then used to generate electricity when additional power is needed. Take a virtual tour.
Wilson Dam
Built for WWI, but the war ended before it could spin up its turbines. The dam gained new purpose with the founding of TVA. Take a virtual tour.
Pat & Ashley's Excellent Adventure
TVA Historian Pat and Social Media Specialist Ashley are taking an epic road trip, visiting TVA generation facilities, employees, local landmarks and attractions across seven states that make where we live and work a great place to be.
Follow their adventure on Facebook and Instagram or watch the recap on TVA.com.
Day of Service
​
On May 18, TVA celebrated its 90th anniversary by participating in the largest day of service in our history. More than 2,000 employees and 125 retirees fanned out to volunteer in all 201 counties of our seven-state service area. In all, they logged 10,000 service hours.
Read a recap of this historic day.