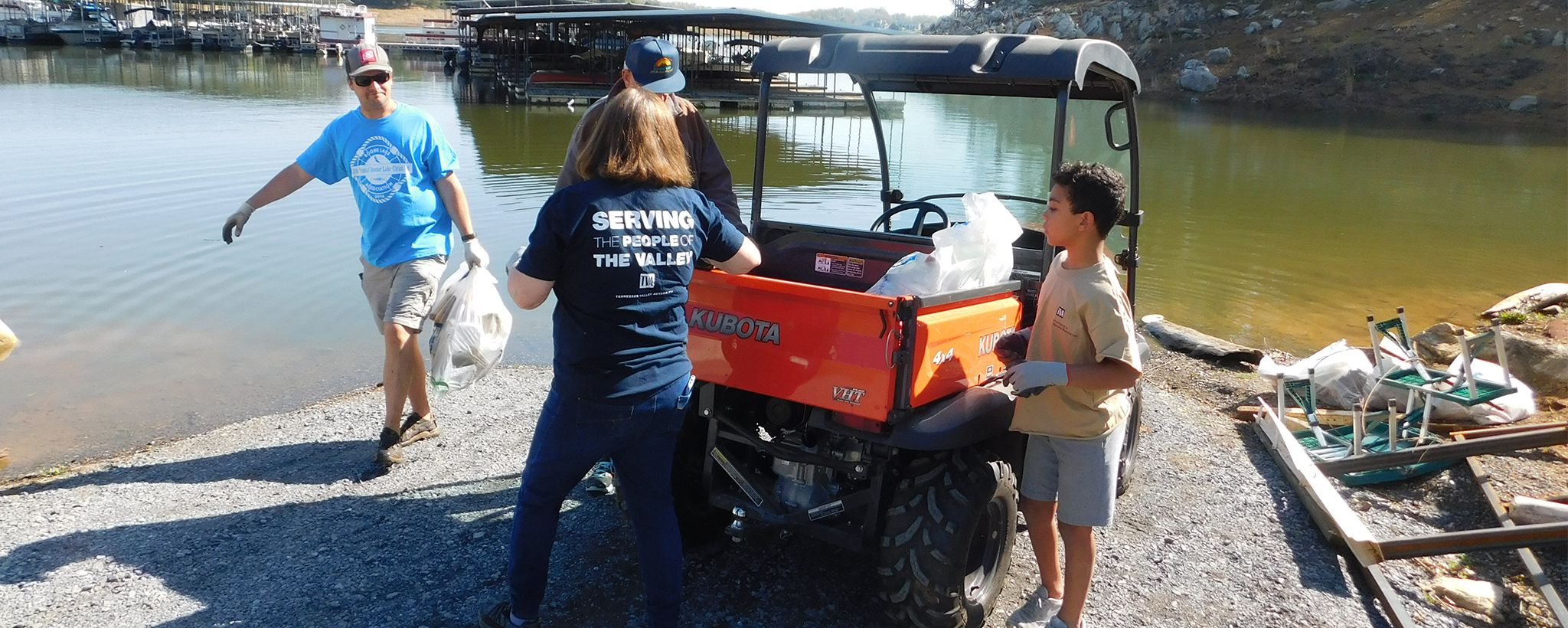 Partnering with You for a Cleaner Tennessee Valley
Planning to host a river or reservoir cleanup effort? TVA can help with up to $5,000 in funds to cover trash bags, gloves, litter grabbers, dumpster rentals, safety items, first-aid kits, refreshments, boat rentals and more.
You wouldn't believe the things you can find at the bottom of a lake, but Lenny Peterson could tell you a tale or two. He's fetched up vacuum cleaners (yes, multiples), a garbage disposal and even a picnic table from the depths of Boone Lake.
Peterson is passionate about keeping the lake clean and volunteers at TVA sponsored cleanups at Boone's Rockingham Marina each year. By lunchtime, the volunteers at Rockingham have typically already filled one large dumpster with such eye-popping debris.
But Peterson knows they could do more. Each year he brings more family members to help. This year, he recruited his wife, daughter and two grandchildren.
"The Boone Lake cleanup provides an opportunity to lead by example," says Peterson. "Cleaning up the lake shows the importance of good stewardship. It helps the next generation to understand proper disposal of wastes, and they get to see a caring community."
Partners in Stewardship
Martha Podren manages TVA's Reservoir and Community Cleanup (RCC) Fund which supports clean up efforts in the TVA service area. "Many volunteers continue supporting clean up efforts in their community following these type of events," she says. "Lenny is a great example—he and his family have volunteered with the Boone Lake Association Clean Up for three years in a row. That's dedication."
TVA Natural Resources offers assistance through the RCC fund to non-profit organizations seeking to do cleanups within the TVA service area. These funds cover the cost of supplies such as trash bags, gloves, litter grabbers, dumpster rentals, safety items and first-aid kits for volunteers. Other incidentals may also be covered including food, (non-alcoholic) drinks for volunteers during the cleanup event, publicity and/or rental of boats specifically for use during the cleanup.
"We've seen a growing interest in our RCC program and we're proud to partner with organizations in communities across the Valley to make a difference," says Podren. "In 2017, we provided $155,000 to 68 organizations to support cleanup efforts."
Requests should be submitted on letterhead detailing the name, date, and location of the event with an itemized list of supplies for purchase and the total amount requested. The request should include contact information, including mailing address and the group's IRS EIN (Tax ID) number. Once requests are approved, groups sign a simple letter of agreement with TVA.
Funds are limited and there is a $5,000 limit per year, per organization from the RCC fund. Requests should be sent to RCC Program Manager Martha Podren at [email protected].
Seeing Results
Over 230 tons of trash were removed from the Tennessee River last year with the Keep the Tennessee River Beautiful and the RCC. Some of the other organizations TVA has partnered with include: Keep the Shoals Beautiful, Ijams Nature Center, Emory River Watershed Association, Haywood Waterways Association, Clean Memphis, Keep Blount County Beautiful, Keep Bristol Beautiful, Cumberland River Compact, Harpeth Conservancy, Boone Lake Association, Cherokee Lake Association, Flint River Conservation Association, Upper Tennessee River Roundtable and Friends of T.O. Fuller State Park.
"Seeing the results from a cleanup helps define its success, and keeps people coming back to do it again," says Podren.
Partners receiving funding are asked to share statistics about the cleanup, including how many volunteers participated and how much trash was collected. Photos from the event and links to social media or other media coverage should also be shared so that TVA can help tell the story of the difference volunteers are making for a cleaner Valley.