The Power Behind Robotics
Ever wonder what powers the Tennessee Valley's student robotics programs? Is it nuclear…wind…solar…hamster wheels? Nope. It's volunteers.
As a parent, have you ever turned to someone and said, "Did you see that? My kid did that!" Volunteers have watched scenes like that play out at more than 40 TVA-sponsored robotics competitions across the Valley during the 2015-2016 season.

"Volunteers are what really power the Valley's robotics programs, and we need more of them," says Charley Spencer, TVA Community Relations program manager.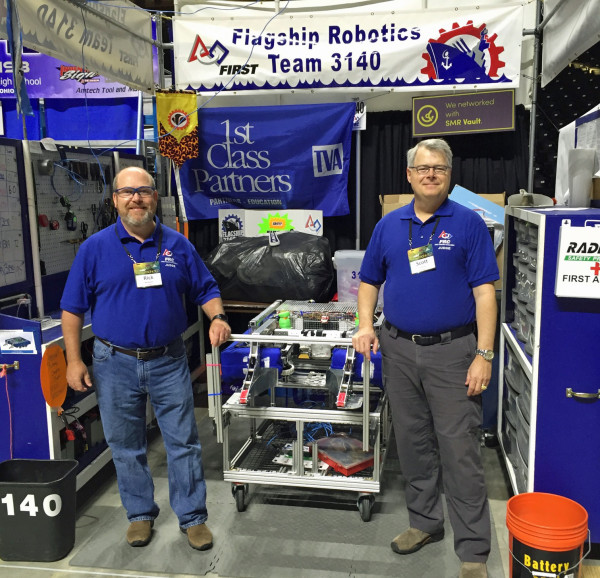 FIRST Robotics Smoky Mountains Regional volunteer judges and TVA employees Rich Buchanan and Scott Gureck pose with the robot built by Team 3140, Flagship Robotics from Farragut High School in Knoxville.
Spencer leads a team of TVA employees, retirees and robotics enthusiasts who help support the Tennessee Valley's robotics programs. He estimates that there are more than 500 elementary, middle and high school robotics programs across the Valley, and more schools are interested in starting programs. TVA volunteers are needed to help.
Preparing Kids for the Future
For more than a decade, TVA has supported these programs as a way of promoting STEM-related education. Strong STEM (science, technology, engineering and math) skills are critical for developing the workforce of the future. In addition to assisting Valley robotics teams with financial support, TVA employees and retirees power them up with an even more valuable resource—their time. (Read more about TVA's commitment to robotics programs in our feature story, "Watch Out! Robots in the Valley!")

"I had an awesome day meeting amazingly talented high school students and their families," says Jennifer Bryant, a controller in TVA's Financial Operations and Performance office who volunteered at a recent robotics event, at both the TVA booth and the at greeting station. "I think I got more out of the day than the kids did. They taught me about their robots and I was able to introduce them to TVA opportunities."

"For Valley robotics programs to succeed, we really need two types of volunteers," Spencer explained. "First we need folks like Jennifer who can help out on the weekends at the competition. Then we need those folks with technical skills that can mentor the students when they are building their robots."
Skilled Volunteers Needed
Perhaps surprisingly, the robots created at the middle school and high school competitions require an advanced level of machining, engineering and programming. Volunteers are needed to share their experience to help the students learn and solve problems in a fun way.

"STEM skills are in great demand, and those jobs garner higher wages," Spencer observes. "Volunteers are important to help robotics programs immerse children in real-world, team-based STEM challenges. This exposes them to career choices they may not have considered otherwise."

Studies show that over 80 percent of the jobs in the Valley will require a degree or certification after high school. "Let's face it, playing with robots is a fun way to get children excited about high-paying careers," Spencer adds.

Over 30 TVA employees and retirees, including the Women in Nuclear from Browns Ferry, volunteered at various recent robotics competitions to help make them successful.

"I enjoyed hearing about the students' experience with the competition," says Amy Henry, TVA National Environmental Policy Act program manager. "I was especially grateful for the opportunity to take my 10-year old daughter, Kate, to see the competition. I hope she will consider being on a team one day."