Two Valley Teams Advance to Robotics Championship
Two Tennessee Valley robotics teams will advance to the Georgia State Robotics Championship after competing at a TVA-sponsored FIRST Tech Robotics Competition in Huntsville, Ala. recently.
Teams that competed in Huntsville came from as far away as Nashville and Memphis to participate.
The two Valley teams advancing to state are:
Lynx Robotics, Lausanne Collegiate School, Memphis, Tenn.
SFMS Team Impact, Schilling Farms Middle School, Collierville, Tenn.
Teams that win at the Georgia State event later this February will compete at the FIRST Robotics national competition in St. Louis this April.
For over 10 years, TVA has supported Valley robotics programs to get students excited about STEM subjects (science, technology, engineering and math).
Scott Degraeve, TVA program manager—and keynote speaker in Huntsville—said, "As an engineer, it's fun to talk to the students and see the different solutions they came up with to solve the same problem." According to Degraeve, the teams spent months designing the robots.
"It is really cool to watch how the teams can take a kit of parts, cell phones and game controllers and turn them into fully functional robots."
At the Huntsville competition, 14 teams comprised of students from the seventh through twelfth grades used their robots to complete pre-determined "rescue missions" in a two-on-two, head-to-head competition format. Teams had to save plastic balls and cubes and drive their robots up an incline to score points. Teams were also awarded points based on design, innovation and teamwork.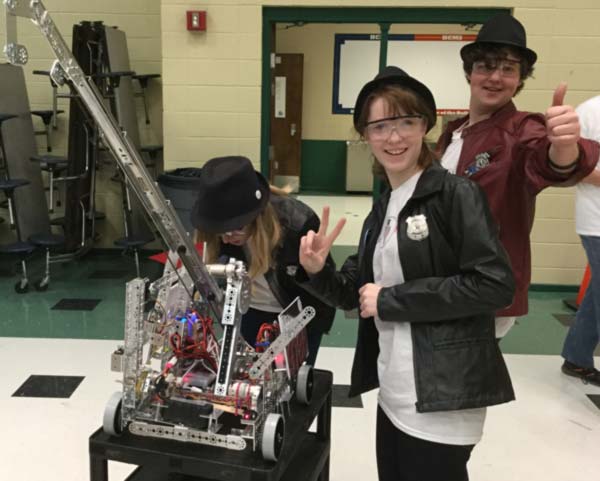 Currently, there are over 500 elementary, middle and high schools in the Valley that have robotics programs, and TVA sponsors over 39 robotics competitions across the Valley. TVA is committed to supporting robotics and other STEM programs because jobs of the future will depend on a workforce proficient in these skills.
TVA Community Relations
TVA contributes to Valley youth through educational programs and competitions focused on energy related subjects (STEM) and robotics in both primary and secondary schools. By keeping our focus squarely on STEM and robotics for school-related assistance, we are helping educate the future workforce and building a pipeline of future employees for TVA and other businesses in the Valley. In essence, we are helping ensure that today's Tennessee students are ready for tomorrow's jobs. Read more about TVA Community Relations.