"Since 1933, TVA has been committed to providing public power in the Tennessee Valley by partnering with those best suited to understand local needs, which are the local communities themselves. Erwin Utilities is proud to have partnered with TVA to provide safe, reliable and efficient service to the people of Erwin and Unicoi County since 1945. We look forward to TVA's continued partnership to preserve and support local power companies, large and small, to ensure that each community, regardless of size, is able to provide public power that meets unique local needs."
---
Lee H. Brown
President and CEO
Erwin Utilities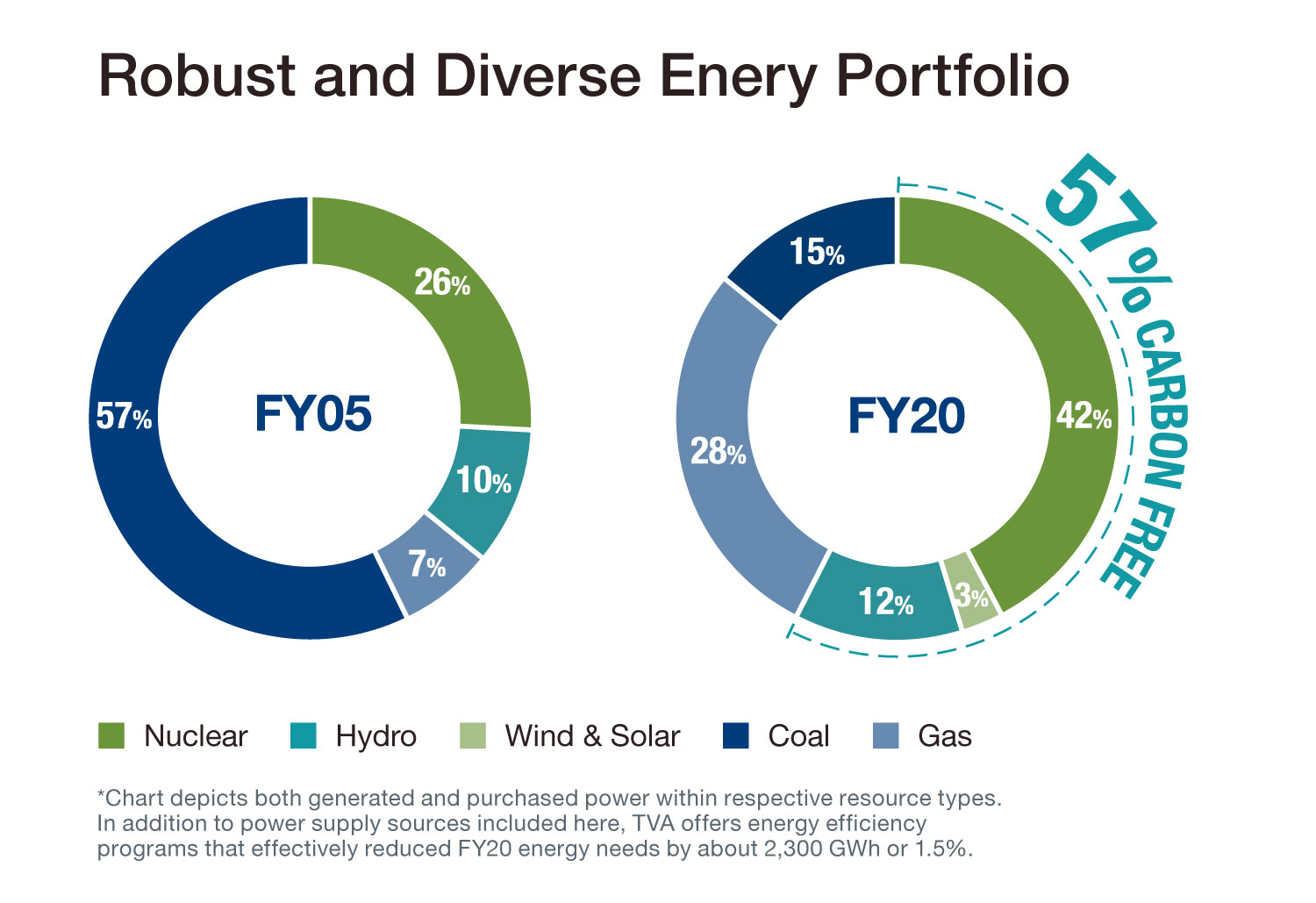 ---
Innovative
TVA is incorporating modern technology into grid operations that will help prevent outages and restore power more quickly, as well as give us more control over how the grid operates and behaves. This work helps address market demands that require a more flexible system that can integrate solar power, automation, electric vehicles and more.
---
Clean
As renewable resources become less expensive and more advanced, we are developing innovative new energy systems in coordination with LPCs to further reduce our carbon emissions and provide customers with cleaner power without sacrificing reliability or cost.
---
Reliable
TVA has delivered 99.999% reliability since the year 2000 across 16,300 miles of transmission lines. We continually invest in new transmission lines and facilities to ensure we can provide power reliably where and when needed, even in the most demanding conditions of heat and cold.
"During these extraordinary times, the benefits of public power have never been more evident. As other areas of the country experience rolling blackouts, millions of residents across the Valley continue to enjoy some of the lowest electric rates and highest levels of reliability anywhere in the country, because of TVA and its leadership. As the impacts of the pandemic became apparent, not only did TVA immediately step forward in its regulatory role to provide each LPC with the ability to offer flexibility in terms of payments and suspension of service, but it also provided much needed financial assistance to our customers through the Community Care Fund."
---
Gregory J. Fay
President and CEO
Clinton Utilities Board
---
Low Cost
Because of the diverse make-up of our energy portfolio and our efficient operations, TVA has kept energy rates low and stable. TVA rates are lower than 70% of the top 100 U.S. utilities. Thanks to strong nuclear and hydro performance, we delivered the lowest fuel costs in over 10 years, and we are working to keep electricity rates stable for the next decade.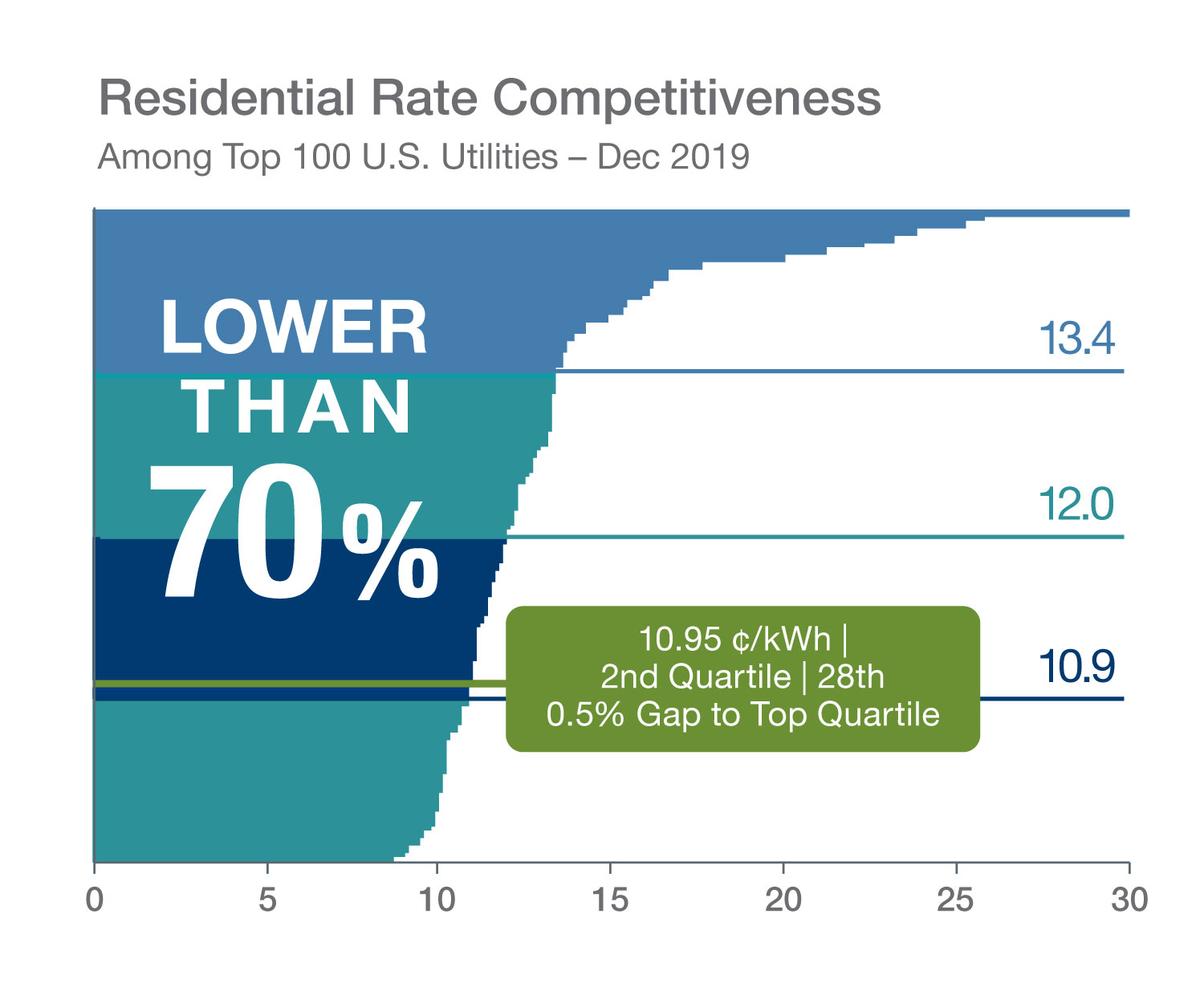 ---
Safe
2020 was one of TVA's safest years on record, and compared with industry peers nationwide, TVA has one of the lowest rates in both recordable injuries and serious injuries. TVA's focus on reducing serious injuries using innovative trend tracking and metrics, strengthening employee engagement in vital safety behaviors and enhancing governance and oversight through the local Health and Safety Committees has led to TVA's impressive safety record.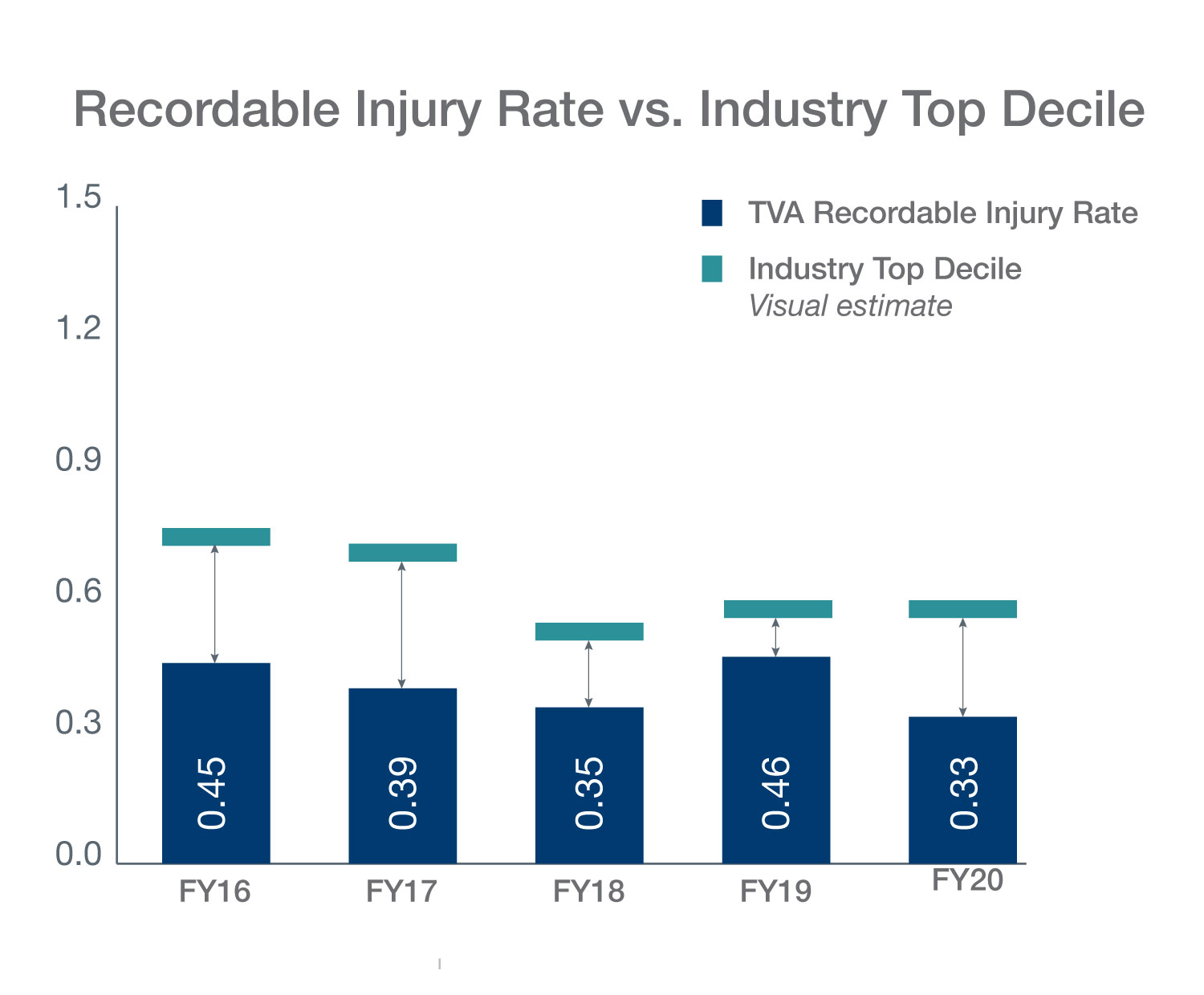 ---
Partnerships
In addition to keeping our energy systems low-cost, clean, reliable and safe, we are equally focused on our valuable customer partnerships. Currently, 93% of LPCs have committed to long-term partnership agreements with TVA, which means together we will help further modernize the region's power system and better serve the people in the Valley. We've also accelerated agreements that enable partners to self-generate up to 5% of their energy needs, giving them more flexibility to meet their customers' unique needs or clean energy goals.
Our partnerships extend across the country as we identify the best suppliers in the industry to provide products and services that meet TVA's requirements. TVA is committed to conducting all our activities with a high level of integrity to maintain public confidence, and our suppliers must share this TVA commitment to integrity. In FY 2020, TVA spent almost $2.9 billion with U.S. based suppliers, purchasing a wide variety of materials and services, including equipment, repairs, professional services and more.
Also, since its inception, TVA has proudly supported national defense efforts, including powering the initial Manhattan Project research and World War II production of aluminum. Today, TVA partners with Oak Ridge National Laboratory on cutting-edge research and also produces tritium for the nation's nuclear defense program.
"TVA and Local Power Companies can help determine cost-effective ways to take advantage of technology advances to innovate the power industry. Our partnership is uniquely suited to seek answers to tough challenges, like cost-effectively integrating distributed energy resources into the grid, building new approaches without burdening those who can least afford it and pursuing environmental justice without skyrocketing costs. Public power is well suited to navigate uncertain waters without unduly increasing costs to end-use customers."
---
Wes Kelley
President and CEO
Huntsville Utilities
---
Guide to Using TVA's Annual Report and Form 10-K
This Annual Report is intended to provide highlighted information of interest about TVA's business and operations during its fiscal year ended September 30, 2020. This Annual Report should be read in conjunction with TVA's Form 10-K Annual Report for the year ended September 30, 2020. The Form 10-K provides additional financial, operational and descriptive information, including TVA's financial statements. The Form 10-K also provides important information about various risks to which TVA is exposed in the course of its operations, which are important to consider before investing in any TVA securities. The 2020 TVA Annual Report and 2020 Form 10-K do not contain all information about TVA securities that is important for making investment decisions. Please refer to the appropriate Offering Circular, and any relevant supplements, for detailed information about TVA securities. TVA's Form 10-K can be found at www.tva.com/investors.
---
TVA Investor Relations
Click here to visit the Investor Relations Homepage.
Click here to view TVA's SEC Financial Reports.
---
Forward-looking statements and certain factors that may affect our business
We have included in this letter and 2020 Annual Report "forward-looking statements" within the meaning of Section 27A of the Securities Act of 1933 and Section 21E of the Exchange Act relating to our operations, results of operations and other matters that are based on our current expectations, estimates, assumptions and projections. Words such as "will," "plan," "believe" and similar expressions are used to identify these forward-looking statements. These statements are not guarantees of future performance and involve risks, uncertainties and assumptions that are difficult to predict. Forward-looking statements are based upon assumptions as to future events that may not prove to be accurate. Actual outcomes and results may differ materially from what is expressed or forecast in these forward-looking statements. Risks, uncertainties and other factors that might cause such differences, some of which could be material, include, but are not limited to, the factors discussed in our Annual Report on Form 10-K and Quarterly Reports on Form 10-Q under the sections entitled "Risk Factors." Our forward-looking statements speak only as of the date of this letter and 2020 Annual Report or as of the date they are made, and we undertake no obligation to update them.