Partnering to Support Supplier Diversity
AUGUST 2, 2018—An important part of TVA's mission of service is maintaining a competitive, diverse supplier base that is reflective of our region. By welcoming businesses of all types—small, minority-owned, woman-owned, veteran-owned, service-disabled veteran-owned and those located in historically underutilized business (HUB) zones, among others—TVA promotes economic prosperity in local communities and across its service territory.
Fulfilling TVA's commitment to Supplier Diversity also includes joining with community, state and regional partners who share the same goals. In July, TVA awarded a total of $125,000 to 13 nonprofit organizations who work to assist small or diverse businesses in the Tennessee Valley region.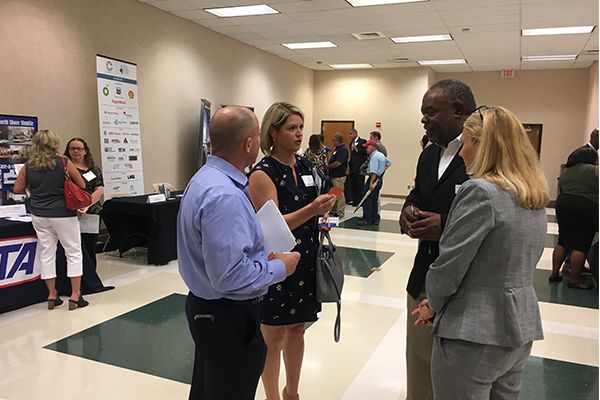 Paul Middlebrooks of the Procurement Technical Assistance Center (UTK) and Jan Cable, manager of TVA Supplier Diversity & Development, speak with representatives from a small veteran-owned business.
"Through TVA's Diversity Alliance Program, we partner with strategic organizations that are focused on supporting and growing qualified small and diverse businesses within TVA's seven-state service area," says Jan Cable, manager of TVA Supplier Diversity & Development.
"This partnership includes funds made available from TVA to assist in providing training, consulting and other development support services to business owners," she explains. "The success of these organizations is tracked through performance indicators such as contracts awarded, job creation and retention numbers and capital investment dollars generated."
TVA follows a competitive evaluation process to award Diversity Alliance Program grants every year. "We're excited to be able to offer this kind of support for organizations who share our passion for seeing small and diverse businesses succeed," says Cable.
Learn more about TVA's Diversity Alliance partnerships.