October marked the beginning of the process to demolish and restore the sites of two TVA fossil plants for economic development reuse.
NOVEMBER 4, 2019 — October marked the beginning of two major projects for the demolition team: the four-year long process of demolition and brownfield restoration of TVA's Colbert (shown above) and Johnsonville Fossil Plants.
Crews have mobilized and work has begun at each location, with a targeting completion of 2023.Once the plants are demolished, the grounds that once housed the plants will be restored to brownfield state. The combustion turbine plants that are currently located on the Colbert and Johnsonville sites will remain.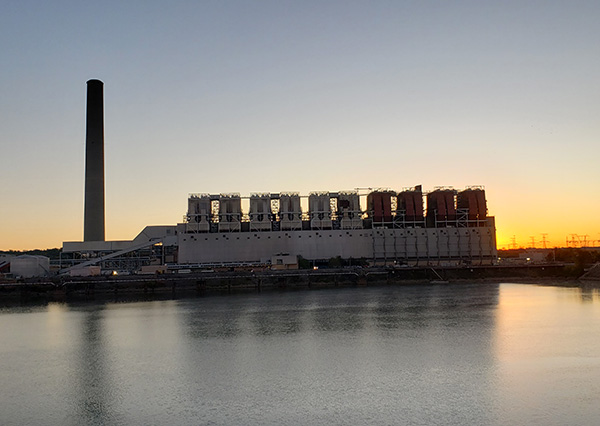 Johnsonville Fossil Plant
"Most of us spend our entire careers generating megawatts or supporting the generation fleet. Our goal in D4 is to provide an attractive site for future economic development," said Dave Halicks, senior project manager.
Homrich was named demolition contractor for the Colbert project. Their team will provide all demolition services for the site and will partner with the TVA Generation Project & Fleet Services' decommissioning team.
"Colbert was a major contributor to the TVA power grid from its initial operation in 1955 until its retirement in 2016. Multiple generations of many families worked at Colbert during those years. In a way, it is sad to see it go, but we look forward to performing the demolition and site restoration in a manner that will make the site attractive for future economic development," said Stephen Ford, senior construction manager.
Brandenburg will be the contract demolition crew on the Johnsonville project. TVA has partnered with Brandenburg on several other demolition projects including Widows Creek Fossil.
"We look forward to partnering with Brandenburg and Homrich on these demolition projects. Safety will be our first priority, as with all our demolition projects," said General Manager of Decommissioning for Generation Project & Fleet Services Roger Waldrep. "The process of taking down a plant is time-consuming and tedious. We make every effort to provide the best final outcome for our plants. Our goal is to leave a finished product that is ready for redevelopment by TVA or other industry."
Colbert Fossil is a five-unit plant that sits on 1,354 acres that adjoins Pickwick Landing Lake. When operational, Colbert Fossil supplied power to approximately 480,000 homes. Colbert Unit 5 was idled in 2013. Colbert units 1 through 4 were retired in March of 2016, effectively closing the plant.
Johnsonville Fossil Plant is located on 720 acres of land near Waverly, Tennessee. Johnsonville is TVA's oldest fossil plant in its fleet. Units 5 through 10 were idled in 2012. Units 1 through 4 ceased generation in December 2017, as part of a consent decree with the Environmental Protection Agency (EPA).