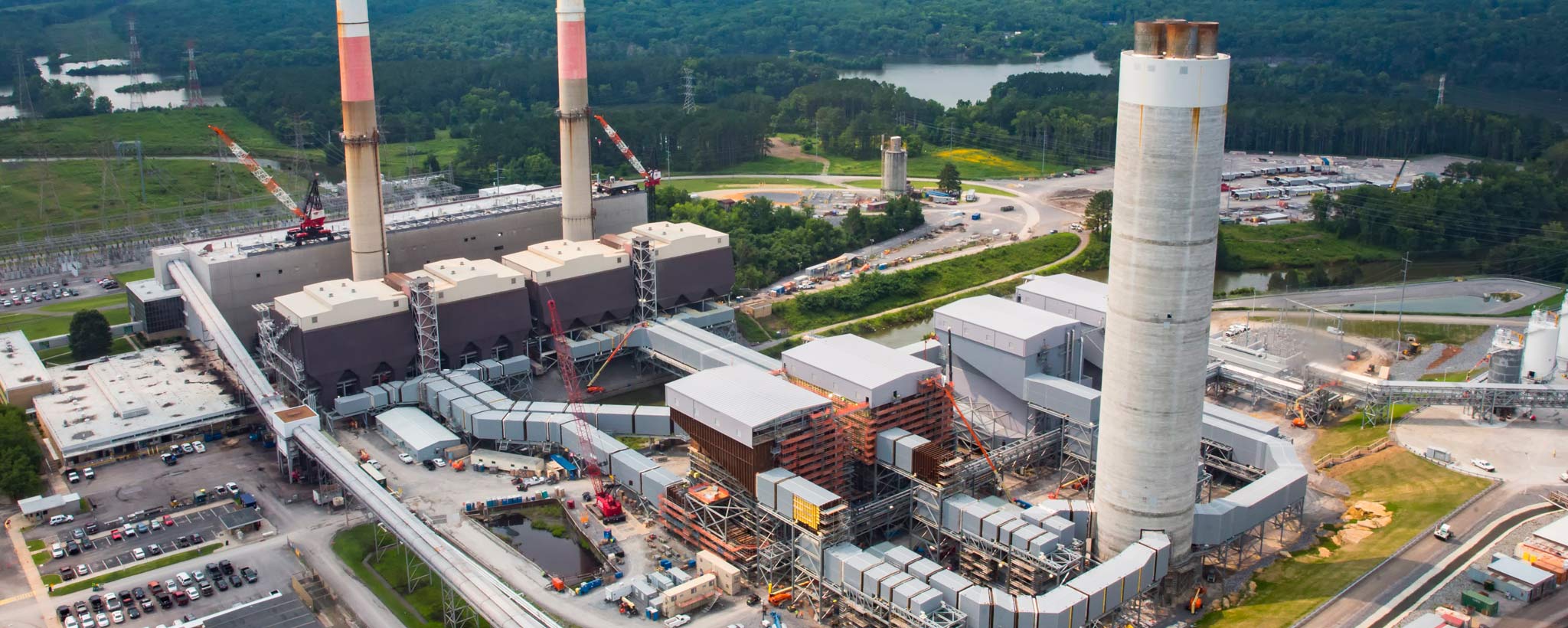 Gallatin Dry Scrubbers Fully Operational
On February 7, the last of the four Gallatin Fossil Plant dry scrubbers went into operation when Unit 2 returned to service following a planned outage. This milestone represents the culmination of nearly 35 months of construction.
This milestone represents the culmination of nearly 35 months of construction. Units 4, 3 and 1 were placed online in April, June and November of 2015, respectively. Process tuning efforts and emission performance testing are ongoing and scheduled to be complete prior to the EPA MATS (Mercury and Air Toxics Standards) compliance date of April 16, 2016.
"We appreciate the hard work of all the TVA employees and contractors who expended over 4 million work hours to meet the schedule milestones for the Gallatin Fossil dry scrubber project," says Ron Nash, director of TVA's Clean Air Program. "With all four units now online, our focus is on process tuning and optimization to ensure the units are meeting all federal and state requirements for particulate, sulfur dioxide and mercury removal efficiently and effectively. This $730 million investment into clean air was completed on time and within budget."'
According to Bob Deacy, senior vice president for Generation Construction, Projects, and Services: "The team executed with precision. They met the schedule and the budget, allowing the project to return its contingency dollars back to the enterprise."
For its final two scrubber projects—Gallatin and Shawnee—TVA made the decision to switch to dry versus wet scrubbers. Not only does a dry scrubber remove up to 98% of the sulfur dioxide (SO2) that exits through the exhaust flue, the resulting byproduct is dry, making it possible to store in a landfill.
"The byproduct material that's generated from this dry scrubber is a combination of fly ash and pebble lime and a little water. It is a dry product, and that's why this is known as a dry scrubber. A wet scrubber on the other hand uses a lot of water to remove the SO2, and produces a wet product," explains Larry Nathan, senior project manager for the Gallatin dry scrubber project.
The Gallatin dry scrubber project started in 2011 with a design phase that lasted about a year. Once details were finalized, land had to be cleared and a fish hatchery was relocated. Ground was broken on the project in March of 2013. As many as 1,300 construction workers were on site during the peak construction phase.
The Gallatin dry scrubber project features NID technology, which stands for novel integrated desulfurization. Each unit includes a bag house containing 9,600 bags along with a pulsed air cleaning system. "The pulsed air cleans the bags, forcing the particles from the bag down into a hopper where they are collected, and then transferred to a byproduct silo. From the silo, they are transferred by truck to a landfill," adds Nathan.
With dry scrubber construction complete at Gallatin, the focus now turns to installation of the planned selective catalytic reduction (SCR) additions for all four units at a cost of $370 million. Used to remove nitrogen oxide emissions, the first two SCRs will be operational in the spring of 2017 and the final two in the fall of 2017.
"TVA is investing in the Gallatin Fossil Plant because to say that this is a good plant would be an understatement," says Benny Foshee, senior project manager, Clean Air Group. "This plant has been a reliable and valuable asset to TVA for many years. And we're installing the pollution control equipment on these units to make sure that it continues to be a viable asset to us for years to come."