TVA has long been in the business of building things—dams, coal and gas plants, nuclear units, transmission towers, wind turbines, locks, solar installations and much, much more. As the Valley grew and prospered TVA steadily expanded to keep needed electrical energy flowing.
Until now.
A change is underway at TVA as energy efficiency has reduced demand and the company shifts away from coal and toward cleaner sources of generation such as nuclear, renewables and—in particular—natural gas. Now TVA is also in the business of tearing things down—namely five of its older fossil plants. John Sevier, Colbert, Widow's Creek, Johnsonville and Allen are scheduled to come down between now and 2021.
Richard Simmons, who heads Decommissioning at TVA, once worked on the coal side of the house himself and has a special understanding of how decommissioning of the plants is ushering in a new kind of culture at TVA. "It's a unique spot, and it goes contrary to the business TVA has always been in," he says. "But it's extremely interesting, challenging and rewarding."
The Four Dimensions
Plant demolition work is dangerous, emphasizes Bob Deacy, senior vice president of Generation Construction, Projects and Services at TVA: "That's why we put safety first and have developed a risk-based approach with a zero-injury expectation," he says. Safety underpins everything.
Beyond that, TVA keeps an eye on the environment. The ultimate goal in every instance is to reuse and/or recycle virtually everything inside the plant, and everything the plant is made of, according to Stacey McCluskey, program manager for Environmental Support, who's tied closely to TVA's decommissioning efforts.
Every plant closure follows the D4 process, she explains:
Decommissioning—This where the facility is first prepared for demolition. Here, ash, residual coal, oils, paints, solvents, fuels and other materials are removed from the sites. Records and artifacts are relocated. Equipment is salvaged for reuse, either within the TVA system or elsewhere.
De-activation—This is the process of making the plant "cold, dark and dry." All equipment is isolated and de-energized. Services that are needed on other areas of the site are re-routed.
Decontamination—This is the process of making sure the asset is in a state that's environmentally acceptable for demolition. Asbestos abatement happens here, hazardous materials—PCBs, mercury, etc.—are safely removed and properly disposed.
Demolition—The endgame: This is the removal of the plant and the associated structures within the demolition footprint.
Two of those Ds—decommissioning and demolition—are particularly ripe for reuse and recycling, McCluskey says.
Waste Not
In the decommissioning phase, it's all about planning a new future for the things inside the plant. "We start with the big items, such as transformers and other high-dollar pieces of equipment, and we try to see if we can keep those in the TVA system," she says. "If not, we'll auction them off—every little bit we sell ends up ultimately saving ratepayers dollars on their electric bills."
The same consideration is given to office furniture and supplies, tools and equipment, shelving, janitorial supplies—even houseplants. "We look at literally everything, because everything has value," McCluskey says.
"Where there is no opportunity for cost recovery, we try hard to find a use for things. We may have a pallet of paint that we can't use, but maybe Habitat for Humanity can. We may have cleaning supplies that we can't use, but maybe a local school can. We do everything to avoid being wasteful."
However, there are those thing that cannot, by regulation, be reused, but they are treated with care. "PCBs, asbestos, lead paint and mercury, we have to waste out—there is no beneficial reuse for them," McCluskey says. "We take those out with care and under strict requirements. But a tremendous amount of effort is put into finding a home for everything else. You have to be very creative sometimes."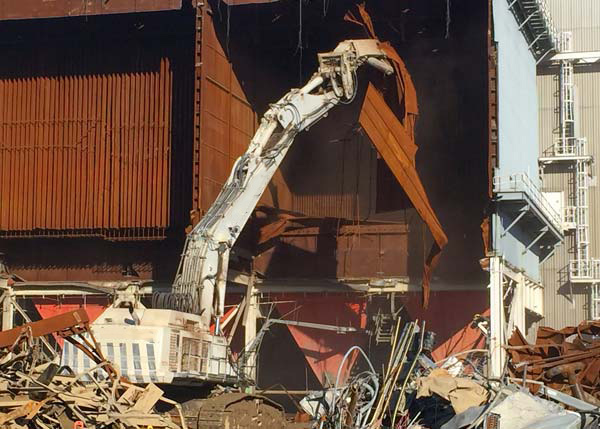 Want Not
Once the plant is empty, cold, dark and dry, and demolition is underway, the emphasis shifts toward the reuse and recycling of the materials that comprise the plant itself: metal, concrete and other construction materials.
All of the metals used in the making of the plant—from the huge boilers to the rebar in the walls—are recycled by the demolitions contractor. The revenue from these recycled materials goes a long way toward offsetting the demolition cost which also helps keep costs down for the benefit of the ratepayers.
"The contractors sort the metal by type and break it down into smaller, more valuable pieces—it's quite an incredible process to watch," McCluskey notes. "They have different outlets for every kind and size of metal. None is wasted. It's amazing how much metal they pull out—thousands of tons."
Perhaps more amazing still is the process of breaking down and recycling the concrete walls and floors. "They [the demo contractors] have huge grinders that chew away at the concrete and grind it down so that it can be used to backfill the hole left by the demolition of the plant itself," McCluskey explains. "In effect, it becomes a part of the landscape."
Back to Nature
Once the buildings are down, the metals carted away and the hole filled, the site is covered with topsoil and planted with grass, creating what is technically called a brownfield—that is a site that's appropriate for new industry to begin.
"Our philosophy is that we want to remove these plants in the most responsible way possible so that they aren't a long-term threat to the environment, and so that they might also provide support for our mission of economic development," Simmons explains.
"You can never return the land to its original condition," says McCluskey. "But you can make it so that it can sustain another industry. We work closely with TVA Economic Development in deciding what to do, and whether some structures stay or not. And we work with the local community, too, to try and capture what they'd like to see."
It's easy to see how the D-4 process supports TVA's environmental goal of reducing waste and sustaining environmental stewardship while paving the way for economic development.
"It's when we're keeping our mission in mind that TVA really shines," McCluskey concludes. "We don't just do things the easy way, or the cheapest way. We find a way that is protective of human health and of the environment and of the economy. We are accountable to the public, and we try our best to protect and serve them."