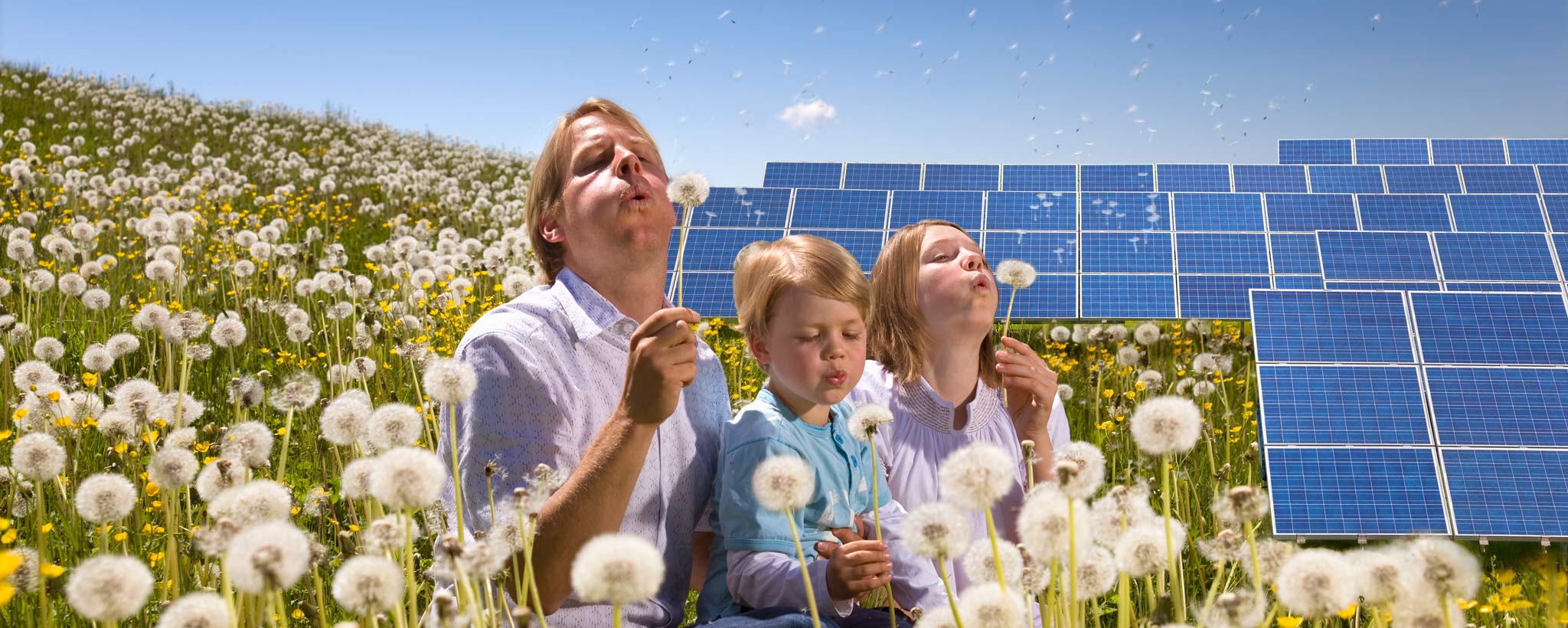 How Bright is Solar Energy's Future?
Some see solar energy as the future. Others say solar is too expensive and unreliable. Who's right? Here's what Tammy Bramlett, TVA's Director of Business Development and Renewables, had to say about TVA's growing solar energy portfolio.
Were TVA energy consumers impacted by the August 2017 solar eclipse?
The Great American Eclipse obscured about 70 percent of the sun across the United States, and 90 to 100 percent of the sun in the Tennessee Valley. Solar is a part of our energy future, but events like the total solar eclipse bring the reality that solar currently has limitations.
Thanks to TVA's balanced generating portfolio, energy consumers are able to enjoy reliable, low cost power even when the sun isn't shining. Solar is a part of our diverse energy portfolio and TVA continues to grow in solar capability.

What makes solar so popular?
Solar energy—energy from the sun—is the most abundant renewable energy source on Earth. Plus, solar energy is clean, carbon-free energy. That's why TVA is a strong proponent of solar and why we're adding it to our diversified generating portfolio. We are on track to reduce carbon dioxide emissions by 60 percent below 2005 levels by 2020. Our nuclear program is the primary driver, of course. But we are depending on solar, too—along with hydro, wind and energy efficiency initiatives that make energy resources go a lot farther.
In 2017, over 50 percent of the electricity TVA produces is carbon-free, which makes the Valley an attractive place for low cost, clean and reliable energy. That includes solar sources of about 400 megawatts of electricity from over 3,200 locations across the Tennessee Valley. We are adding more solar all the time.
Does TVA incentivize consumers to use solar power?
TVA and our local power companies offer some specific programs that support the ongoing growth of the solar industry with increasing consumer interest in this renewable energy option.
We still purchase solar energy from private solar providers through the Green Power Providers program. But we pay retail rates, and we've capped the amount of new projects yearly at 10 megawatts.
We need to work together to support the Valley's energy needs so that everyone benefits.
Is solar a viable option for homeowners and small businesses?
The fuel used to make solar energy—sunlight—is free, but there are costs to purchase, install and maintain a solar energy system.
If you go online and search for "solar calculator," you'll find a number of websites, such as Energysage, that will give you an idea of the costs and benefits of installing solar in your area. The good news is that the cost of installing solar in the Valley is currently lower than other areas, but the cost could vary significantly depending on system size, where you live and other factors.
Solar has tremendous potential as a supplemental energy source as long as you do your cost/benefit analysis. You need to evaluate the generating potential, installation cost and maintenance costs, and weigh those against your potential return on investment. Depending on your situation solar may be a good option. In fact, there already are several thousand private solar energy systems across the Tennessee Valley generating over 100 megawatts of clean energy from the rooftops of homes and businesses.
Can anyone install solar at their home or business?
TVA encourages the use of renewable energy, and homes or businesses are welcome to install solar energy systems. In fact, by law TVA must purchase power from anyone who installs a generating source like solar—as long as it meets safety and reliability standards and is no larger than 80 megawatts. In the not-too-distant future, your home or business may be connected to a personal solar or wind system that charges batteries—or connected to a personal technology that has not been invented yet.
At TVA, we are preparing for technology that allows people to use alternative energy sources.
What is TVA doing to support solar energy?
While anyone is welcome to install solar at their homes or businesses, we encourage Valley-based businesses and consumers to partner with us to generate clean, renewable energy through a number of renewable energy programs offered by TVA and our local power companies.
Green Power Providers (GPP), which includes solar, wind, biomass, and low-impact hydro generation, is targeted at residential and commercial customers who are interested in installing private renewable generation systems, 50 kilowatts or less. TVA pays GPP participants the retail rate for every kilowatt generated by their renewable energy systems.
Green Power Switch® gives Valley businesses and residents a way to support technologies such as solar, wind, and biomass. For as little as an additional $4 a month, customers of participating local power companies can purchase blocks of electricity generated by the cleaner, renewable sources. This electricity is then added to the region's total power mix, offsetting the need to use other sources of energy that aren't as clean and require finite resources. GPS is a good option for homeowners who cannot install solar on their homes but want to help the environment.
We're also working with local power companies through our Distributed Solar Solutions program to bring community solar to the Valley. Community solar can take many different forms, but the general idea is for multiple community partners to share in the cost of installing a larger, centrally located solar system. Community solar is a great option for people who want to do their part to help the environment but can't install their own system either because of the cost or where they live.
These options are part of a broader effort to maximize the value of solar for the 9 million customers that our local power companies serve. They will help us keep electric rates affordable and allow us to focus on larger solar projects that can power hundreds of homes versus a single household or business.
How does TVA plan to continue its solar investment?
The fairest way to incorporate renewable energy is to build large-scale solar. Large-scale solar facilities ensure that everyone benefits.
Another solution is community solar, which provides a cost efficient way for residents to get involved. Currently, there are six active community solar projects in the Valley with more being planned.
A solar stakeholder group has been established to gain input from all stakeholders including developers and they will meet several times over the next few months to help us shape our strategy.
Ultimately, our goal is to add solar to keep rates as low as is feasible and part of a cleaner future. Together, we will simply be doing that in new ways.