Fontana Dam Safety
Highway 28S
Fontana Dam, North Carolina
Inspection, Maintenance and Repair
On Monday, July 9, 2018, visitors to Fontana Dam were treated to a rare and beautiful site: a "rooster tail," which is a large surge of water through two small spill pipes below the dam, along with all associated rainbows. The occasion? TVA was opening and closing the dam's four spillway gates in order to test them for mechanical integrity as a part of its ongoing dam safety program.
The process was designed to gather data on the gates' trunnions, according to Laura Groce, senior manager, Dam Safety Services. "This test allowed us to measure strains in the gate trunnions while the gates were being opened and closed. The data will be used to analyze the gate system," she explains. Gate trunnions anchor the gate to the dam's concrete and serve as the pivot point about which the gate rotates. All forces acting on the gate go through the trunnion into the concrete, making the trunnion a key component of the gate system.
Mike Morrison, senior program manager for TVA Dam Safety, agrees. "We had a successful test with good results at Fontana," he says. "This type of testing is part of TVA's investment to make sure our dams are reliable and work well to deliver flood control, electric power, recreation and other services to the people in the Tennessee Valley."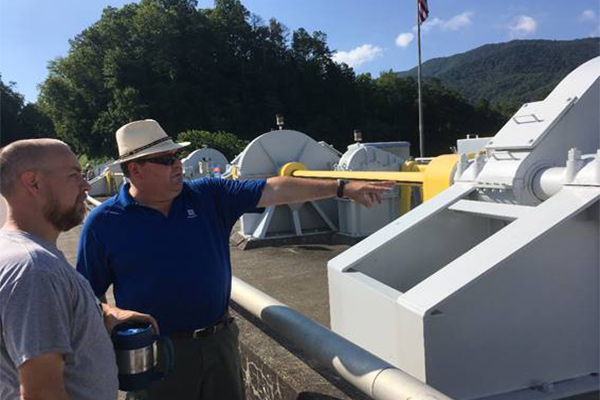 Mike Morrison and Travis Simpson of TVA's Dam Safety team stand atop Fontana Dam after testing the dam's four spillway gates for mechanical integrity. The testing is part of TVA's ongoing dam safety program.
Emergency Contact Information for Residents near Fontana Dam
FOR ALL EMERGENCIES - DIAL 911
Swain County Emergency Management
55 East Ridge Dr.
Bryson City, N.C. 28713
Director: David Breedlove
Non-emergency contact: Phone (828) 488-6021
After hours: (828) 488-2196
Email: emergencyservices@swaincountync.gov
Web: http://www.swaincountync.gov/emergency-management.html
Graham County Emergency Management
70 West Fort Hill Rd
Robbinsville, N.C. 28771
Director: Larry Hembree
Email: larry.hembree@grahamcounty.org
Non-emergency contact: (828)479-7967
Fax: (828) 479-6599
Email: larry.hembree@grahamcounty.org
Web: http://grahamcounty.org/emergency-services/
Location
Mile 61 on the Little Tennessee River
10 Miles from Tapoco, N.C.
Construction
Began 1942
Completed 1944
Main Components
Concrete Dam
Powerhouse
Emergency Spillway (abandoned)
4 Spillway Gates
2 Spillway Tunnels
6 Sluices
Type of Dam
Concrete Gravity Dam
Maximum Flow Recorded: 129,000 cfs
Length: 2,365 feet
Maximum Height: 480 feet (highest U.S. dam east of the Mississippi)
Maximum water depth at summer pool: 432 feet
Typical Pool Elevation: 1243.0
Benefits
Annual Flood Reduction: $25.8 million
Water Supply Benefit: $0.1 million
Recreation Benefit: $237.8 million
Hydroelectric Generation: $91 million