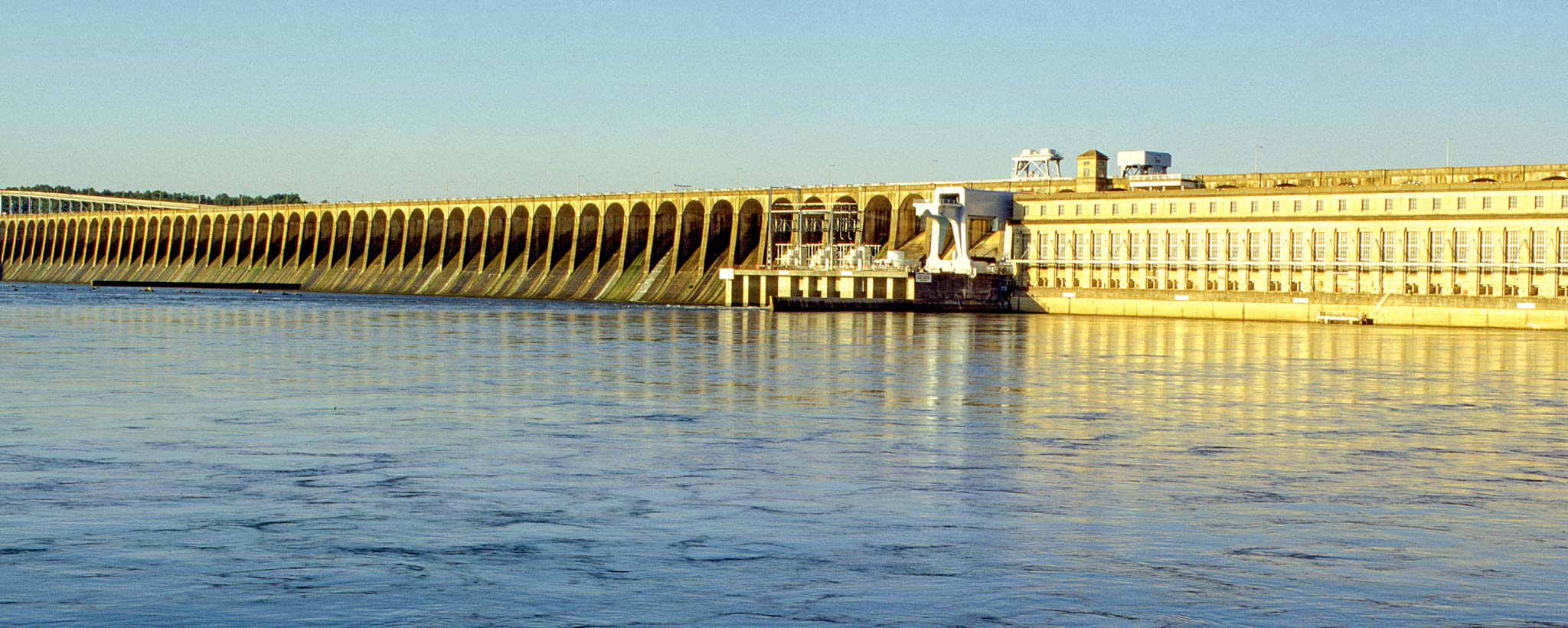 Keeping Hydro Humming
Producing clean, low-cost electricity is important for the environment and your pocketbook. Check out what we are doing to keep 70- and 80-year old dams in shape and operating like well-conditioned athletes.
What do you think about while you're in your morning shower? Electricity may not be top of mind. But while you're surrounded by water, it's a good time to remember that—as a Tennessee Valley resident—a portion of your electricity comes from clean, low-cost hydroelectric power.
TVA's 29 power-generating dams produce about 14.5 million megawatt hours of electricity in a normal year, enough to serve nearly one million homes. But those numbers don't begin to reflect its value to the people of the Tennessee Valley.
Two thirds of customers of the top 100 utilities in the United States pay more for electricity than we do. And Alex Mosley, General Manager of Hydro Generation at TVA, says the abundance of hydro power in the Valley has a lot to do with that fact.
"Every kilowatt of electricity we can produce with hydro helps to avoid the higher fuel costs that come with burning coal or natural gas to generate electricity," Mosley explains. "Lower fuel costs translate into lower power rates which, in turn, support sustainable economic development for businesses and cities in the Tennessee Valley.
Plus, hydro power has many other advantages that make it extremely valuable in achieving TVA's mission of service, according to Mosley. "On hot days or cold nights, when electricity demand spikes, hydro—our most flexible generating source—is there to keep your lights on," he says. "It's also carbon free electricity, which benefits our air quality. And remember, too, the same dams that harness the river for power also provide flood control, navigation, recreation, and water quality."
Money Well Spent
TVA's hydro plants were mostly constructed in the 1930s and 40s. That means that the mechanical and electrical equipment in them—the turbines, generators, bearings, piping and electrical components— have been in service for 70 to 80 years.
"Keeping 70- and 80-year-old equipment running isn't easy," says Mosley. "But we're investing in a major maintenance program to keep our dams and hydro plants operating like a well-conditioned Olympic athlete."
Since 1992, TVA has essentially rebuilt 61 hydroelectric units at a cost of more than $500 million. That is paying off in terms of improved reliability—and not just for power generation. The upgrades also have improved TVA's ability to maintain the water flow needed for recreation and water quality downstream of its dams.
In addition, newer turbine designs are more efficient. This allows TVA to get more power from the same amount of water and has increased the maximum generating capacity of many of its dams. Increased turbine capacity is especially important during heat waves and in a flood situation, where capacity limits can otherwise force TVA to "spill" water, essentially wasting free fuel.
"Depending on where you are in the Valley, TVA can reuse a drop of water at least nine times to generate electricity," says Mosley. "We want to maximize every kilowatt out of each drop."
Happening now: Watauga Unit 1 Overhaul
If you live near Elizabethton in northeast Tennessee, you may be seeing increased activity around TVA's Watauga hydroelectric plant.
TVA completed several capital projects at Watauga this spring in preparation for a large overhaul on the Unit 1 generator. This fall, TVA will rebuild the unit "from water to wire," says project manager David Rowland.
"We're replacing or rehabilitating essentially every component on the unit, from the point where the water flows through the dam and hits the turbine to the point where electricity is delivered to the grid."
The goal, says Rowland, is to restore the unit to like-new condition: "The work we're doing will position Watauga for 40 more years of continued reliable operation."
A Solid Investment
Hydro modernization projects like the one at Watauga typically take about four years from initial planning and engineering to completion, primarily because of the long lead time required to manufacture key components such as turbines and transformers.
That's why TVA generally has several projects in the pipeline, says Rowland.
"In addition to Watauga Dam Unit 1, we're in the planning and design phase for overhauling South Holston Dam Unit 1 and construction is set to start in the summer of 2017. We're also in the process of overhauling four of the six units at Pickwick Dam, and we've started the scoping phase for Unit 1 at Cherokee Dam."
TVA expects to invest roughly $250 million more in hydro modernization projects over the next several years.
That's a big investment, but Mosely says the return is much greater—for the environment and your pocket book.
"Our hydro plants are the oldest of all our power plants, yet hydro remains our lowest cost, most dependable and cleanest source of generation," he says. "That's a tribute to the quality of the equipment in the original plants and to the workforce that has maintained them. The good news is, through these rebuilds, we can extend the life of our hydro fleet indefinitely. I call that a solid investment."