Paradise Redux
A scheduled outage at Paradise Fossil Plant provides an opportunity to perform routine maintenance—and make a major operations upgrade that will boost performance and reliability for years to come.
OCTOBER 2, 2017—It's hardly just another day in Paradise when three of the plant's five enormous power turbines are disassembled and floating overhead. No, this magic happens only in the middle of an outage—a special time set aside for routine plant maintenance and equipment upgrades.
John Boggess, the TVA plant system engineer overseeing the overhaul of the turbines during this outage, explains the difference between the three turbines in the air: you have the large low-pressure "B" turbine (LPB), the high-pressure turbine and the reheat turbine. "All three of these turbines accept heat from the boiler and will rotate the generator to produce power," Boggess explains. "The difference between them is they are each designed to conform to a different stage of the changing steam as it goes through the turbine—and they maximize the potential for rotational energy."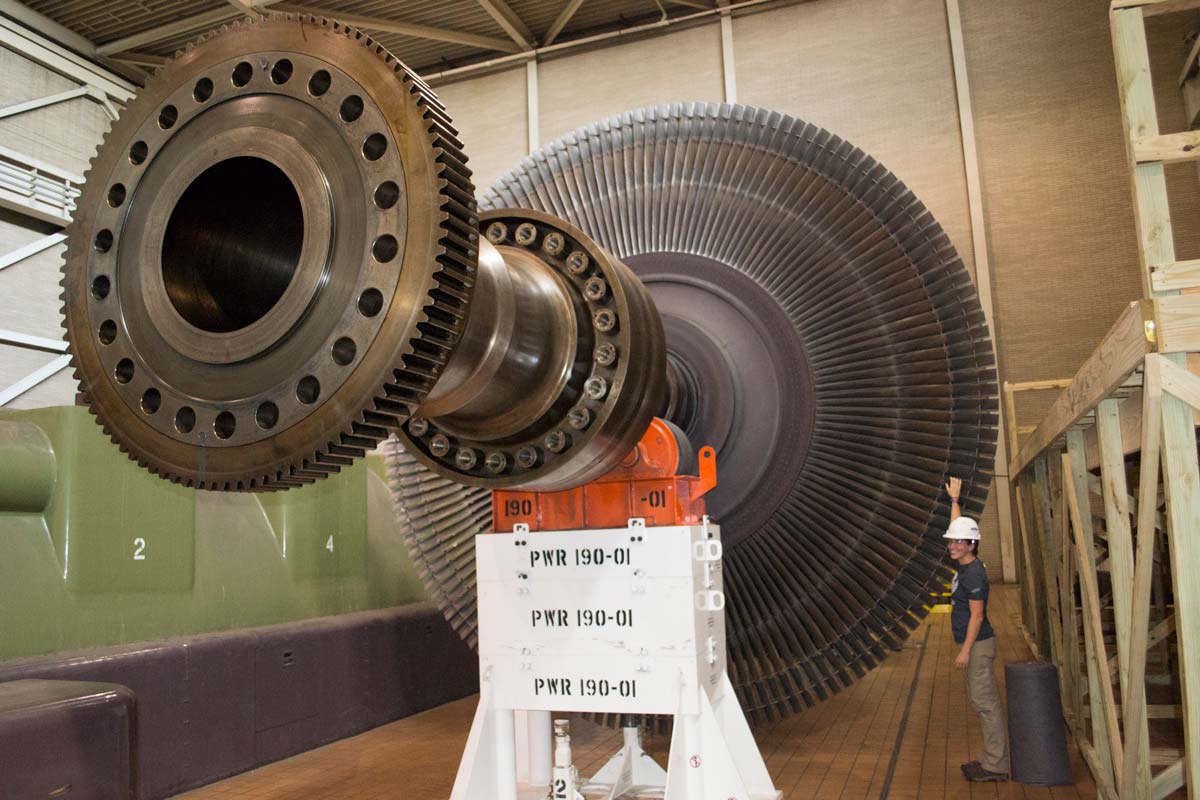 Mechanical system engineer Meredith Delk is pictured with the low-pressure "B" turbine at Paradise Fossil Plant.
It's taken about a month (this outage started on September 1) for Boggess and his team to disassemble the turbines and hoist them overhead; now evaluation and repair work can begin. "We're looking for things like the adherence of material from the boiler itself, where bits of scale might have flaked off and been passed through the system—we clean that with sandblasting," he says. "We're looking for normal steam-path erosion, and we can repair that. It's amazing what our power service shop guys can do to rebuild the blades."
Unit Upgrades
At the same time the turbine work is underway, the Paradise Fossil team is also making repairs to the boiler—specifically, to the secondary super heater. "That is the part of the boiler that produces the final stage of steam that is released into the turbine," Boggess says. "In this outage, we are truly touching the most critical parts of the energy-making process. And we are making sure that Paradise will be able to run reliably into the foreseeable future"
But there's an even bigger project afoot: We are upgrading our turbine controls, moving from a mechanical hydraulic system to an electronic one," says acting plant manager Jeff Montgomery. "Normally, we run the boiler in automatic and the turbines in manual, so we've had to manage some pressure swings. Now we'll be able to have smoother operation of our turbines, which will increase efficiency, stability and reliability."
By the end of the outage—forecasted to happen December 22—TVA will have spent $108 million on repairs and upgrades to the 1,100 MW unit at Paradise Fossil Plant. "We are setting this plant up for long-term sustainability in our fleet," Montgomery says. "This investment in Paradise Fossil will help us uphold our mission to provide the kind of low-cost power that supports economic development in the Tennessee Valley."