Plant Props
Thanks to clean air efforts, TVA's Shawnee Fossil Plant has been named by Power Magazine as one of the top power plants of 2018.
AUGUST 15, 2018—Power Magazine has named Shawnee Fossil Plant as one of its 2018 Top Plants. The recognition comes in response to Shawnee's Clean Air Program that successfully retrofitted Units 1 and 4 with additional air pollution controls.
The Clean Air Program was spurred by TVA's 2011 agreement with the Environmental Protection Agency and a consent decree with four TVA-region states and three environmental advocacy groups. The agreement required TVA to add the new controls or retire the two units by Dec. 31, 2017.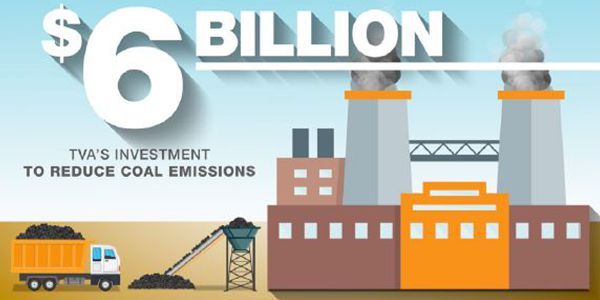 TVA chose to add scrubbers and a Selective Catalytic Reduction system (SCR) to the units to keep these two units as the Valley's lowest-cost, coal-fired asset running. Shawnee burns 100 percent low-cost Powder River Basin coal, keeping its average cost to about $19 per megawatt-hour.
But the cheaper coal has an added bonus. It limits sulfur pollutants that are commonly found in greater quantity in other coal types.
Now, with the added scrubbers, 96 percent of sulfur dioxide pollutants are captured in the flue gas path leaving the furnace. The SCRs function essentially like a car's catalytic converter, capturing 90 percent of Nitrogen Oxides.
The clean air project took about 350 employees a combined 1.3 million work hours to complete. The engineering phase took 21 months and the construction work spanned 24 months. Shawnee's Clean Air Program is expected to extend the life of the facility for another 20 years.
Shawnee is located in Paducah, Kentucky and has nine active generating units with a net capacity of 1,206 megawatts. The station first came online in 1953 and generates approximately 8 billion kilowatt-hours of power annually—enough to supply 540,000 homes.
To read the complete Power Magazine story click here.