TVA's Local Power Company Partners
We work hand-in-hand with our local power companies to fulfill our mission of providing low-cost, reliable public power to the 10 million people of the Tennessee Valley. What follows is a full list of our partners throughout the region.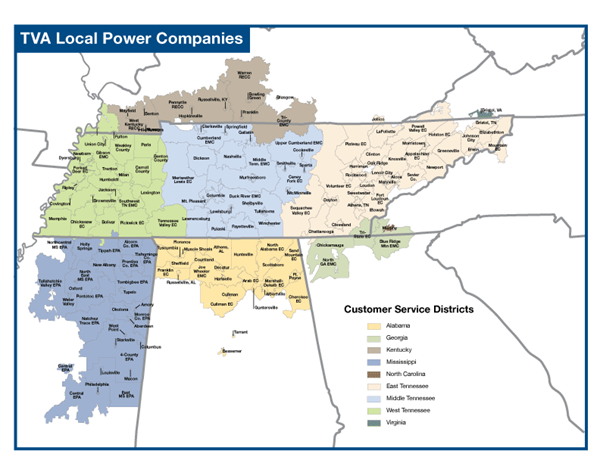 Click the title for more info about each local power company.
Blue Ridge Mountain Electric Membership Corporation
875 Main Street, Young Harris, Georgia 30582,
Blue Ridge Mountain Electric Membership Corporation offers electric, security and broadband services to Fannin, Towns and Union counties in northern Georgia, as well as Clay and Cherokee counties in southwestern North Carolina. Incorporated in 1939, the company serves around 50,500 residential and business customers and services more than 6,000 miles of transmission line.
Local Power Companies by State
Get to Know Your Local Power Company Neighbors
Powered by People You Know is a TVA-sponsored video series that visits local power companies throughout the Valley and gets to know them through the work and home lives of their members. Here, we meet Phillip Chaney, general manager of Scottsboro Electric Power Board.