The idea hatched over lunch, and a casual conversation between two engineers directly responsible for keeping TVA power flowing reliably throughout the transmission system and making sure it gets delivered to its local power companies without a hitch. One was describing a situation in which about a thousand transmission relays in the system could soon become obsolete need to be replaced—but only having the means and methods to replace ten or 12 each year. The other, one Robert M. Frye, listened intently, thinking to himself: "You'll never make a dent in the problem at that rate."
After the lunch, Frye—a principle engineer for Protection and Control in Transmission and Power Supply at TVA—continued to, ahem, chew on the problem of how to replace the relays more quickly. "It just stuck in my craw," he says.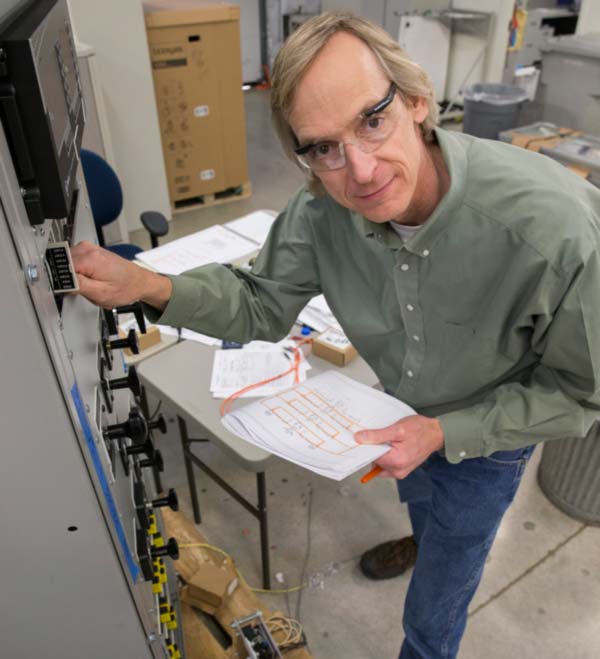 Then the proverbial light bulb went off in Frye's mind.

TVA's usual method for replacing transmission line protective relays—those breaker controls that sit in the control buildings at substations and generating plants to keep the power system stable and prevent damage to the transmission lines—was to upgrade the entire line's protection and control panel of equipment, usually with tremendous effort and great cost. But what if a surgical-strike, plug and play replacement relay package could be designed, one that could be dropped in anywhere, anytime for a fraction of the cost?
"I thought to myself, 'I can do something about that,'" remembers Frye, a 29-year TVA veteran. And—along with his team—he did, targeting 350 aging MDAR digital relays on the system, and designing a drop-in replacement package with the same form, fit and function as the obsolete unit, but with modern digital relays and test switches, uniform prewiring and a unique bracket system that would insure little to no wiring changes outside the package.
Once designed, the unit proved easy to design, easy to program, easy to wire and easy to install in the field—with minimal disruption to the line. Moreover, the cost to install proved to be approximately $40,000—an 80 percent reduction from TVA's prior typical installation cost (a savings that could be passed along to ratepayers). Within the space of only one year, Frye and a colleague, Mazin Nashi, were able to upgrade not 10 but 53 transmission relays—a feat that heretofore had been unfathomable (and Frye believes that another 50 or so are on track to be replaced in 2016). That's a win, win, win, win, win.
Heads were turned, and Frye was named as the 2016 Ike Zeringue Engineer of the Year, TVA's most prestigious engineering award.
"TVA is proud to name Robert Frye the 2016 Ike Zeringue Engineer of the Year," says Jacinda Woodward, senior vice president, Transmission and Power Supply. "Each year, we have the pleasure of recognizing an individual who exemplifies excellence in the engineering field and a steadfast commitment to TVA's mission of service. Robert has earned the trust and respect of his colleagues, and he is well-deserving of this achievement."
"Robert is part of the dedicated TVA workforce across the Tennessee Valley that has helped TVA provide 99.999 percent reliability to our customers every year since 2000," Woodward adds.
Though Frye knew he'd hit upon something with his relay solution, he was still surprised by the honor, and humble. "I am blessed to work with so many smart, knowledgeable people here at TVA," says Frye, who's already turned his attention to the next challenge: designing a similar replacement package for 150 obsolete Optimho relays.
"The people I work with have inspired me to continue learning and growing. I've never stopped learning. It's a team effort to support our mission of service every day. I may bring specialized knowledge in one area—a colleague will have specialized knowledge in another area. We put our strengths together, and it's that combined knowledge across the entire team that makes us successful."
The award is TVA's highest honor for an engineer and named for O.J. "Ike" Zeringue, a former TVA president and chief operating officer, as well as chief nuclear officer.
Frye is also one of 10 finalists for the Federal Engineer of the Year Award, which will be presented Feb. 26 in Washington, D.C.
A 1985 graduate of the University of Tennessee at Chattanooga, Frye holds a Bachelor of Science degree in engineering. He is a member of the National Society of Professional Engineers and the Institute of Electrical and Electronics Engineers.
Robert lives in Chattanooga with his wife, April.