Federal Funding Opportunities
Connected Communities offers a monthly webinar series that provides insights into the federal funding opportunities available to communities in the TVA service region under the Bipartisan Infrastructure Law (BIL) and the Inflation Reduction Act (IRA). Join us to learn how your organization or community can benefit from these new resources and collaborate with other stakeholders. In each webinar, we will provide insights into the following topics:
Overview of BIL and IRA
Upcoming federal funding opportunities for communities in the TVA service region
How to connect with relevant stakeholders to facilitate TVA-coordinated funding opportunities and programs
Community networking and collaboration opportunities
Open forum for questions and answers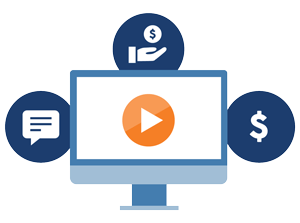 Register Now to Attend These Upcoming Webinars
SEPTEMBER 12

Save the Dates!
October 10, 1:00-2:00 ET
November 14, 1:00-2:00 ET
Watch Past Webinars and Review Slide Decks
If you were unable to attend previous webinars, use the links below to watch the recordings or read through the slide decks at your own pace.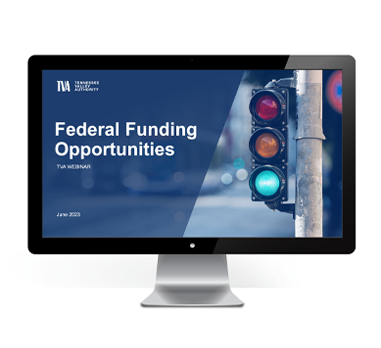 Energy Improvement in Rural or Remote Areas
This June 2023 webinar discusses the Energy Improvement in Rural or Remote Areas opportunity. Pre-applications for this funding opportunity close soon – July 13th! Watch today for more information.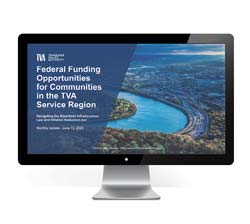 Opportunities for Business and Industrial Customers
Our July 2023 webinar discusses the potential opportunities for Business and Industrial customers to receive application support from our EnergyRight® team. Download the slide deck to learn more.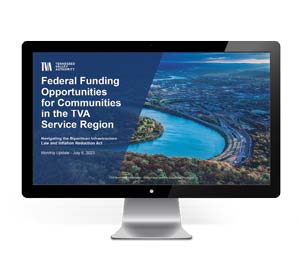 Empowering Rural America, GHG Reductions
This August 2023 webinar highlights a $9.7 billion program for rural electric cooperatives, and $20 billion in funding for clean energy investment under the Greenhouse Gas (GHG) Reduction fund.