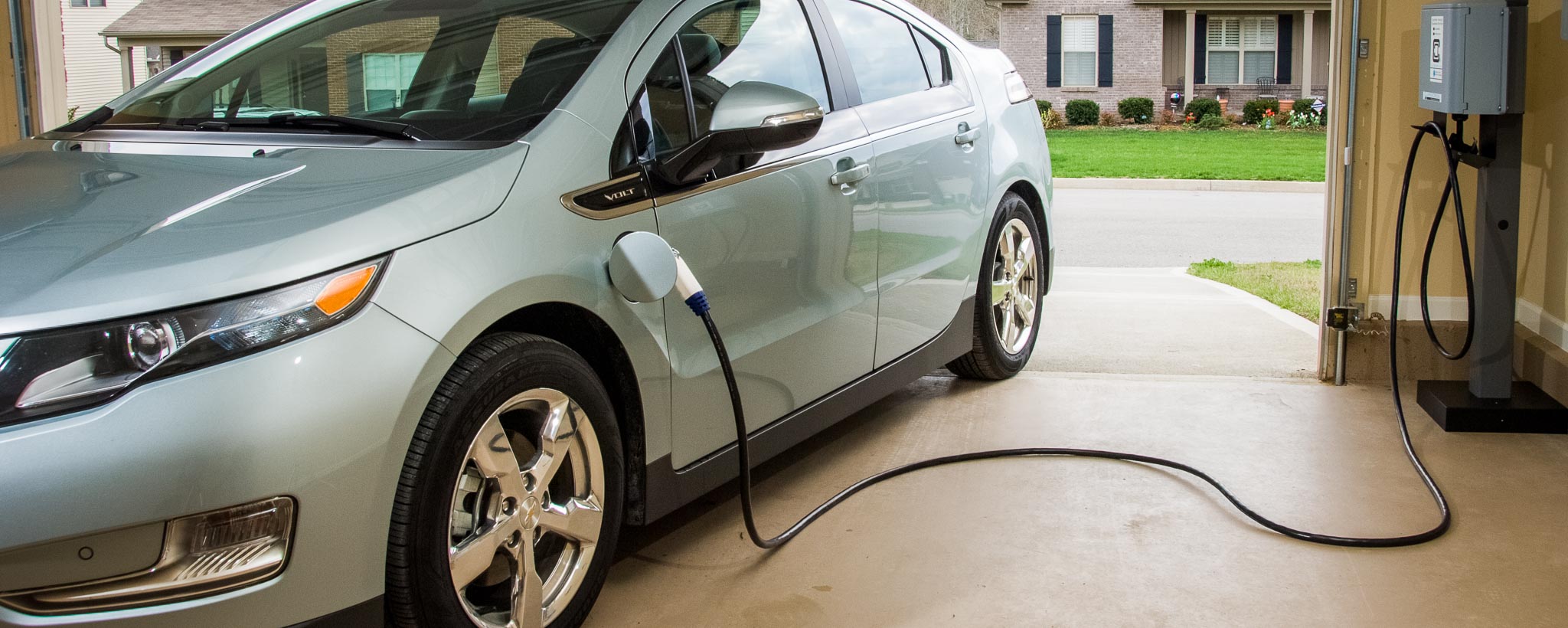 Electric Transportation
TVA is embracing electric transportation, creating smart charging stations, finding uses for depleted auto batteries and developing technologies to encourage the potential for electricity to replace petroleum as the fuel of choice.
Electric vehicles of all shapes and sizes are here, and TVA is working hard to make sure they are supported—that battery technology continues to advance and that electrical infrastructure is prepared for a future of clean transportation driven by electricity. TVA continues to evaluate and support electric transportation technologies including consumer plug-in electric vehicles like the Nissan LEAF and Chevy Volt, as well as commercial and industrial electric options such as forklifts, electric truck stops and airport equipment.
Getting SMART About Smart Cars
In 2011, TVA created a series of charging stations in Chattanooga, Knoxville, Nashville and Memphis, which included solar generation, energy storage and electric vehicle charging stations. These stations helped us to understand the potential impact electric vehicles may have on the power system as well as to develop technologies to designed to more fully explore the potential of electricity to replace petroleum as a transportation fuel. The design for the first prototype—known as the Smart Modal Area Recharge Terminal, or SMART station—featured power generation by solar photovoltaic (PV) panels, stationary battery storage of power and key elements of microgrid technology. These SMART stations were placed to supplement a growing public charging network being developed by industry and community partners.
Since 2011, TVA has conducted research in collaboration with the Electric Power Research Institute, various automotive manufacturers like Nissan North America, and charging station infrastructure manufacturers to support and advocate electric transportation options.
TVA's ongoing projects include:
Supporting standards development to ensure the various types of electric cars and charging stations work together
Demonstrating the latest vehicle technologies and charging advancements such as plug-in hybrid utility bucket and pickup trucks and wireless charging stations
Investigating "smart charging" strategies to help TVA and regional local power companies to maximize the potential of electricity to replace petroleum as the transportation fuel of choice and mitigate any of the impacts of charging on the power grid
Showcasing electric transportation options to educate consumers on the benefits of using electricity for transportation including starting the region's first all-electric car sharing system in Chattanooga, Tenn.
The "Plugged In" City
It's the little city that's driving big change. Find out how Chattanooga, Tenn., is becoming a model for electric transportation in the Tennessee Valley and—perhaps—across the country. Read more about electric car sharing in Chattanooga.