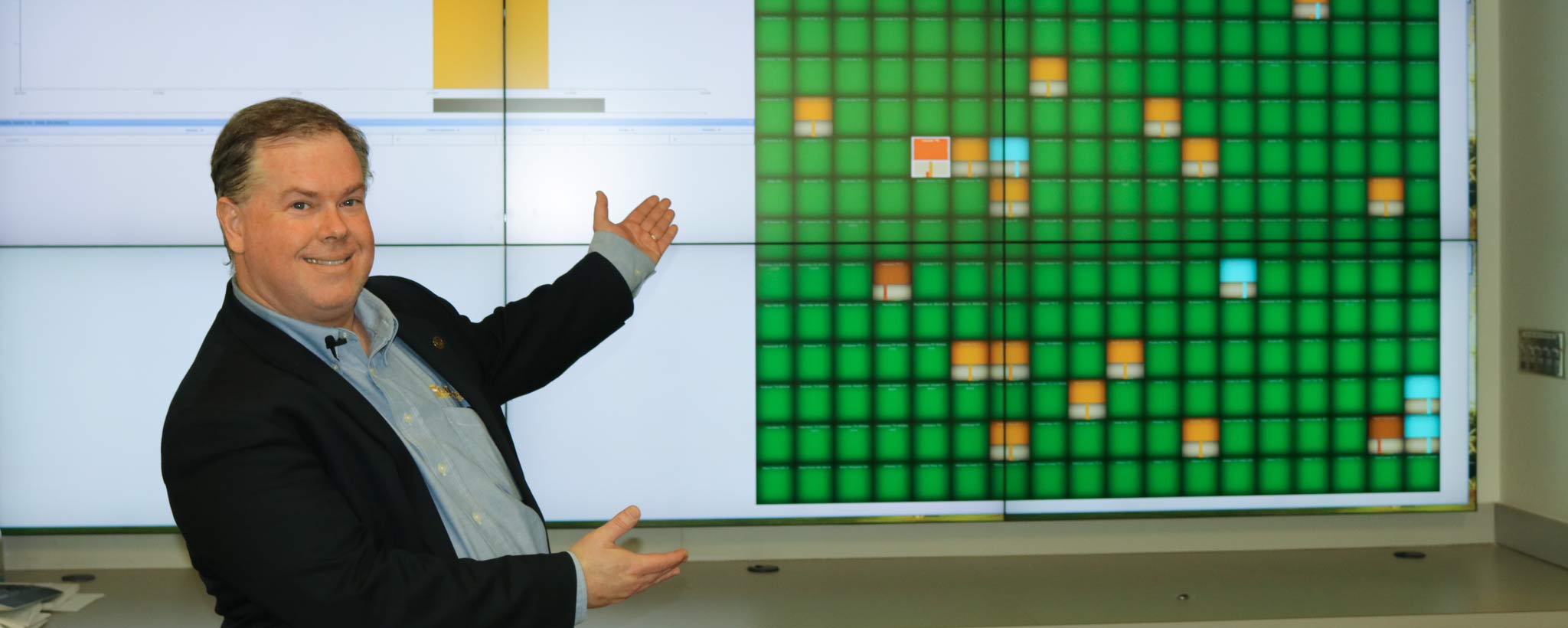 The Perfect Wave
TVA has long been known throughout the United States for keeping the lights on reliably 99.999% of the time. Theo Laughner, TVA's 2017 Ike Zeringue Engineer of the Year, sets a new standard of excellence that keeps industry coming to the Valley.
FEBRUARY 16, 2017—Flip a light switch in the Tennessee Valley, and—barring a lightning strike, a tornado touchdown or some other act of God—you can count on your light to come on. That's because TVA and your local power company are known throughout the country for setting the bar high for power reliability, delivering on that promise 99.999% of the time.
Thanks to the efforts of Theo Laughner, Senior Program Manager for Power Quality in the Transmission group, homes and businesses can also count on that light burning brightly and steadily. "You can have power reliability without having power quality," he explains. "It's my job to make sure we have both."
Widgets R Us
Forget your notions about engineers being heady, unapproachable sorts. Laughner is fun and funny, and totally down to earth. He knows his work is abstract to most people, and he puts forth an extra effort to make it approachable. "We make waveforms, but you can think of them as widgets," says Laughner, a 20-year TVA vet and graduate of the University of Tennessee at Chattanooga. "We make 5.8 billion [waveforms] a year. My job in power quality is to make sure that these widgets are the right size and shape for the job. If they're not, the PQ team works to make them right in the future."
Industrial customers throughout the Tennessee Valley—be they directly served by TVA or customers of TVA's local power companies—are a demanding sort. Each needs widgets of a certain shape and size to be successful, Laughner explains. "I actually talk to them in terms of widgets, too," he says. "They are experts in their own industrial processes, and they know what they need, but they are not electrical engineers—for them, I try to make the invisible visible."
Laughner explains waveforms like he is teaching eighth-grade science. The U.S. electric system runs at 60 cycles per second in the form of waves (aka: waveforms) on the power lines.When the lights flicker, you are actually seeing the effects of a disturbance to those waveforms
It's paid off in terms of building a working vocabulary that spares his clients the esoteric technicalities of describing the size and shape of waveforms, harmonics, and flicker, and yet lets them negotiate what they most need: clean power that lets their high-tech equipment operate at the highest levels, with a minimum of hiccups.
And here is where reliability and quality truly diverge. "Reliability is, 'Are the lights in my factory on?'" Laughner says. "Quality is, 'Do my machines have what they need to run correctly?' And sometimes, that's a big difference. The truth is, you can have 100 percent reliable, crappy power."
Quality and Quantity
Not on Laughner's watch, though. He's a man with a mission, and that's to make every one of TVA's famed "five 9s" a quality 9. "Power quality is integral to the TVA mission and to all stakeholders in the Tennessee Valley because it's directly related to the quality of industry we're able to draw to the region," Laughner says. "High power quality attracts high quality industry—and high quality industry attracts high quality jobs. That directly affects lives in our region."
Needless to say, Laughner's group works hand-in-hand with Economic Development. "We do power quality studies for Economic Development initiatives, and can do detailed studies for potential customers," he explains. "We are a recruiting factor for them."
Simply put: "Data centers, advanced manufacturing and highly mechanized industrial processes need superlative power flowing into them or everything grinds to a halt. On or off simply is no longer an adequate measure."
That's why Laughner works with organizations like the Electric Power Research Institute (EPRI) to make sure clients get exactly what they need. "We'll go into an industrial facility, go panel by panel into their industrial processes, looking for relays and transformers that may be susceptible to voltage sags," he says. "We'll go in and make recommendations about what can be done to harden their systems. We also work with standards bodies so that we're sure that our industrial customers are building processes and plants that are robust right out of the door."
Inspiring Little Flaws
Which is not to say his system is perfect. "The truth is, there are flaws," Laughner says. "Things happen, like lightning. When they happen, we identify them and learn to mitigate them in the future—and when we're working with industry, we help to make plants that much more resilient."
True to his engineering nature, Laughner thinks of his work in terms of versions—v. 1, v. 2, v. 3, and so forth. He declines to say which version he's on now, only that he's still learning—always learning in ways that benefit his clients.
He monitors the TVA system constantly. Seventeen years ago when he undertook this important work, Laughner helped his predecessors manage 60 sensors throughout the TVA transmission system to constantly provide feedback on the power system. Today, he and his team of colleagues, mentors, and interns, use a network of 1,800 monitors to troubleshoot many power lines with pinpoint accuracy.
The Next Thing
When he was hired at TVA, Laughner was asked where he saw himself in five years. At the time, he glibly retorted: "On the beach, with a drink in hand." That answer is still the same today, though he won't be alone now. He'll be there will his high school sweetheart turned wife and their four kids, who currently range in age from 4 to 17. And he'll have a few more accomplishments under his belt.
"What gets me up and going every morning is the fact that my job has a tangible impact on our mission and our region," he says. "I enjoy solving brain teaser puzzles. Power quality events are like intricate puzzles. So, it's like a hobby I get paid to do."
The next puzzle on his plate? "The dream is to develop smarter tools that can look for problems and prevent catastrophes before they occur."
Spoken like the 2017 Ike Zeringue Engineer of the Year.