Anderson Substation (Oak Ridge, Tennessee)
TVA is making improvements to its transmission system in Anderson, Blount, Knox and Roane Counties in Tennessee.
Need for the Project

Power for Knoxville, Tennessee, and the surrounding area is supplied mainly from the Bull Run Fossil Plant. Due to the scheduled closure of the plant in 2023, TVA needs to upgrade the transmission system to ensure power supply to the area remains reliable. Prior to the plant closing, TVA plans to build a new Anderson 500-kilovolt Substation on existing TVA property near the plant, modify several transmission lines to connect the new substation to the grid, and improve existing transmission equipment in Anderson, Blount, Knox and Roane counties.
Environmental Review

TVA analyzed the potential impact of this proposal under the National Environmental Policy Act. A draft environmental assessment was available for a 30-day public comment period beginning March 13, 2020. The Final Environmental Assessment is available here.
Several alternative solutions were studied. The selected option reduces the risk of transmission equipment overloading and compensates for the loss of power generation after the Bull Run Plant is closed. The area will continue to be provided with a reliable source of power for economic health and residential and commercial growth.
See the Final Environmental Assessment, beginning on page 5, for information about the alternatives that were considered.
Project Details
Substation

The site for the new substation is located west of Melton Hill Reservoir (Clinch River), across from the Bull Run Plant site, and south of Edgemoor Road, where 123.2-acres are managed by TVA's River and Resources Stewardship organization for multiple uses. About 50-acres will now be managed by the Transmission & Power Supply organization. Of that, about 14 acres will be fenced for the new substation.
Nearby areas will not be directly impacted by the footprint of the project, but can experience minor impacts during construction. This includes Melton Lake Greenway, Centennial Golf Course, Haw Ridge Park, J. B. Jones House and residential areas. The wooded area between the J. B. Jones House and the substation will remain as a visual buffer.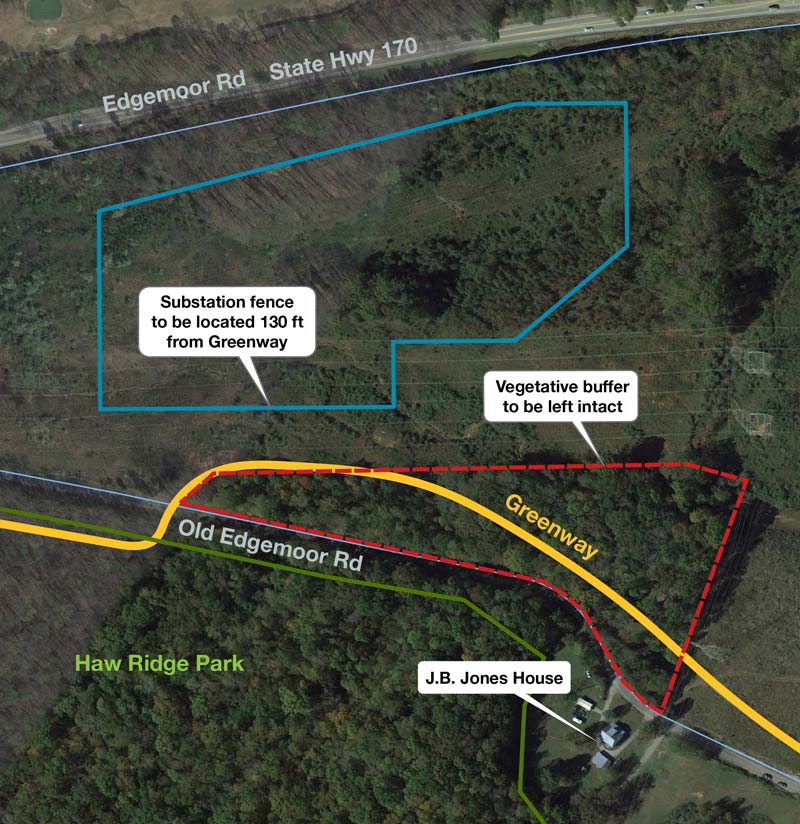 No new property or transmission rights of way are required for the project, thereby minimizing impacts while meeting the needs of the power system.
Transmission and Communications
Modifications to TVA's existing transmission system in Anderson, Blount, Knox, and Roane counties are required to support the new substation, including
Relocating and adding new transmission structures near the substation site,
Installing fiber optic ground wire, and
Upgrading equipment at the Alcoa, Bull Run, Kingston, Norris, and Solway 161-kilovolt substations and the Roane 500-kilovolt Substation.
Construction
Nearby areas can expect minor construction impacts such as noise and increased traffic during some phases of the project. All state and local permits will be obtained for the work, and local codes will be followed.
See the Final Environmental Assessment for information about temporary construction impacts.
Public Involvement
TVA remains committed to working with area stakeholders to address all concerns during the course of this project. In addition to requesting public input during the environmental review, a public open house to address several items, including the Anderson 500-kV Substation project and ongoing activities related to the eventual retirement of the Bull Run Fossil Plant, is being planned for summer 2020. Public notices and letters to nearby property owners will be issued when open house details are finalized.
Map
Anderson Substation and System Modifications, Wide View

Anderson Substation Site, Detail View

Project Schedule
June 2020 -- Begin relocating transmission lines at the site

Early Fall 2020 -- Begin grading/foundation work at the site

Late Spring/Early Summer 2021 -- Begin substation construction
Fall 2023 -- Project in-service
Environmental Reviews
The appropriate National Environmental Policy Act review will be conducted to ensure that the environmental impacts are minimized. TVA attempts to minimize any land requirements, private property impacts, and environmental impacts associated with this project.
Efforts are made during the siting process to avoid or minimize impacts to floodplains and wetlands in accordance with Executive Orders 11988 and 11990. Floodplains and wetlands are shown on the referenced map. The map illustrates how the route avoids or impacts floodplains and wetlands. Because of project and topographic constraints and because of minimizing impacts to other social, environmental, and engineering resources, no practicable alternative may be available that would allow complete avoidance of impacts to floodplains and wetlands which may require mitigation for minimizing impacts. Also, best management practices would be utilized throughout the project to minimize adverse floodplain and wetland impacts. In compliance with Section 404 of the Clean Water Act, TVA will be coordinating wetland findings with U.S. Army Corps of Engineers.
Contact
More information on this project can be obtained from:
Eric Murrell
Senior Project Manager
[email protected]
423-751-6330
1101 Market Street, MR 3F
Chattanooga, TN 37402