Cullman, Alabama (Trade)
Proposed Transmission Project
TVA is considering improvements to its transmission system that would provide power for growing load and increase power reliability in the Trade area of Cullman County in Alabama.
This area is served by Cullman Electric Cooperative (EC). Cullman EC built the existing Trade 46-kilovolt Station as a temporary fix with used equipment. The existing 11-mile-long, radial 46-kilovolt transmission line that serves the Trade Station from the Jones Chapel Station was built by a coal company in 1977 as a temporary feed and later conveyed to Cullman EC. An increase in lakefront development around Lewis Smith Lake in the area served from the Trade Station has caused seasonal surges in demand resulting in significant voltage drops. Cullman EC is experiencing up to a 7 percent drop in voltage on the old 46-kilovolt line.
Due to the age, low performance and poor condition of these facilities, Cullman EC has decided to retire the 46-kilovolt line and expand and upgrade the Trade Station to 161-kilovolt.
TVA proposes to build a 161-kilovolt transmission line to serve the upgraded Trade Station.
Retiring the 46-kilovolt line, upgrading the existing Trade Station and building a 161-kilovolt line is the most economical solution to provide for load growth and improve reliability in the area.
TVA's proposed power line would begin at Cullman EC's existing Bremen 161-kilovolt Station located on Alabama Highway 69. The new line would then extend northwest 11 miles to the upgraded Trade Station located west of the intersection of County Roads 937 and 933.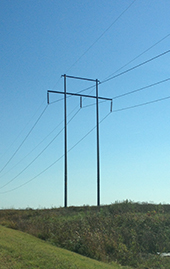 The line would be built using a combination of single-pole and H-frame, steel structures centered on all new 100-foot-wide right of way.

TVA will hold an open house on Thursday, January 16, 2020, to provide information, answer questions and receive comments about the proposed transmission project.
The project is expected to be in service in early 2023. Construction is scheduled to begin in fall-winter 2022-2023. (Dates are subject to change. During projects of this magnitude, unexpected issues may arise, resulting in the need to adjust the schedule.)
Public Involvement
TVA's process for siting new transmission projects is designed to allow public input at various stages. TVA is committed to working with area stakeholders to address concerns during various stages of the project. Comments received during the comment period will be used in reaching a decision on the proposed action.
TVA will hold an open house to discuss the proposed transmission project. Details are as follows:
Thursday, January 16, 2020
3:00 - 7:00 p.m. CST
Dodge City Town Hall Community Center
130 Howard Circle
Hanceville, Alabama 35077
TVA representatives will be available at the open house to provide information, answer questions and receive comments. Large maps showing the alternative locations for consideration will be available.
TVA is interested in receiving comments concerning how this project may affect the environment, historic properties or any other issues associated with this proposal. Any comments received, including names and addresses, will become part of the administrative record and will be available for public inspection.
If you have special needs, please contact Tanya Adams at least five days prior to the open house toll-free at (800) 362-4355.
If you cannot attend the open house but have questions or comments, contact Spencer Whittier. All written comments on this proposed action should be sent to TVA no later than Tuesday, February 18, 2020
Map
The map shows the area of the proposed transmission improvements. The map is also available below as a PDF file.
If you have questions or need help understanding the map, please contact TVA (see below).
Environmental reviews
The appropriate National Environmental Policy Act review will be conducted to ensure that the environmental impacts are minimized. TVA attempts to minimize any land requirements, private property impacts, and environmental impacts associated with this project.
Efforts are made during the siting process to avoid or minimize impacts to floodplains and wetlands in accordance with Executive Orders 11988 and 11990. Floodplains and wetlands are shown on the referenced map. The map illustrates how the route avoids or impacts floodplains and wetlands. Because of project and topographic constraints and because of minimizing impacts to other social, environmental, and engineering resources, no practicable alternative may be available that would allow complete avoidance of impacts to floodplains and wetlands which may require mitigation for minimizing impacts. Also, best management practices would be utilized throughout the project to minimize adverse floodplain and wetland impacts. In compliance with Section 404 of the Clean Water Act, TVA will be coordinating wetland findings with U.S. Army Corps of Engineers.
Contact
More information on this project can be obtained from:
Spencer Whittier
newtransline@tva.gov
800-362-4355
1101 Market Street, MR 4G
Chattanooga, TN 37402