TVA's "Hardened" Transmission System Helps Customers Weather the Storm
When the tornadoes of 2011 knocked out 108 transmission lines, TVA's rapid response won increased customer satisfaction. Since then, TVA has continued to work to improve grid resiliency and prevent power disruption in the face of severe weather.
TVA employees are in the midst of conducting annual tornado drills and practicing protective actions and evacuation procedures to help ensure their safety in the event of severe weather.

But TVA's tornado preparation efforts also extend to its industrial customers and local power companies, who experienced some of the worst storms ever during the April 2011 tornadoes. Customer impacts from that event included:
108 transmission lines out of service, including 15 500-kV transmission lines
128 bulk customer delivery points affected
75 TVA Local Power Companies affected
850,000 end-use customers without power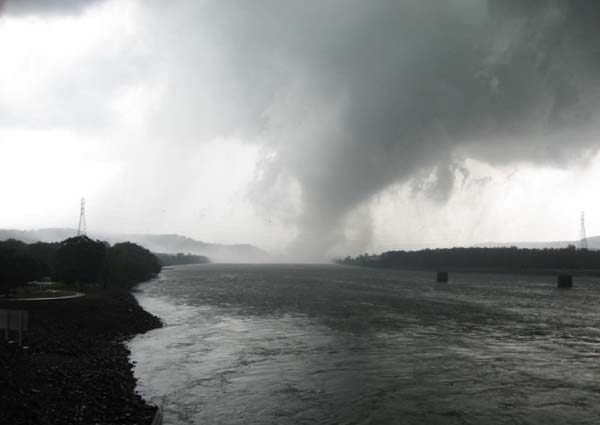 Guntersville Dam, April 27, 2011

In a stellar recovery effort, 98% of customers were restored within the space of a week with only 25% of the structures and 40% of the lines repaired. Total system restoration was completed only 65 days after one of the most damaging storms in TVA history.
"Extreme weather, including tornadoes and ice storms, can cause mechanical loads on substations and transmission structures to exceed design limits" said Clayton Clem, vice president of Transmission Engineering. "System restoration and storm recovery is an important part of the service TVA provides to our customers, but we also work on preventive measures to help minimize impacts of a tornado before it occurs."
Those measures include giving customers early warnings; continuing to 'harden' the TVA system against a severe weather event; technology development; and research. Clem also cited steps like emergency plans that include critical storm restoration material; maintaining and mobilizing crews in advance of the storm; replacing wood poles with steel; and using robust shield wire to minimize ice storm impacts.
Another TVA stalwart is its strong vegetation maintenance program as a standard procedure to help ensure grid resiliency and customer reliability.
"Managing vegetation and maintaining the right of way (ROW) for transmission lines not only aids storm recovery, but also helps prevent system damage during the storm," said Jason Regg, senior manager of TVA's Right of Way Program. "When trees infringe on the ROW, they often end up falling on the power lines. In a tornado, you often see just the opposite: the lines get ripped down and tangled in the trees. Our vegetation maintenance program is vital in helping address both of these issues."
Customer Satisfaction surveys indicate that these efforts are appreciated. TVA has averaged a 93% satisfied customer ranking (with power quality) over the past 10 years. The surveys showed a strong 95 percent customer satisfaction in 2010. Those scores rose to 97 percent in 2011 in spite of the unprecedented tornado damage that year.
"Despite the damages across the system, our customer satisfaction actually went up in 2011," said Theo Laughner, senior program manager for Power Quality. "Customers understood it was an extremely unusual and challenging event, and they knew we were working as hard as we could and appreciated successful efforts to get things back up and running."
Along with high winds, one of the most damaging aspects of severe weather for LPCs and industrial customers is lightning. Lightning magnitude is measured in kilo amps (kA). While the average strike measures about 20 kA, TVA designs its lines to withstand 80 kA strokes in order to minimize customer impact from severe storms.
In addition to advocating effective grounding systems, arrestors and other positive preventive measures for customers, TVA has developed an indicator to track and better understand impacts on large industrial customers. Laughner, who produces the monthly report, said TVA tracked voltage sags at delivery points for large industrial customers (>10 MW) and found that lightning accounts for 50 percent of the voltage sags experienced by large industrial customers during severe weather season. The study also showed that sag below 70 percent of nominal voltage was a critical threshold for customers' in determining the best actions to take to address the problem.
TVA also teams with the Electric Power Research Institute (EPRI) to audit customers' facilities, processes, equipment, automation, controls and other components in order to make recommendations to make plant processes more resilient to voltage issues including events from tornadoes.
"We look at about three customer operations each year, and we have found that in many cases they can implement low-cost improvements to make their plant more robust and resilient, particularly related to equipment operations where voltage didn't drop below 70 percent of nominal," Laughner said.