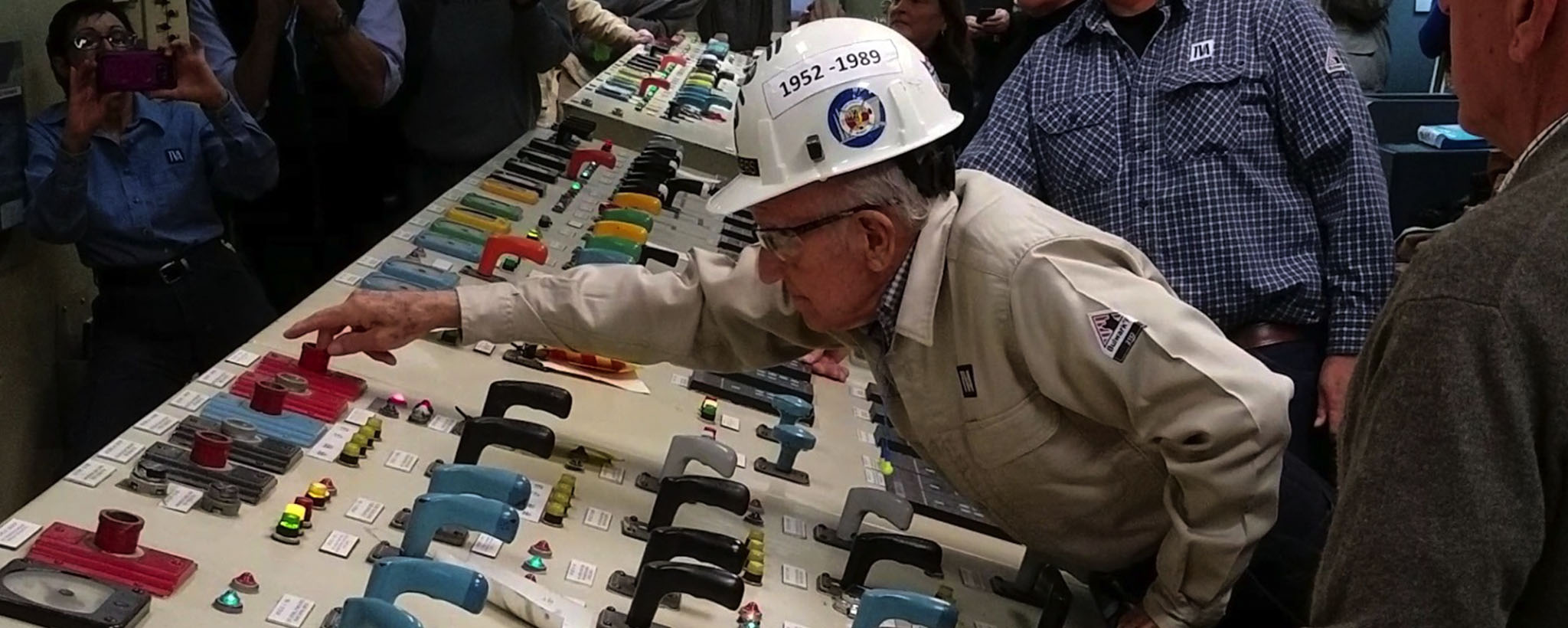 TVA Takes Johnsonville Fossil Plant Offline
TVA took the last four operating units of Johnsonville Fossil Plant offline in December after 66 years of record-breaking service.
JANUARY 4, 2017—With a spirit of pride and quiet reflection on the success of TVA's oldest fossil plant, retiree Richard "Mac" Flowers, 91, was joined by other Johnsonville Fossil Plant employees as he opened the breaker to separate the plant's last operating unit from the grid on Sunday, Dec. 31, 2017, at 7:14 p.m. CT (shown above).
The event marked the ending of Johnsonville Fossil Plant's 66-year run—a run that included several records of continuous days of operations, megawatts produced and other historic milestones.
"Our people have always taken great pride and ownership in what they do here at Johnsonville, and their dedication was evident up until the very last moment we ceased operations," said assistant plant manager Steve Holland. "We can look back now with a strong sense of accomplishment as Johnsonville Fossil Plant becomes a standout chapter in TVA's long history of service to the people of the Valley."
Having Flowers take the final unit offline was a special honor, according to Holland: "Mac is a World War II veteran with 37 years of service at TVA."
A Look Back
The 10-unit fossil plant first went into service when Unit 1 began commercial operation on Oct. 27, 1951. The final Unit 10 began commercial operation on Aug. 20, 1959.
For more than a half century, the dedicated employees of Johnsonville Fossil Plant safely produced an average of 1,350 megawatts of reliable power per year. In 2011, Johnsonville's Unit 1 had the second longest run of a coal plant worldwide, with continuous operation for 1,082 days. In 2015, the plant's Unit 4 had the third longest run worldwide, with continuous operation for 1,073 days.
Holland pointed out that Johnsonville Fossil Plant has been the most reliable coal plant in the TVA fleet for the past three years. The mark of success is the equivalent forced outage rate, or EFOR, which measures when a unit is forced into a condition that limits it from operating at 100 percent. Johnsonville's employees broke the all-time plant—and possibly a TVA coal plant—EFOR record of .24 EFOR in the summer of 2014. They have continued to keep the EFOR low for the past three years.
"This level of performance is unprecedented across transitional coal plants throughout the industry, and clearly highlights the commitment of Johnsonville's hardworking employees," noted Holland.
Proud History, New Beginning
To comply with environmental regulations, TVA opened its first gas co-generation facility at Johnsonville, and began retiring the coal fired units over the past six years. Only units 1 through 4 have continued operations through 2017.
"Even though we had to take Johnsonville Fossil offline, we will still have a positive impact on the quality of life in our community," noted Holland. "As part of our commitment to serving the people of the Valley, TVA will continue to provide steam to the Chemours plant in New Johnsonville, which is one of the largest employers in Humphrey County and in the Tennessee Valley."
TVA's co-generation partnership with Chemours will preserve approximately 1,100 jobs in Middle Tennessee. To supply between 85 and 100 megawatts of power to the Chemours plant, TVA constructed a heat-recovery steam generator on a combustion turbine at the Johnsonville Combustion Turbine plant to take over steam supply to Chemours. The Chemours plant makes a titanium dioxide product used in a variety of consumer goods
"If Chemours had to relocate due to the closing of our Johnsonville Fossil Plant, it would have had a tremendous effect on the livelihoods of the people living in the area," said Coal Fleet Vice President Sean Connors. "It is our privilege to be able to provide a solution that will continue to foster prosperity in our community."
Integrated Resource Plan
The Integrated Resource Plan examines the ways TVA can meet future demand for power in new and innovative ways. Considering costs, environmental factors, reliability, regulations and energy efficiency, the plan will determine how TVA's generation portfolio will look in the future. Read more about TVA's plans for the future in the 2015 Integrated Resource Plan.