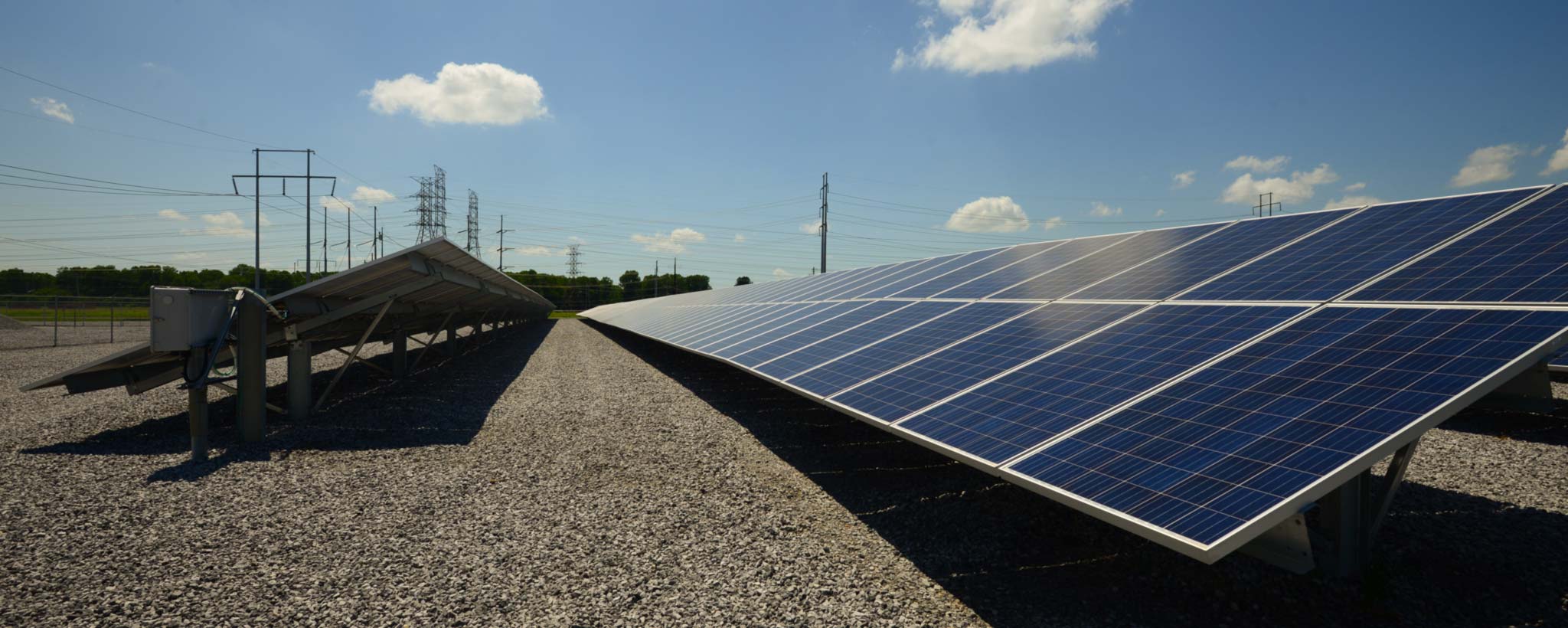 Two Memphis Companies Enjoy Summer RECreation
TVA offers opportunity for MLGW and two commercial customers to purchase Renewable Energy Certificates (RECs) associated with 2018 solar generation at Allen Natural Gas Plant.
JUNE 26, 2017—When TVA flipped the switch on a newly built 1 MW solar facility at Allen Natural Gas Plant in Memphis last summer, it provided an excellent opportunity to expand low-cost renewable energy in the Valley, according to Laura Duncan, a manager in the Business Development and Renewables group.
"TVA didn't need the new generation," explains Duncan. "Yet we have companies in our power service region with pressing green goals—and the solar array is a good fit to support them. It supports our own commitment to renewable energy. It supports our commitment to economic development, allowing us to retain and potentially attract more companies with corporate sustainability goals. And it supports our commitment to the environment. It's on mission for us in every way."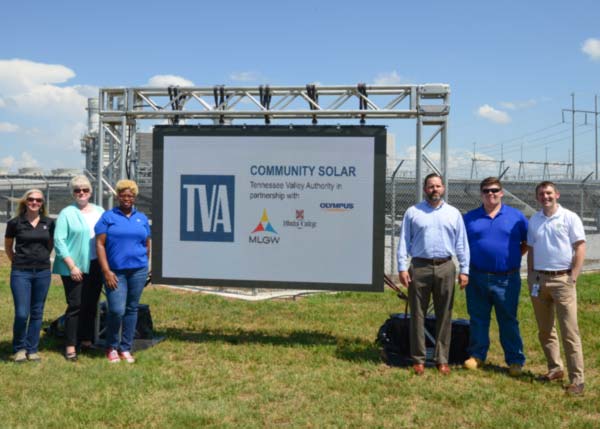 It also allows TVA to offer one of its local power companies, Memphis Light, Gas & Water (MLGW), a fantastic opportunity to make available the renewable energy certificates (RECs) associated with the generation at the Allen site and offer them to customers through a unique community solar program.
A REC is created when 1 megawatt-hour (MWh) of electricity is generated and delivered to the electricity grid from a renewable energy resource, and embodies the full suite of renewable attributes. In purchasing RECs, buyers have the right to claim the equivalent amount of their electricity consumption as renewable energy.
Doing Business with Businesses
MLGW chose to offer the RECs to business and commercial customers, based on sheer demand. "We are finding there are a lot of customers in Shelby County that are making sustainability commitments. They're starting to approach us and say things like, 'Hey, headquarters says I have to be fully sustainable within three years. What can you do for me?'" says Becky Williamson, strategic marketing coordinator for MLGW. "Solar RECs are one good solution."
So MLGW turned to two companies that had been inquiring: Rhodes College, which opted to purchase 60 percent of the available Allen RECs, and Olympus Surgical Technologies America, which purchased the remaining 40 percent. As owners of the RECs, the companies can state that an equal portion of their 2018 electricity use is from a solar array located within miles of their facilities. Representatives from the businesses toured the Allen Natural Gas Plant and its 1 MW solar array on June 26, 2018.
According to the National Renewable Energy Laboratory, participating in utility-scale solar is a good deal for commercial customers, who benefit from economies of scale that yield lower costs. And Rhodes College, in particular, feels very good about it. "Rhodes is very involved in the purchase of renewable energy," says Brian Foshee, director of the physical plant at Rhodes. "We were the largest purchaser under the Green Power Switch program, but we were very pleased to participate in this new solar opportunity, especially with the renewable energy being produced locally."
The Future Looks Bright
Will TVA do more such projects in the future? Almost certainly. In fact, TVA has already committed to investing $8 billion over the next 20 years to grow renewable energy resources, including solar wind, hydro and bio gas. Already, TVA programs support upwards of 3,600 public and private solar installations throughout the Tennessee Valley. And you can bet that as consumers and local power companies continue to become more interested in solar power, TVA will continue to offer and expand solutions that support solar.
Indeed, says Duncan, "We currently have a renewable Request for Proposals out for 200 MW to evaluate and pursue the goal of low-cost renewable energy in the Tennessee Valley—and that could happen anywhere in the Valley. This will help us keep costs as low as possible while continuing to meet customer needs for renewable energy."
As for the Allen project, it has already been a huge success. "The project has been fully supported by TVA's Major Projects, Power Operations, Customer Delivery and Renewables teams from inception through installation and now subscription," says Lynn Dabney, general manager of Customer Service, West Region. "It's been a positive and innovative partnership between MLGW and TVA that shows our commitment to Memphis and our commitment to adding renewables without increased cost to the ratepayers as a whole."