Need a Flexible Sustainability Solution?
Green Flex enables businesses with high energy consumption to quickly meet their sustainability goals at a lower cost through purchase of renewable energy certificates (RECs) to reduce the impact of electricity consumption, support renewable energy and become a leader in sustainability.
Program highlights:
1-year commitment, low-cost bulk purchase (minimum of 2000 RECs)
100% wind energy sourced from Iowa, Illinois, or Kansas and delivered to the Tennessee Valley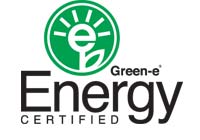 Green Flex is Green-e® Energy certified, and meets the environmental and consumer-protection standards set forth by the nonprofit Center for Resource Solutions. Learn more at www.green-e.org.
See Product Content Labels and Price, Terms, and Conditions

$1.50 per MWh through the Green-e® Energy certification program; Green Flex is sold in blocks of 1 MWh at a cost of $1.50 per block, with a minimum purchase of 2,000 MWh annually
Fast implementation, no sign-up fee, no infrastructure required

To enroll call us toll-free at (866) 673-4340 or email us at [email protected]