Need a Flexible Sustainability Solution?
Green Flex enables businesses with high energy consumption to quickly meet their sustainability goals at a lower cost through the purchase of renewable energy certificates (RECs) to reduce the impact of electricity consumption, support renewable energy and become a leader in sustainability.
Program highlights:
1-year commitment, low-cost bulk purchase (minimum of 2000 RECs)
100% wind energy sourced from Iowa, Illinois, or Kansas and delivered to the Tennessee Valley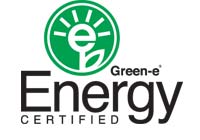 Green Flex is Green-e® Energy certified and meets the environmental and consumer-protection standards set forth by the nonprofit Center for Resource Solutions. Learn more at www.green-e.org.
See Product Content Labels and Price, Terms, and Conditions

$3.00 per MWh through the Green-e®️ Energy certification program; Green Flex is sold in blocks of 1 MWh at the cost of $3.00 per block, with a minimum purchase of 2,000 MWh annually
Fast implementation, no sign-up fee, no infrastructure required

Learn More About RECs
Want to find out more about RECs, and read all the "fine print"? Get more details about the RECs concept and program, and how your investment will make a difference in the field of renewable energy.
Participating Local Power Companies
Learn more about how to participate in Green Invest with your local power company. Just check this list to see if yours participates and get contact information.