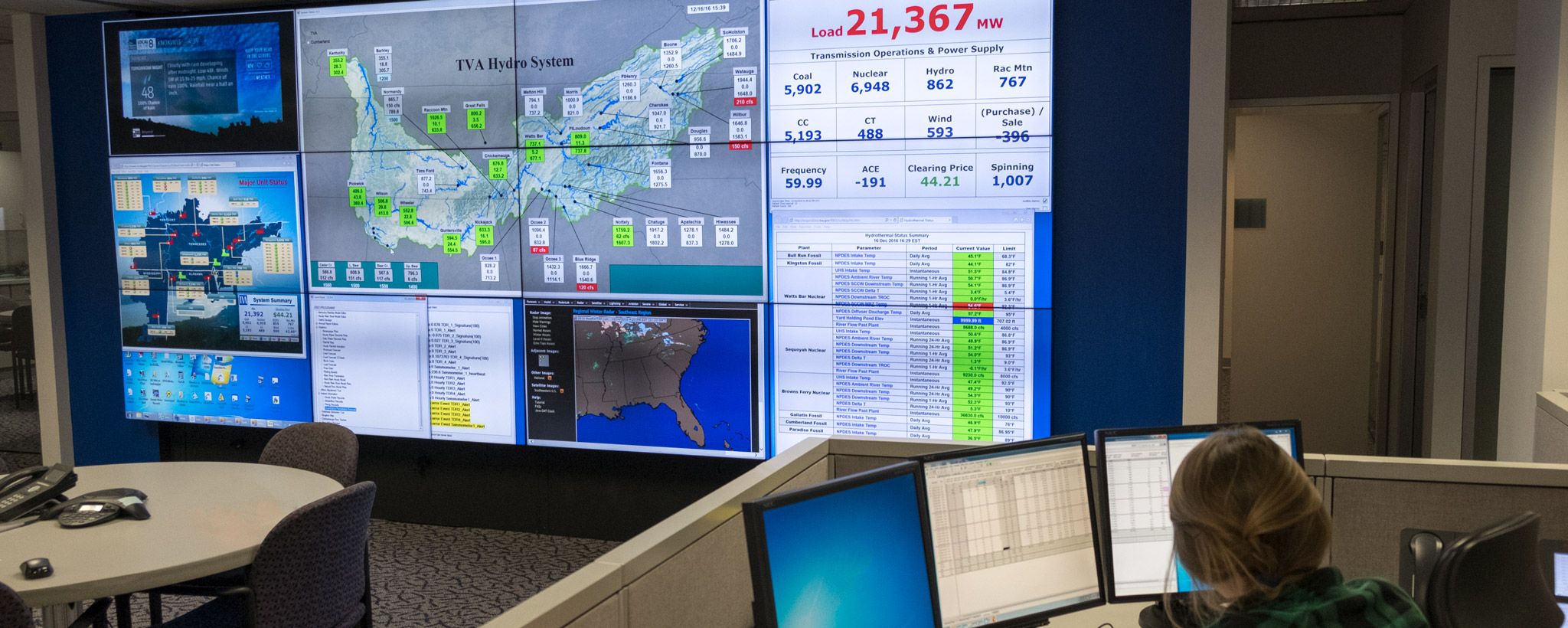 Sharing Water Across the System
TVA is using water from Chatuge, Nottley, Blue Ridge, South Holston and Watauga reservoirs to meet minimum flows and ensure aquatic health along the entire Tennessee River system.
Afternoon cloudbursts have kept Valley residents guessing about how much rain we're really getting here in our region. The official story? Not much. Or at least not many of us.
Five of TVA's biggest tributary reservoirs in East Tennessee—Norris, Cherokee, Douglas, Hiwassee and Fontana—are significantly below annual fill levels (to the tune of six feet or more), owing to lack of rain and run-off during unseasonably the dry months of March, April and May. The forecast for June isn't looking much better. In fact, it's looking—according to the U.S. Drought Monitor—like a drought, with probability to persist into July.
The far eastern corner of the Valley—over into Western North Carolina, North Georgia and Upper East Tennessee—has a different story to tell. Rainfall and runoff in those areas has been above normal, and the smaller tributary reservoirs there—Chatuge, Nottley, Blue Ridge, South Holston and Watauga—are brimming full. But due to the drought conditions Valleywide and demands on the Tennessee River watershed as a whole, they won't likely stay that way for long.
Maintaining River Health
Tom Barnett, senior manager of TVA's River Forecasting Center, explains why. "We have a responsibility to preserve aquatic life along Tennessee River and its tributaries," he says. "Right now, we need to balance the system out to meet our prescribed minimum flows across the system to provide for adequate dissolved oxygen levels as temperatures begin to rise."
Barnett is well versed in exactly what is needed to do this—the release of 13,000 cubic feet per second from the tributary reservoirs into the system above Chickamauga Dam. That's the minimum systemwide flow requirement needed to:
Sustain fish, mussels, insects, plankton and other aquatic life;
Preserve water quality;
Ensure adequate water supply for Valley municipalities;
Provide for industry and power production;
And—yes—hold back as much water as possible for the purposes of recreation.
"Our River Operations Policy gives a pretty big stick to recreation during the summer months," Barnett explains. "We hold back every bit of water we can; we're producing hydropower at only 60 percent of normal levels right now."
But without maintaining the minimum system flows, conditions on the river would be dire. "You'd be looking at fish kills," Barnett says. "You'd be looking at hot, anoxic water that nobody could get out and enjoy, and that's a bad situation for everyone."
Water to Share
How will the flow be met? "In a year with well-dispersed rainfall, all 10 of the tributary reservoirs would be drawn from in an equitable manner," Barnett explains. "This year, we will use water from the lakes that filled: namely, Chatuge, Nottley, Blue Ridge, South Holston and Watauga while limiting withdrawals from the ones that didn't until all 10 are balanced. Then, water will be equitably from all."
The lakes that filled just so happen to be the smallest of the 10 tributaries, and will be the most impacted initially, says James Everett, manager of Operations Support for the River Operations Center. "It's like the tribs that didn't get filled are the five gallon buckets of the system, and ones that did get full are like beach pails," he says. "Those beach pails will come down quickly at first until we get balanced, then the rate of draw will slow as we begin to pull water from the five gallon buckets."
Levels on Chatuge, Nottley, Blue Ridge, South Holston and Watauga could drop a half to one foot per week during across the next few weeks as the tributary system comes into balance, which Barnett and Everett predict will happen toward the end of June.
In the meanwhile, homeowners on all tributary reservoirs are advised to monitor lake levels here or via TVA's mobile app, and adjust docks and move boats accordingly to keep them afloat—especially if they are located on shallow water coves, side channels or creeks.
All boaters should exercise an abundance of caution on the water because of the lower water levels, advises Barnett: "You'll want to watch out for sand bars, rocks and tree stumps—if you are in an unfamiliar area, slow down."
Outlook
It's hard to know how the season will ultimately play out—one good tropical storm system could right the ship, after all. But Barnett and Everett advise a realistic attitude: it's likely that tributary reservoir levels will continue to fall throughout the summer, as they do most all years.
"TVA relies on rainfall for the spring fill—and we've had a dry spring, which means that lake levels aren't as high as we'd like them to be," Barnett says. But he's a man with plenty of data at his fingertips, and shares this: "These conditions fall within the normal range given historical Valley weather conditions."
Meanwhile, lake-goers should not feel that their needs are going unnoticed. "We will continue to hold on to every drop of excess rainfall and runoff we can and release only what is needed to maintain the health of the river system," Barnett promises.
Watch a video of Tom Barnett talking more about the June drawdown on TVA's Facebook page.