Spring Fill Falling Behind
Seven of TVA's ten large tributary reservoirs are falling behind on filling right now because of less than normal rainfall for this time of year. Will the situation get worse? TVA River Operations experts explain the odds.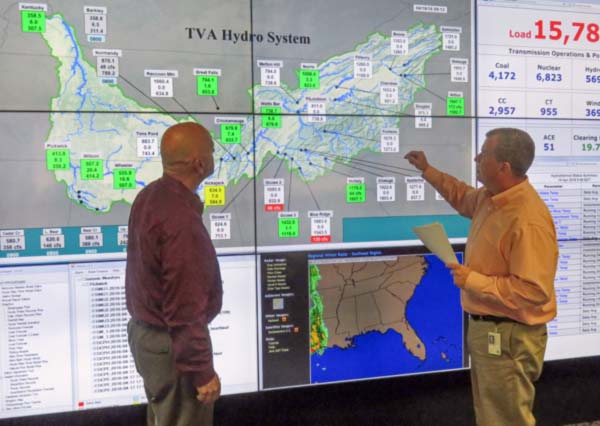 David Bowling, general manager of TVA River Management (left) and Tom Barnett, senior manager of the River Forecast Center, constantly monitor water levels and weather conditions in the Valley.
"Spring usually means several things—the leaves get green, birds begin to sing and so on," says Tom Barnett, senior manager, TVA River Forecast Center. "It's also the time reservoirs begin to fill to summer levels. That process is usually completed by the first of June. But this year we're pretty far behind—March was fairly dry, only 52 percent normal rainfall, and April hasn't been much better. It was 2007 the last time we were this far behind in spring fill."
Right now, South Holston, Watauga, Fontana, Douglas, Norris, Hiwassee and Cherokee reservoirs are below their respective fill curves. (Blue Ridge, Chatuge and Nottley are filling on schedule.) If rainfall levels continue to be this far below normal, lake and river navigation as well as water quality could be affected this summer.
"When we don't get enough rain, you'll see brown rings around lake edges. Boaters have an increased risk of running aground ," says Barnett. "Most people don't boat in winter, so they're not familiar with navigating low water levels. You have to operate with a lot more caution. You stand a greater chance of running into rocks, sand bars or submerged objects like tree stumps."
Normally, the Tennessee Valley receives at least an inch of rainfall per week during this time of year, which fills tributaries in the upper eastern portions of the Valley, allowing water to flow into the system and fill lakes to summer pool levels. But with rainfall far behind, at this point it would take hard rains of anywhere from four to ten inches to quickly fill all seven reservoirs and bring the system back into balance.
Whereas TVA plays an active role in the winter drawdown, it relies on nature for the rainfall and runoff necessary to complete the spring fill. What it can do is wait, watch and adjust operations to reflect meteorological circumstances—for instance, hydro operations are currently running at only about 60 percent of what is usual for this time of year. "We are doing everything we can to hold on to every drop of water we can while meeting downstream commitments to ensure the health of the entire river system," Barnett says.
In that regard, there are many considerations. Low water levels in the summer would mean compensating for possibly degraded water quality because there isn't enough fresh, cool water to keep aquatic life healthy. Navigation could be affected—for both recreational boaters and commercial operations like shipping barges.
In addition, less water means warmer water, and that means nuclear and coal-fired facilities may have to operate cooling towers to meet compliance levels for the heated water they discharge. If conditions become extreme, they could be required to reduce generation.
"If conditions remain dry, we will need to draw from our reservoirs just to maintain minimum flow in the main Tennessee River," explains David Bowling, general manager, River Management. "Water quality, water supply and navigation will drive how much water has to be released from reservoirs into the main system in order to keep the aquatic environment healthy, water intakes under water and barges from having problems."
The current forecast calls for dry weather to continue through the end of April, Barnett notes. Although the situation right now raises concerns, the River Forecast Center is looking to the future. Good rainfall in May could resolve the situation.
TVA's River Forecast Center is already receiving emails and calls from concerned Valley residents who are wondering why lake levels aren't rising the way they usually do. The team is advising boaters to operate with extra caution—and to have both patience and hope.
"We're telling people that it is dry right now, but not record-breaking dry," says Barnett. "We are still in the middle of the expected elevation range—lower than we would like to be, but not out of the range of what's considered normal. We've got plans for dealing with the situation, no matter how it develops."