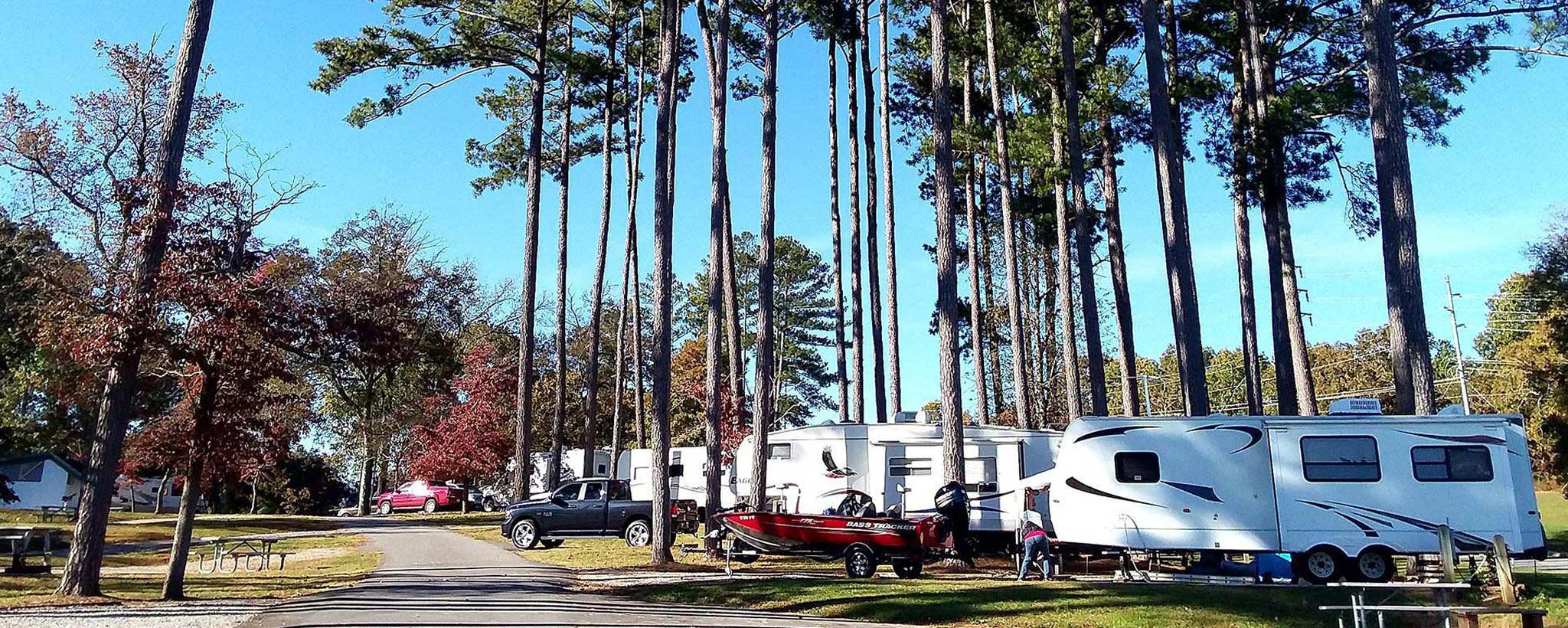 Camp-Right Campgrounds
All campgrounds offer the opportunity to sleep under the stars, but some campground operators go the extra mile to preserve the environment for future generations. TVA's Camp-Right Campgrounds program recognizes those campgrounds on TVA land that are committed to environmentally responsible practices and that share our passion for protecting the environment.
Camp-Right Certification
Are you a campground operator with a TVA agreement? Being a Camp-Right Campground shows your commitment to the environment, and provides you the opportunity to obtain assistance and incentives from TVA. Learn more about how you can become certified and the benefits you'll receive.
Find a Camp-Right Campground:
Alabama
Brush Creek Park Campground
14299 County Rd. 14
Waterloo, Ala. 35677
(256) 760-5878
lauderdalecountyal.gov/index.php/parks-recreation/
Buck's Pocket State Park Campground
393 County Rd. 174
Grove Oak, Ala. 35975
(256) 659-6288
alapark.com/parks/bucks-pocket-state-park
Decatur Wheeler Lake KOA
44 County Rd. 443
Hillsboro, Ala. 35643
(256) 280-4390
koa.com/campgrounds/decatur
Elliott Branch Campground
325 Elliott Branch Rd.
Hodges, Ala. 35571
(256) 627-1538
bearcreeklakes.com/elliott-branch
Goose Pond Colony Resort
417 Ed Hembree Dr.
Scottsboro, Ala. 35769
(256) 912-0075
goosepond.org
Honeycomb Campground
188 Campground Rd.
Grant, Ala. 35747
(256) 582-9882
vista-rec.com
Horseshoe Bend Campground
2355 Horseshoe Bend Rd.
Hodges, Ala. 35571
(205) 412-2430
bearcreeklakes.com/horseshoe-bend-1
Lake Guntersville State Park Campground
24 State Campground Rd.
Guntersville, Ala. 35976
(256) 571-5455
alapark.com/parks/lake-guntersville-state-park/camping
Piney Point Campground
2696 Hwy 37
Vina, Ala. 35593
(256) 436-3018
bearcreeklakes.com/piney-point

Slickrock Campground
170 Slickrock Camp Rd.
Russellville, Ala. 35653
(205) 412-6503
bearcreeklakes.com/slickrock
Wheeler Reservation Campground
200 Hwy 101
Rogersville, Ala. 35652
(256) 760-5878
lauderdalecountyal.gov/index.php/parks-recreation/
Williams Hollow
2258-3070 State Route 227
Spruce Pine, Ala. 35585
(256) 412-7564
bearcreeklakes.com/williams-hollow

Kentucky
Birmingham Point RV Park
5295 Barge Island Rd.
Benton, Ky. 42025
(270) 354-8482
kentuckytourism.com
Kenlake State Resort Park
17254 US Hwy. 68 East
Hardin, Ky. 42048
(270) 474-2211
parks.ky.gov/hardin/parks/resort/kenlake-state-resort-park
Kentucky Dam Village State Park
727 Gilbertville Hwy.
Gilbertville, Ky. 42044
(270) 362-4271
parks.ky.gov/explore/kentucky-dam-village-state-resort-park-7793
Lakeside Campground and Marina
12363 U.S. Hwy. 68 East
Benton, Ky. 42025
(270) 354-8157
visitlakesidecampground.com/
Lighthouse Landing Resort and Marina
320 West Commerce Ave.
Grand Rivers, Ky. 42045
(800) 491-7245
lighthouselanding.com
Waters Edge RV Park and Marina
274 Tacklebox Ln.
Murray, Ky. 42071
(270) 436-5321
watersedgervparkky.com/campground
Mississippi
Goat Island
109 County Rd. 346
Iuka, Miss. 38852
(662) 423-1104
tennesseerivervalleygeotourism.org/entries/the-goat-island-campground/
J. P. Coleman State Park
613 CR 321
Iuka, Miss. 38852
(662) 423-6515
mdwfp.com/parks-destinations/state-parks/jp-coleman
Tennessee
Barton Springs Campground
158 Barton Springs Rd.
Normandy, Tenn. 37360
(931) 857-3777
vista-rec.com
Beach Island Resort and Marina
170 Beach Island Rd.
Maynardville, Tenn. 37807
(865) 992-3091
norrislakemarinas.org
Cane Creek Marina and Campground
530 Cane Creek Boat Dock Ln.
Stewart, Tenn. 37175
(931) 721-3483
canecreekmarina.com
Caney Creek RV Resort and Marina
3615 Roane State Hwy.
Harriman, Tenn. 37748
(865) 882-4042
caneycreekrvresort.com
Cedar Point Campground
1659 Cedar Point
Manchester, Tenn. 37355
(931) 857-3705
vista-rec.com
Cherokee Dam Campground
2805 N. Hwy. 92
Jefferson City, Tenn. 37760
(865) 361-2151
vista-rec.com
Douglas Headwater Campground
1680 Boat Launch Rd.
Dandridge, Tenn. 37725
(865) 361-1379
vista-rec.com
Douglas Tailwater Campground
29 Riverview Way
Kodak, Tenn. 37764
(865) 363-1522
vista-rec.com
Hiwassee Ocoee State Park Gee Creek Campground
404 Spring Creek Road
Delano, Tenn. 37325
(423) 263-0050
tnstateparks.com/parks/hiwassee-ocoee
Hornsby Hollow Campground
2379 Hornsby Hollow Campground Ln.
Ten Mile, Tenn. 37880
(865) 361-2151
hornsbyhollowcampground.com
Lakeview Resort and Marina
280 Lakeview Rd.
Sharps Chapel, Tenn. 37866
(865) 278-3666
norrislakemarinas.org/norris/lakeview-marina/

Lotterdale Cove Campground
17177 East Coast Tellico Parkway
Greenback, Tenn. 37742
(865) 856-7284
tellicolakecampgrounds.com/index.php/lotterdale-cove/
Loyston Point Campground
730 Loyston Point Rd.
Andersonville, Tenn. 37705
(865) 494-9369
vista-rec.com
Melton Hill Campground
201 Campground Rd.
Lenoir City, Tenn. 37771
(865) 361-2151
vista-rec.com
Mousetail Landing State Park
3 Campground Rd.
Linden, Tenn. 37096
(731) 847-0841
tnstateparks.com/parks/mousetail-landing
Nathan Bedford Forrest State Park
1825 Pilot Knob Rd.
Eva, Tenn. 38333
(731) 593-6445
tnstateparks.com/parks/nathan-bedford-forrest
Norris Dam State Park
125 Village Green Cir.
Lake City, Tenn. 37769
(865) 426-7461
tnstateparks.com/parks/norris-dam
Notchy Creek Campground
1235 Corntassel Rd.
Vonore, Tenn. 3788
(423) 884-6280
tellicolakecampgrounds.com/index.php/notchy-creek-campground/
Panther Creek State Park
2010 Panther Creek Rd.
Morristown, Tenn. 37814
(423) 587-7046
tnstateparks.com/parks/panther-creek
Paris Landing State Park
16055 Hwy. 79 N
Buchanan, Tenn. 38222
(731) 641-4465
tnstateparks.com/parks/paris-landing
Pebble Isle Marina and Campground
2120 Old Johnsonville Rd.
New Johnsonville, Tenn. 37134
(931) 535-3827
pebble-isle.com
Perryville Marina and Campground
108 Perryville Marina Ln.
Parsons, Tenn. 38363
(731) 847-2444
perryville-marina.com
Pickwick Dam Campground
81845 Warf Rd.
Savannah, Tenn. 38372
(865) 361-9492
vista-rec.com
Pickwick Landing State Park
855 Hardin Dock Rd.
Counce, Tenn. 38326
(731) 689-3129
tnstateparks.com/parks/pickwick-landing
Riley Creek Campground
615 Anglers Cove Rd.
Kingston, Tenn. 37763
(865) 250-4286
tennesseerivervalleygeotourism.org
Shellmound Campground
2735 TVA Rd.
Jasper, Tenn. 37347
(423) 924-9857

Sullivan County Observation Knob Campground
553 Knob Park Rd.
Bristol, Tenn. 37620
(423) 878-1881
historicsullivan.com/tourism_observationknob.htm
Tims Ford Marina and Resort
175 Marina Ln.
Winchester, Tenn. 39378
(931) 967-4509
[email protected]
Tims Ford State Park
570 Tims Ford Dr.
Winchester, Tenn. 37398
(931) 962-1183
tnstateparks.com/parks/tims-ford
Toqua Campground
1315 Highway 360
Vonore, Tenn. 37885
(423) 884-3317
tellicolakecampgrounds.com/index.php/toqua-campground/
Warriors' Path State Park
490 Hemlock Rd.
Kingsport, Tenn. 37663
(423) 236-8531
tnstateparks.com/parks/warriors-path
Watauga Dam Campground
744 Wilbur Dam Rd.
Elizabethton, Tenn. 37643
(423) 543-0233
vista-rec.com
Wildlife Cove Village & Marina
168 Wildlife Cove
Camden, Tenn. 38320
(731) 584-6740
facebook.com/wildlifecove
Yarberry Peninsula Campground
4825 Yarberry Rd.
Lenoir City, Tenn. 7772
(865) 986-3993
vista-rec.com
Virginia
Sugar Hollow Campground
21361 Sugar Hollow Rd.
Bristol, Va. 24202
(256) 645-7275
bristolva.org/149/campground
Washington County Park & Campground
19482 County Park Rd.
Abingdon, Va. 24211
(276) 608-1244
washcovaparkauthority.com