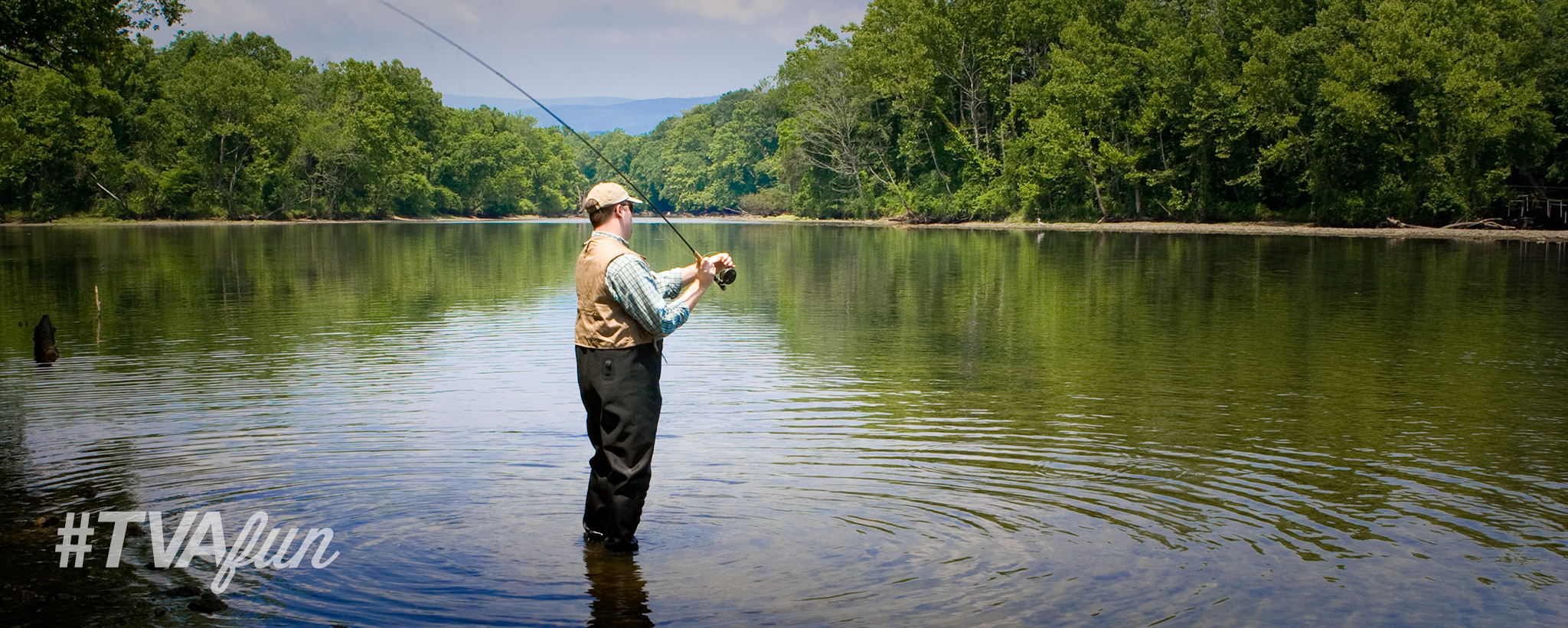 Big Ones Below Norris
The tailwater below Norris Dam offers outstanding trout fishing and perfect conditions for paddling—and A.D.A. access to boot. Fun for everyone!
Want to catch a big trout? Like, a REALLY big trout? Your best odds are to be found in the tailwaters below Norris Dam, ranked by the Tennessee Wildlife Resources (TWRA) agency as one of the best tailwater trout fishing destinations in the state for 2018.
Conditions are near perfect there for raising monsters of the species, according to Dennis Baxter, manager of River Reservoir Compliance Monitoring for TVA, lifelong trout angler and past president of the Clinch River chapter of Trout Unlimited (CRCTU.org).
"It stays nearly 50 degrees year round, which is the perfect growing temperature for trout," Baxter says. "And the water quality and constant temperature coming out of our dam ensures a reliable food source for the fish—there are food organisms coming through the dam and living below the dam, so the trout have a good steady diet."
And there's another big plus: "The TWRA trout management practice provides a protected length range—or "slot limit"— that allows the trout here to grow to trophy size. That means that everyone has a chance of catching a trophy-sized trout below Norris," Baxter says.
What's a trophy-sized trout? Try 14" to over 20"!
Baxter is not kidding when he says: "The fishing is fantastic." But, he notes, the tailwater is just as fun for kayakers and canoers too. "The tailwater releases never get too crazy, so it's a fun float, and there are three or four take-outs, so you can plan a fun day paddling on the water." (Check generation releases on TVA's LakeInfo App.)
The best thing? The fun is available to all. "We have wheelchair access available at Miller's Island," Baxter says. "It's brand new, and wow. Nothing makes me happier than to see everyone having fun."
It's always a good time for fun on the Tennessee Valley's lands and waters. Not sure where to start? We have you covered! Check out some of the best recreational activities on our reservoirs. While you're enjoying the lakes, trails, picnic areas and campgrounds, share your own stories and photos on Instagram using #TVAfun.
River Neighbors Newsletter
Get the all the latest news and inside information about recreation on TVA public lands and lakes.