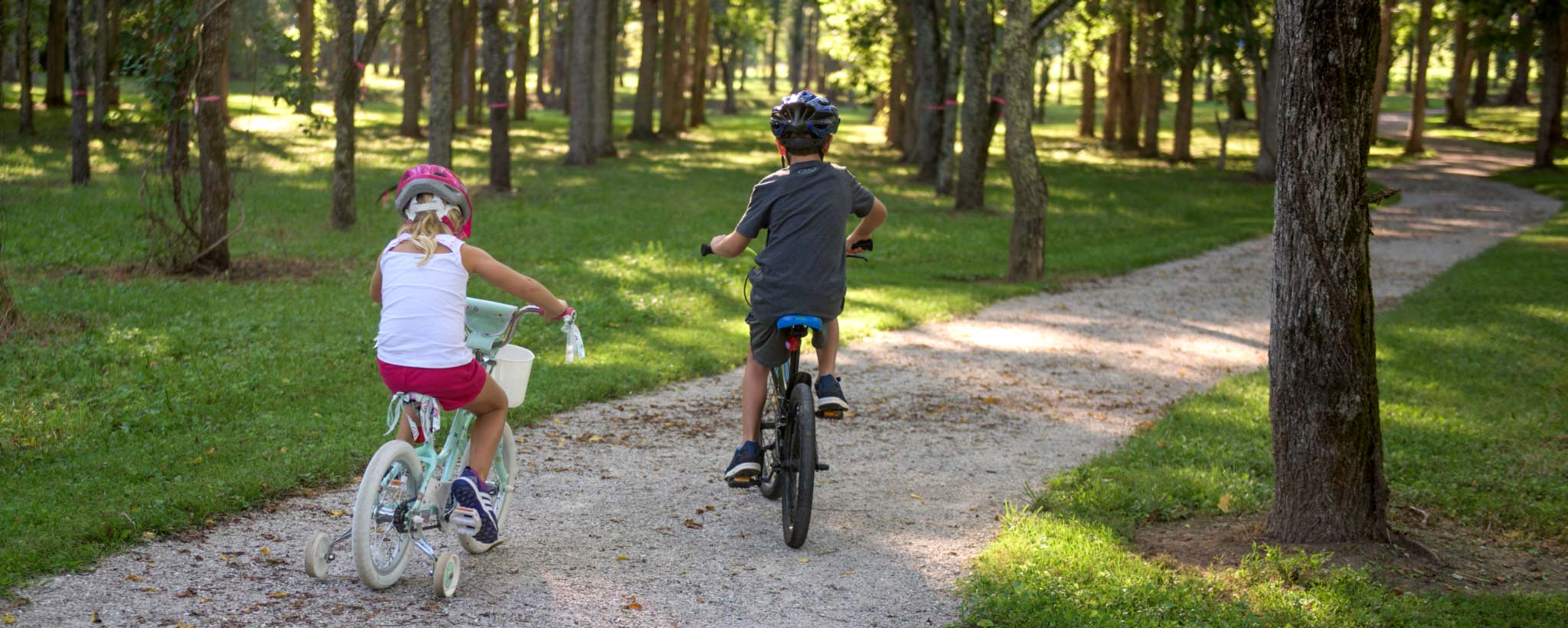 Celebrate National Trails Day with TVA
TVA trails crisscross more than 170 miles of public land — there for you to hike or bike, no matter what your difficulty level. They're fun to explore and great for exercise. The only downside is the work to maintain them.
Fortunately, volunteers throughout the Tennessee Valley step up to help TVA take care of them. This year, TVA celebrates National Trails Day with Team Up for Trails, a new initiative designed to empower volunteers to take their interest in trail maintenance to an engaging new level.
TVA's 2019 National Trails Day objective is to connect local communities to their public lands and trails by offering new growth opportunities through Team Up for Trails. The initiative provides current and potential Adopt-a-Trail volunteers the chance to participate in beginning and intermediate workshops, then put their newfound knowledge to work.
"I'm excited to get communities in our seven-state region involved," says Suzanne Fisher with TVA Natural Resources. "I've been getting out and meeting retirees, members of mountain biking and trail running clubs and others. We want to know why people use trails, and what makes them want to volunteer and work."
One motivational factor is interest, and there was no shortage of that when members of the Five Rivers Mountain Biking Club participated in the first Team Up for Trails workshop in March. Trails Specialist Valerie Naylor led the event in Morristown, Tennessee, and hosted by TVA and Tennessee Wildlife Resources Agency. A member of the Professional Trail Builders Association, Naylor specializes in sustainable trail design, mechanized trail building and on-the-ground education.
More than Pulling Weeds
Trail maintenance isn't just pulling weeds—it's something of a science. In the classroom, Naylor covered topics such as the planning, design and maintenance of trails. Moving to the field, participants received an overview of tool usage and safety, as well as demonstrations related to the management of vegetation, drainage and de-berming.
After completing the class, volunteers have a good overview of trail maintenance and the steps needs to coordinate with TVA for trail work. They are more equipped to improve and preserve trail tread, as well as protect trail corridors from encroaching vegetation.
Want to join in? Fisher is currently seeking volunteers across the Valley to help adopt TVA trails and participate in trails workshops led by certified trail builders like Naylor. Find out more about how to sign up for events or adopt a trail here: https://www.tva.gov/volunteer.
"Along with increased understanding of trail maintenance, I hope participants bond with each other and with this beautiful land," says Fisher.
Wes Soward of the Appalachian Mountain Bike Club embodies this sentiment. He describes trail workdays as "the perfect opportunity to give back a few hours of time to support TVA's efforts in providing trail access. But while the work is important, the camaraderie and community aspect of a workday is great to be a part of, as well."

It's always a good time for fun on the Tennessee Valley's lands and waters. Not sure where to start? We have you covered! Check out some of the best recreational activities on our reservoirs. While you're enjoying the lakes, trails, picnic areas and campgrounds, share your own stories and photos on Instagram using #TVAfun.
River Neighbors Newsletter
Get the all the latest news and inside information about recreation on TVA public lands and lakes.
See More Trails!
Don't see a trail near you on this list? There are plenty of other TVA trails throughout the Valley, and you don't need a special event to get outside and hike, bike or ride them on horseback. Click here to find a nearby TVA trail.