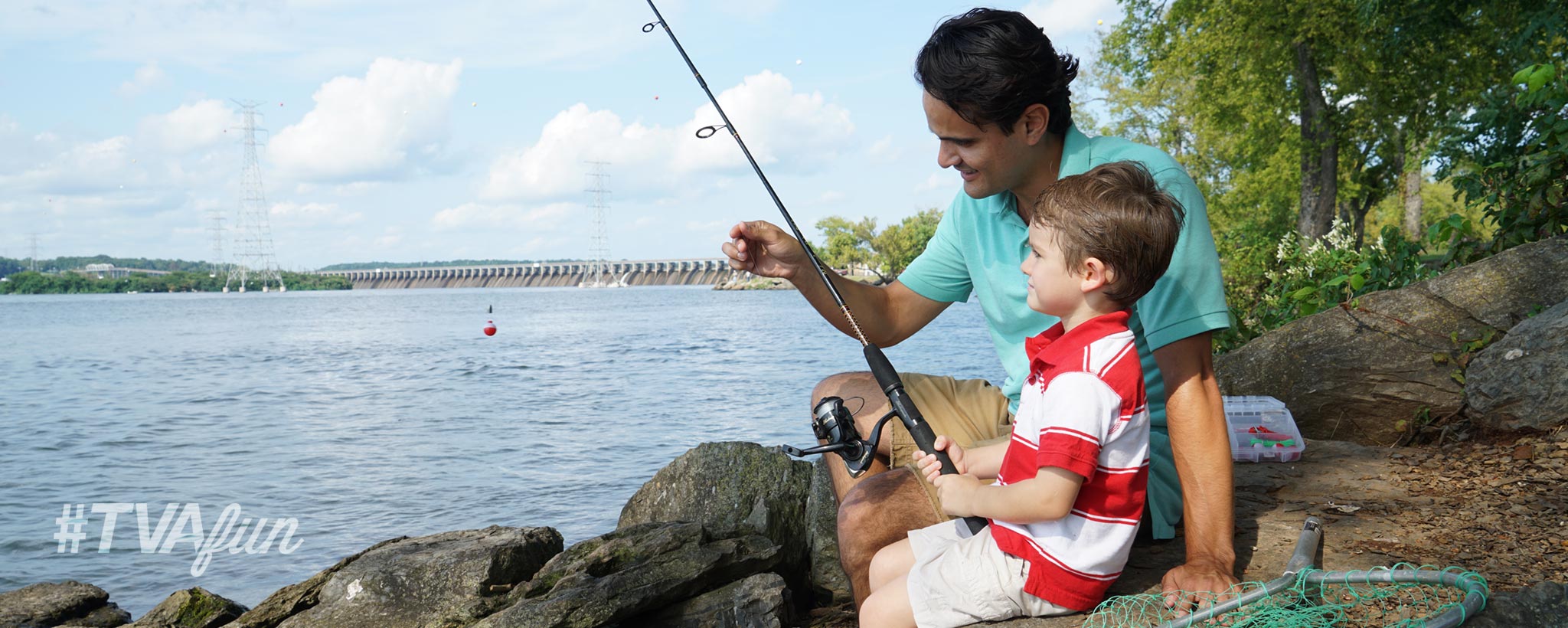 Creating Family Fishing Traditions on TVA Lakes
From trophies worthy of hanging on the wall to the simple joys of a bluegill on a little girl's line, TVA lake fishing creates memories that cross generations. PLUS: 10 family-friendly destinations for fishing from the shore.
Forty-nine reservoirs stretch across the Tennessee Valley like a string of pearls. And for those who love to fish, those lakes are just as valuable.
Whether it's bass, crappie, walleye, or catfish, whether for sport, food or just fun, you can find world-class lake fishing only hours away from any spot in the Tennessee Valley. From more than 11,000 miles of shoreline or while floating on more than 700,000 acres of water, residents and visitors will quickly learn why this area is considered one of the best fishing destinations in the U.S. and, some would say, the world
But, for many, the triumph of hauling in record-setting trophy is far less important than those that accompany you on the journey.
"All my life, I've been lucky to have people to take me fishing," said Shannon O'Quinn, a TVA water resources specialist. "My uncle and father always took me to the lake as a little kid. "
"In many ways, those experiences on the water when I was young is why I do what I do today, and it's still important in my family. To this day, I meet my brother one or two times a year to go fishing, and it's often the only time we get together."
It's a family tradition that Shannon is passing on to the next generation "My five-year-old daughter has her own Disney princess fishing rod and she loves to get out on the water. She probably got those genes from me."
Regardless of what he catches himself, Shannon knows that there's nothing like sharing in his daughter's excitement when she catches a bluegill.
From South Houston and Watauga in the northeast, to Fontana and Blue Ridge in the south and for a full 652 miles from Knoxville to Huntsville and on to Paducah, the opportunity to start your own family traditions awaits.
10 Family-Friendly Fishing Destinations on TVA Shores
To learn where the fish—and memories—are waiting for you, check out this list family-friendly fishing piers and berms on TVA lakes. Located on reservoirs from one end of the Valley to the other, these are great places to cast a line, alone or with a kid or two in tow.
Anderson County State Park
Reservoir: Norris
R.R. 1 Park Rd.
Andersonville, Tenn.
Booker T. Washington State Park
Reservoir: Chickamauga
5801 Champion Rd.
Chattanooga, Tenn.
Concord Park
Reservoir: Fort Loudoun
10901 S. Northshore Drive
Knoxville, Tenn.
Guntersville Municipal Park
Reservoir: Guntersville
Lurleen B. Wallace Dr.
Guntersville, Ala.
Hwy 288 Recreation Park
Reservoir: Fontana
1315 Lemmons Branch
Bryson City, N.C.
Kenlake State Resort Park
Reservoir: Kentucky
542 Kenlake Road
Hardin, Ky.
Marion County Park
Reservoir: Nickajack
9696 Hwy. 41
Jasper, Tenn.
Sullivan County Park
Reservoir: South Holston
533 Knob Park Road
Bristol, Tenn.
Towns Country Park/Georgia Mountain Fair
Reservoir: Chatuge
1311 Music Hall Rd.
Hiawassee, Ga.
Warrior's Path State Park Marina
Reservoir: Fort Patrick Henry
490 Hemlock Rd.
Kingsport, Tenn.
Find Your Own Fishing Hole
Fishing from the shore can be restful and rewarding—and anyone can do it. All you need is a little intel about how to find a spot where the fish might be biting. Here are a few tips for successful shore fishing from the Tennessee Wildlife Resources Agency:
Fish are often swimming near the shore in the spring and fall. If you're fishing from the shore in the heat of summer, do it in the evening or early morning—or even after dark.
Fish near unique features such as docks, logs, trees, rocks or rocky areas; aquatic vegetation; or places where creeks enter the water.
When fishing in moving water, look at the surface for boils and breaks—this means there is some underwater structure blocking the current, which could be the perfect hiding place for fish.
Begin fishing (casting) close and parallel to the bank, then work your way outward (fan casting) toward deeper water.
If you don't get any bites, try switching baits. If this doesn't work, move to another hole.
Wear polarized sunglasses so you'll be able to see fish as well as submerged objects more clearly. (Your eyes will also be protected from tackle.)
It's always a good time for fun on the Tennessee Valley's lands and waters. Not sure where to start? We have you covered! Check out some of the best recreational activities on our reservoirs. While you're enjoying the lakes, trails, picnic areas and campgrounds, share your own stories and photos on Instagram using #TVAfun.
River Neighbors Newsletter
Get the all the latest news and inside information about recreation on TVA public lands and lakes.
Where the Fish Are
Want to know where to point your prow to optimize your chances of reeling in the fish you want? Our regular aquatic health surveys include fish counts on each of our reservoirs, and tell you where you have the best odds of catching everything from black bass (Melton Hill) to channel catfish (South Holston). See our ultimate fisherman's cheat sheet.