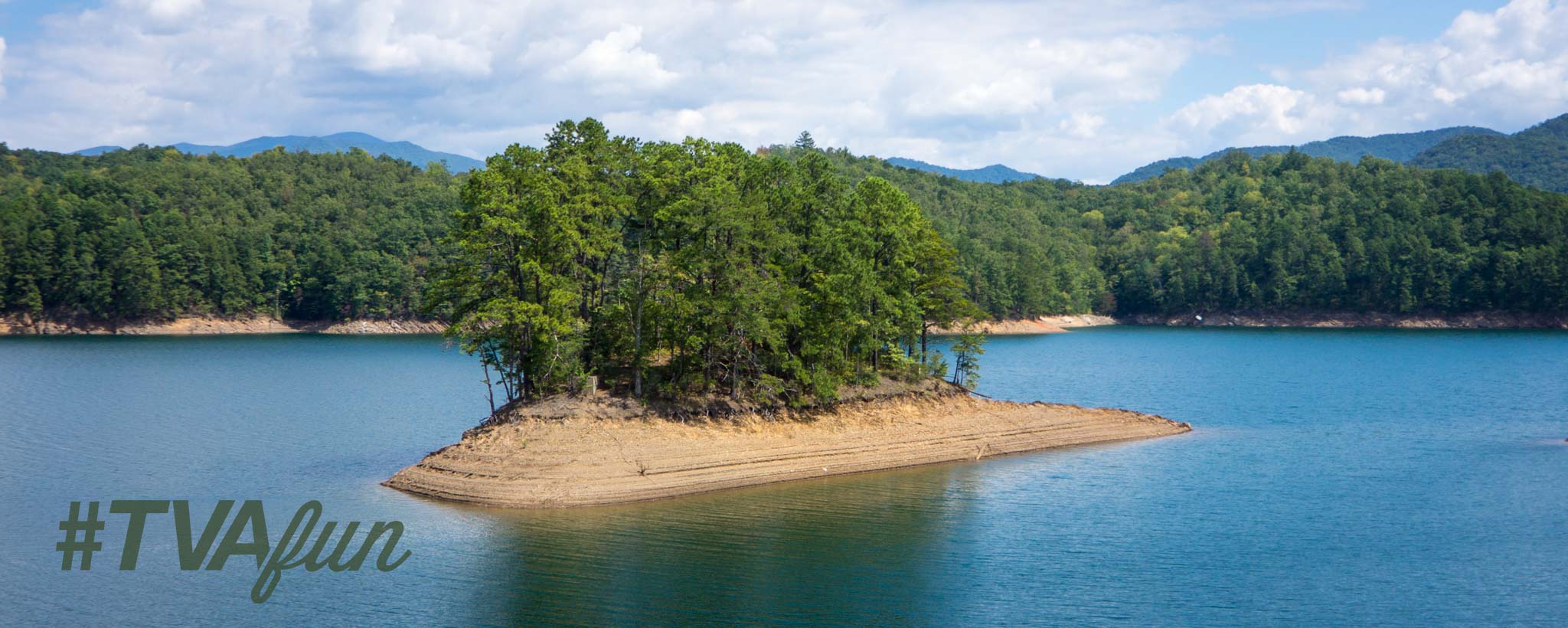 Island Getaways
No need to travel across the ocean for a relaxing vacation. You can get away from it all and pitch a tent on one of the dozens of wild islands that dot TVA's reservoirs right here in the Valley.
Imagine hopping in your boat and taking a leisurely cruise to an island where traffic is a distant memory and, to quote a familiar 60's TV show, there are "No phones, no lights, no motor cars…." Sounds like something you'd find off the coast of Florida or California, or some far-off tropical destination, right?
Well the island life can be found much closer than you think—on one of TVA's reservoirs right here in the Tennessee Valley. There are dozens of islands on lakes across the region, ranging in size from about an acre to more than 700 acres. In most cases, these islands are an ideal place for primitive camping. "Primitive" means just that—no beds, no restrooms, no lights, no room service. Just the great outdoors!
"We are blessed in this region with plenty of places to get away from it all, whether on a boat, bicycle or on foot," says Clay Guerry, TVA senior Natural Resources specialist.
TVA allows for short-term camping and other recreation on its 229,000 acres of undeveloped public lands—including uninhabited islands—all year round. "Short term" means up to 14 days in one place. That's one of the few rules that TVA has for this type of recreation, which is meant to be free and open for everyone to enjoy. ( For more rules regarding undeveloped lands, click here.)
Whether you choose to visit an island or remain on dry land, Guerry says you should plan ahead and be prepared if you're camping in the rough. "You have to bring in everything you need—food, water, sanitation and other equipment." (See his further suggestions below.)
And when you go, make sure you leave the campsite as good as or better than you found it. "We want folks to be able to come in and enjoy the area without worrying about trash or other remains from the last person who was there," Guerry explains.
TVA is a partner in the Leave No Trace program (see information at right), which promotes responsible outdoor activities. In short, that means taking your trash, and everything else you bring in right back out with you. In the best-case scenario, it should be as if you were never there.
"It's also about taking care of our environment so these lands will be available for the next generation," added Guerry. That way your kids—and your kid's kids—can enjoy an island escape, too.
Find an island getaway on a reservoir near you with TVA's undeveloped recreation areas map.
Going Wild?
Camping in undeveloped recreation areas requires an extra level of safety awareness. Here are senior Natural Resource specialist Clay Guerry's tips for playing it safe.
Buddy up.
In undeveloped land, accidents can happen. In the best case scenario, camp with a group of four; if one person gets hurt, someone can stay while two go for help. If you must go solo, leave a detailed copy of your plans with a reliable friend.
Dress for success.
Know the weather conditions ahead of time, and wear appropriate clothing to avoid hypothermia.
Do a run-through.
Make sure all of your equipment is in good working order before you head into the wild. Test it out to be sure.
Play it safe.
Pack a first aid kit that includes antiseptics for cuts and scrapes, tweezers, insect repellent, bug spray, a snakebite kit, pain relievers, and sunscreen.
Be prepared.
In addition to a first aid kit, carry a map, compass, flashlight, knife, waterproof fire starter, personal shelter, whistle, warm clothing, high-energy food, water and insect protection.
Arrive early.
Make sure you can set up your campsite with enough daylight to thoroughly check the area for hazards such as sharp objects, broken glass, ant beds, poison ivy, bees and hazardous terrain.
Get fired up (and down).
Choose an area for your fire that is flat, and there is no possibility for it to spread vertically or horizontally. When putting it out, drown it with water, making sure all sticks and coals are wet.
Don't get bugged.
Hornets, bees, wasps and yellow jackets can be a real problem. To avoid attracting them, wear light colored clothing, and avoid perfumes. If an insect approaches, don't swat wildly; used a gentle pushing or brushing motion to deter them.
It's always a good time for fun on the Tennessee Valley's lands and waters. Not sure where to start? We have you covered! Check out some of the best recreational activities on our reservoirs. While you're enjoying the lakes, trails, picnic areas and campgrounds, share your own stories and photos on Instagram using #TVAfun.
River Neighbors Newsletter
Get the all the latest news and inside information about recreation on TVA public lands and lakes.
More Mild than Wild?
Looking for a more curated camping experience? No worries. There are many campgrounds throughout the Valley, including six on TVA dam reservations. Click here for more information on TVA camping.
Leave No Trace
TVA is a partner in Leave No Trace, an international environmental education program. The program goals include increasing awareness of potential environmental impacts that may occur during outdoor activities and providing information about ways to minimize impacts while enjoying the outdoors. The Leave No Trace program goals align with TVA's focus on providing sustainable recreation opportunities on public lands, responsible natural resource management and environmental stewardship.

Visit the Leave No Trace website.