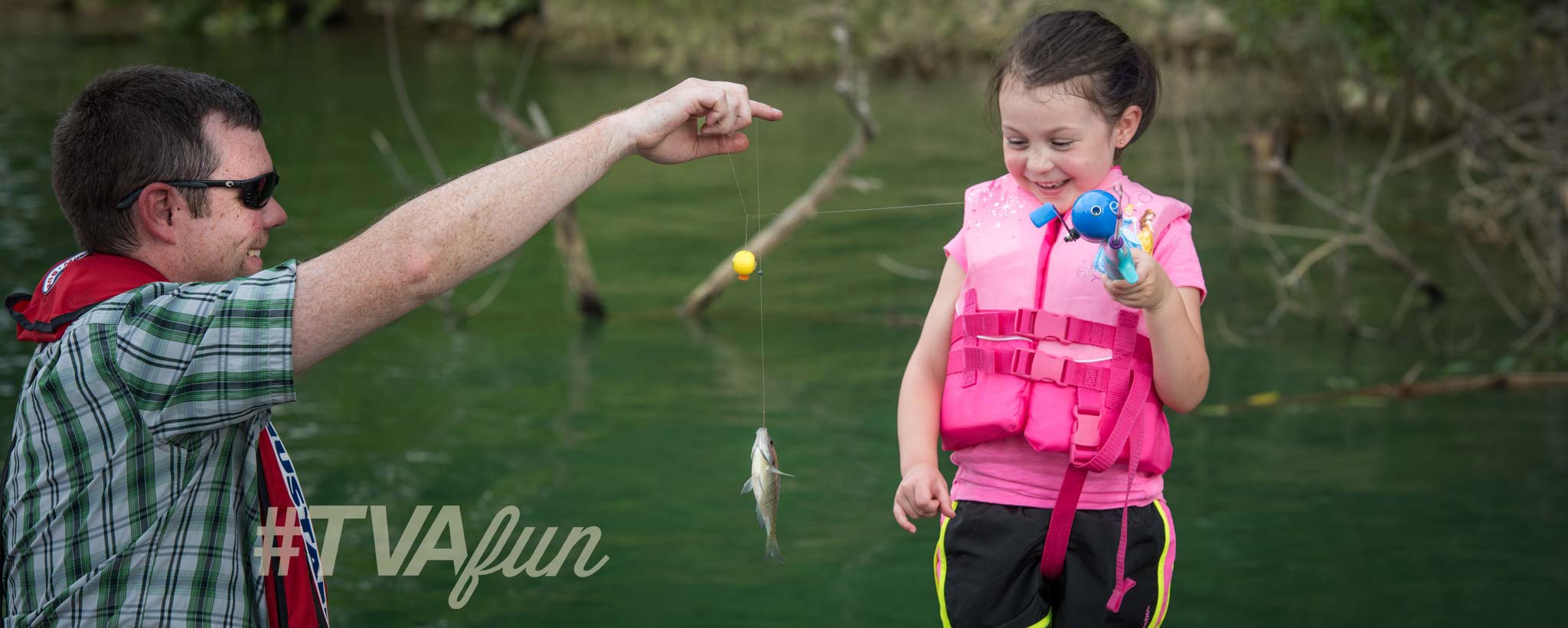 Kids Playing Hooky
Introducing youngsters to fishing takes preparation, practice and patience—but their first catch could get them "hooked" for life.
One of the greatest things about being a parent is that you get the opportunity to experience "firsts" all over again through the eyes of your children.
Their first bike ride. Their first kiss. Their first time in hip waders.
Okay, maybe only a fishing parent understands the pride in that last achievement. Someone like David Bowling, whose teenage daughter, Jordan, recently experienced trout fishing for the first time during a Trout Unlimited-sponsored kids fishing event in the tailwaters below TVA's Norris Dam.
"She really enjoyed the fly tying and casting, but the fish just weren't cooperating," says Bowling. "Slow fishing days are always a challenge, but you've got to learn to take the bad with the good."
Jordan and her sister were introduced to fishing early. Their father bought each a Tennessee Sportsman License on their first birthday.
"I've fished for just about everything in my life from night fishing for walleye to trout fishing in the Smokies," Bowling says. "I wanted to the girls to have an appreciation for the Tennessee Valley's waters, which have some of the best fishing in the world."
He should know. Bowling's "day job" is to lead TVA's River Management group, and his team is directly responsible for ensuring that those fishing environments are there for this generation—and the next…and the next.
Tips for the Littlest Anglers
Ready to introduce your child to that outdoor wonderland? Follow Bowling's recommendations:
Start with safety. Whether you're fishing on the shore or on a boat, make sure children understand water can be dangerous. Even if you're standing on the bank, strongly consider using an appropriate flotation device.
Next, choose the right equipment. Kids need properly sized rods and reels, but they don't have to expensive. In fact, many start out the same way as their parents—a simple cane pole.
Regardless of what they use, let them practice before adding that sharp hook. Just put a simple weight or bobber on the line and let them practice getting it on target, even if its just a backyard wading pool.
Now, it's time for the hook—and what goes on it. Be sure that you help them for a while, but let them handle the bait. Worms are good starter bait, especially for the number-one choice for a child's first fish.
Generally speaking, young children fish for free. But teens may need a fishing license. Check with you state's department of wildlife and fisheries. (See sidebar below.)
Bluegills and other sunfish are perfect catch for the young angler, or even those who are young at heart. They can usually be found close to shore or docks, they are small enough to manage by youngsters and they fight harder than many fish several times their size. And you can find them in any one of TVA's 49 reservoirs.
Where you move on to from there is up to the child and parent but there is something for everyone in the Valley. Maybe it's bass or crappie, walleye or catfish, and even those elusive trout that Jordan missed at Norris.
State Fishing Licenses
Want to know where to go for information about licensing and other fishing-related rules? Here's a list of wildlife and fisheries departments for each of the seven Valley states.
Alabama
Alabama Department of Conservation and Natural Resources
Georgia
Georgia Department of Natural Resources Wildlife Resources Division
Kentucky
Kentucky Department of Fish and Wildlife
Mississippi
Mississippi Wildlife, Fisheries and Parks
North Carolina
North Carolina Wildlife Resources Commission
Tennessee
Tennessee Wildlife Resources Agency
Virginia
It's always a good time for fun on the Tennessee Valley's lands and waters. Not sure where to start? We have you covered! Check out some of the best recreational activities on our reservoirs. While you're enjoying the lakes, trails, picnic areas and campgrounds, share your own stories and photos on Instagram using #TVAfun.
River Neighbors Newsletter
Get the all the latest news and inside information about recreation on TVA public lands and lakes.