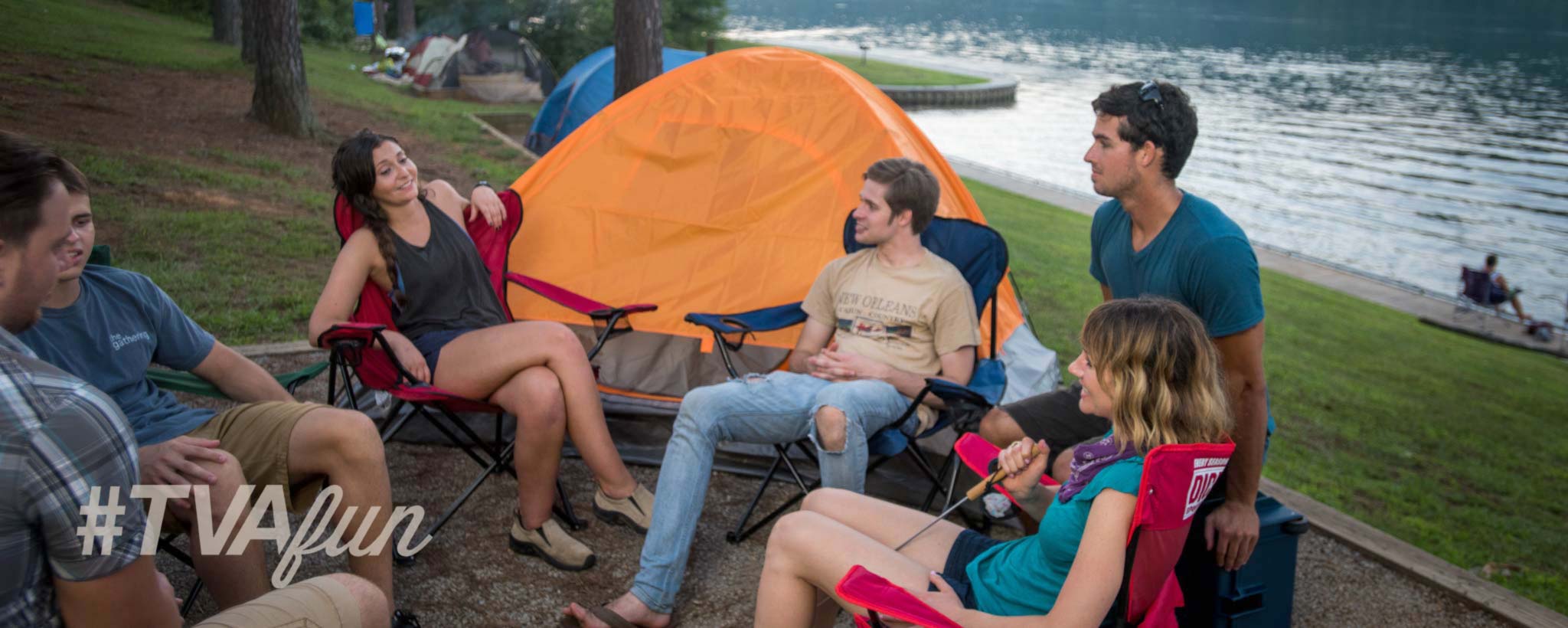 Lakeside Camping
Always wanted to live on the lake but can't afford the real estate? Now you can enjoy all the amenities without the expense by camping at one of TVA's six dam reservation campgrounds.
If someone asks you to go "camping," what do you envision? Do you see yourself roughing it with a tent and a sleeping bag, building a fire, and just enjoying nature? Or do you like to take some amenities with you, maybe in an RV with running water, cable TV, and wi-fi access?
No matter what camping means to you, TVA's dam reservation campgrounds are ready to accommodate your vision. "Camping has evolved over the years, from family tents to sophisticated RVs," explains Jerry Fouse, TVA's recreation specialist. "We think it's important to have opportunities for both."
TVA owns six campgrounds at its reservoirs, with more than 350 campsites—some right beside the water. There are sites for both tents and RVs, many with water and electricity hookups. They are managed by a concessionaire, Recreation Resource Management, a company that has been charged with the task of making sure visitors can have the camping experience they want, no matter what it is.
"These areas are made to be family-friendly," adds Fouse. "We want folks to think of our campgrounds as vacation destinations."
With stays up to 21 days during the high season and 30 days in the off-season, it's easy to spend your vacation in one place. Upgrades also make it possible now for people to reserve campsites at most of the locations. A few sites are even available to reserve for the entire season.
Recreation Destinations
And, of course, the real amenities come from the recreational opportunities at each of these locations…everything from trails to playgrounds and boat ramps is available for everyone to enjoy. As Fouse says: "Being near the water is certainly a plus."
Here's a guide to what recreational opportunities you can find where:
Watauga Campground near Elizabethton, Tenn.: Located on the Watauga River and bordered by the Cherokee National Forest, this campground is both peaceful and beautiful. The Appalachian Trail intersects with trails here, making for some truly world-class hiking—and trout fishing on the river is incredible.
Cherokee Dam Campground near Jefferson City, Tenn.: With a picnic pavilion, swim beach, basketball court, and children's playground, this is a terrific meeting place for a family reunion. The beautiful lake and mountain views are the perfect backdrop for memories in the making.
Douglas Dam Headwater Campground near Sevierville, Tenn.: Multiple boat ramps offer easy access to bass fishing on Douglas Lake—easily some of the Valley's best biting.

Douglas Dam Tailwater Campground near Sevierville, Tenn.: Looking for a location convenient to the Great Smoky Mountains, Gatlinburg, and Pigeon Forge? You could hardly do better than this one. An on-site picnic pavilion can be rented for $100 per day.
Pickwick Dam Campground near Savannah, Tenn.: Nestled amidst pine trees, the shore fishing is excellent here, and a fishing berm helps you take the hooks to the fish. Across the dam is Pickwick Landing State Park, which features a golf course, swim beach, picnic areas, lodge, and restaurant.
Melton Hill Campground near Lenoir City, Tenn.: High-tech energy efficiency facilities meet a beautiful natural setting at this TVA demonstration property (see sidebar at right). Family-friendly amenities include a picnic pavilion, swim beach, public boat ramp, and shoreline fishing area.
For more information as well as reservations, visit Vista Recreation.
It's always a good time for fun on the Tennessee Valley's lands and waters. Not sure where to start? We have you covered! Check out some of the best recreational activities on our reservoirs. While you're enjoying the lakes, trails, picnic areas and campgrounds, share your own stories and photos on Instagram using #TVAfun.
River Neighbors Newsletter
Get the all the latest news and inside information about recreation on TVA public lands and lakes.
The Greenest Campground
TVA's Melton Hill Campground runs on wind and solar energy, employs water-conservation measures, and is built with material made of by-products from coal combustion. The result? A low-impact campground with net-zero energy requirements. Learn more about having fun at this green campground.