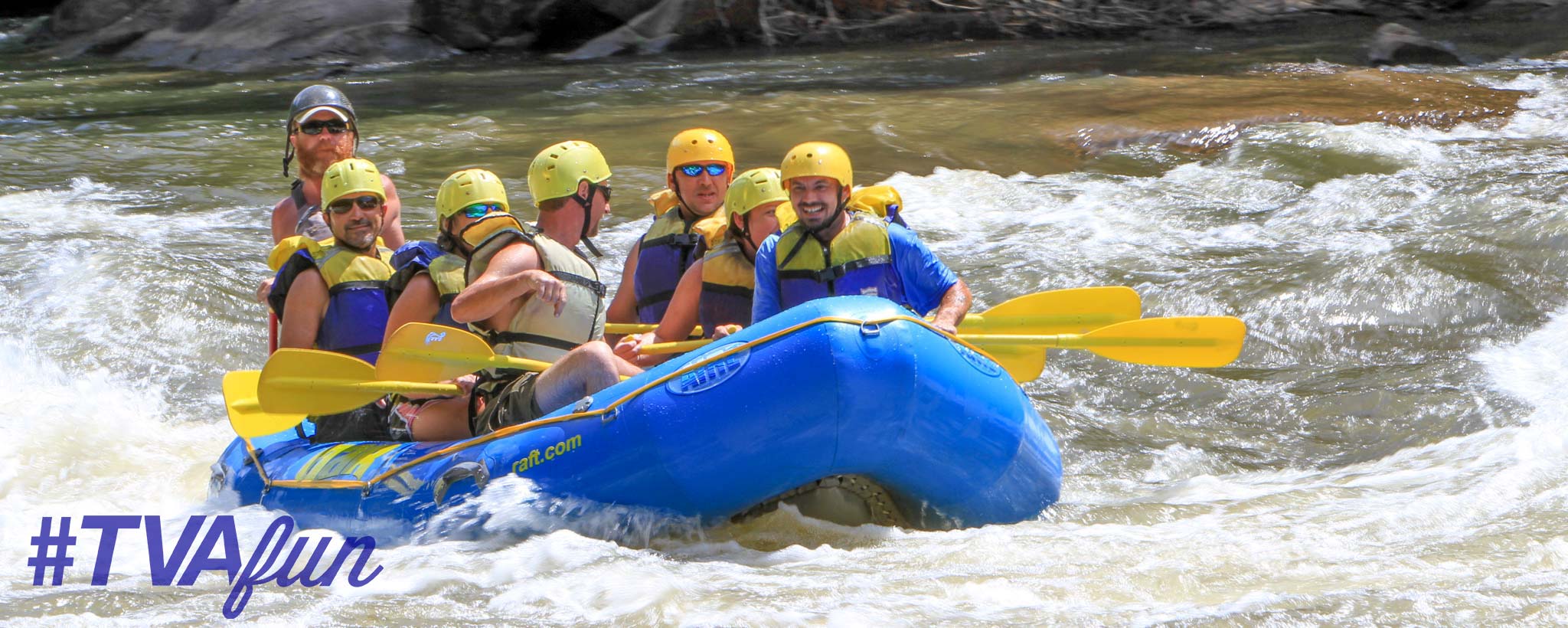 Making "Bucket-List" Whitewater
When the horn sounds, the Ocoee River in east Tennessee becomes a bucket-list destination for experienced rafters looking for miles of Class III and Class IV adventure. Here's how TVA maintains the whitewater thrills.
Nestled in the Cherokee National Forest of East Tennessee, the Ocoee River is one of the most popular whitewater rafting adventures in America. From April through October, adrenaline junkies test themselves on the Ocoee's Class III and Class IV rapids. But it takes close coordination between the U.S. Forest Service (USFS), Tennessee Department of Environmental and Conservation (TDEC) and TVA to make the #TVAFun happen.
Going with the Flow
"The consistent and dependable flow of water that forms the Ocoee's rapids don't happen naturally," says Tom Barnett, senior manager of TVA's River Forecast Center. "Believe it or not, when we're not using the river for recreation, it's a bed of dry rocks, with just enough water to support aquatic habitat and swim in a few places."
With careful river management from state and federal agencies, today's vibrant Ocoee is home to a large number of companies that offer whitewater rafting adventures for novices and experts. More than 250,000 visitors are drawn to the Ocoee annually, all of them eager to try their hand at running the river.
The Ocoee's success shows that TVA's mission of energy, environment and economic development is alive and well, Barnett explains.
"The key is to ensure that we have enough water to create electricity while maintaining recreation and wildlife habitat along the river," says Barnett. "Hydroelectric is TVA's cheapest power source and we use it to help keep electric rates low in the Valley. We have to strike a balance between supporting the sport and being fair to the ratepayers."
Running the River
From Barnett's river operations center in Knoxville, Tennessee, his team schedules the releases of water from the dams on the Ocoee that provide the whitewater that people have come to enjoy. River specialists enter a predefined schedule on computer screens, diverting millions of gallons of water from electrical generation to the river channels for recreation.
"When the horn sounds at the dam, the river is turned into one of the premiere white-water rivers in the world," says Barnett. "I can see on our screens that the water is flowing in the river channel. I know someone down there is having a fun ride."
When TVA diverts water for recreation, it brings two famed stretches of the river to life: the one-mile Olympic whitewater course, fed by releases of water from Ocoee Dam No. 3; and a four-and-one-half mile rafting area, fed by water from Ocoee Dam No. 2.
Barnett says that TVA releases water on specific times and days to ensure safety and allow the rafting companies and local business to maximize their season. USFS and TDEC also support rafting activities by providing on-site ranger patrols and coordination during severe weather events and maintenance activities.
With whitewater recreation as its core, the Ocoee region has the epicenter for outdoor activities in East Tennessee. In addition to rafting, visitors can enjoy trails for mountain biking and hiking around the Ocoee Whitewater Center on the upper Ocoee.
Plan your Ocoee trip at www.tnvacation.com.
It's always a good time for fun on the Tennessee Valley's lands and waters. Not sure where to start? We have you covered! Check out some of the best recreational activities on our reservoirs. While you're enjoying the lakes, trails, picnic areas and campgrounds, share your own stories and photos on Instagram using #TVAfun.
River Neighbors Newsletter
Get the all the latest news and inside information about recreation on TVA public lands and lakes.
More on the Ocoee River Gorge
Get more information about the gorge, including release schedules and information about two nearby attractions: Parksville Lake (a.k.a. Lake Ocoee) and Copper Basin Restoration.
Paddle Pointers
Want to get the most out of any rafting, kayaking or canoeing adventure? Be prepared before you go. We make it easy with our 12-part checklist, which covers everything from safety basics to relevant U.S. Coast Guard law. Check out our paddle pointers.