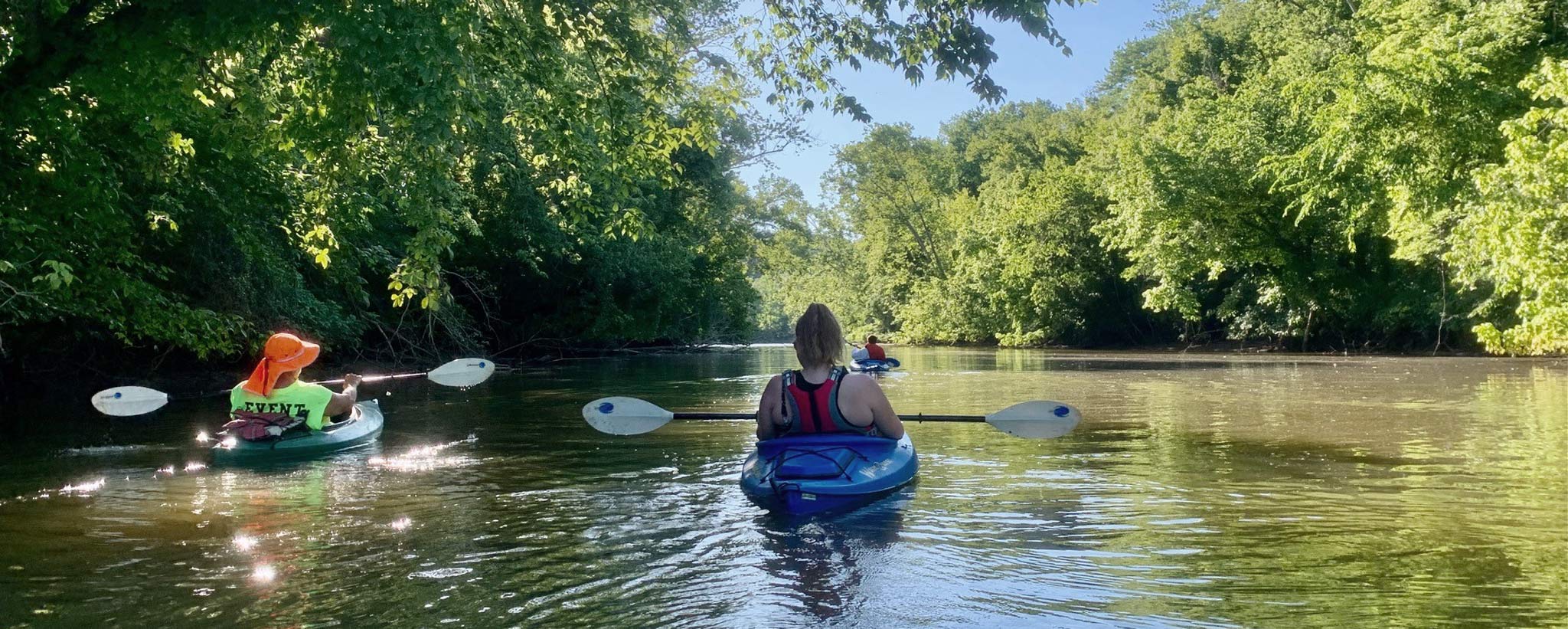 Ready to Paddle? Visit TNRiverLine.org
The Tennessee RiverLine offers summer paddling adventures from Knoxville, Tenn. to Paducah, Ky.
Whether you're a life-long water enthusiast or anxious to put a paddle in the river for the first time, this is your summer as Tennessee RiverTowns, communities enrolled in the Tennessee RiverLine program, host dozens of free, public paddling and stewardship events from Knoxville, Tenn. to Paducah, Ky.
If the Tennessee RiverLine is new to you, it began at the University of Tennessee, Knoxville as a course offered by the College of Architecture and Design and the Herbert College of Agriculture. It was 2016, and the focus was to understand challenges faced by the Tennessee River in the 21st century and to discover innovative opportunities for river communities and the region to engage, care for and enhance its most valuable natural and cultural resource.
Brad Collett, is director of the Tennessee RiverLine initiative, associate professor of plant sciences and faculty member in the UT School of Landscape Architecture. He vividly remembers the day his student, Journey Roth, proposed a vision to connect river communities, public lands and other attractions by way of the water - in essence, a 652-mile long, 1.2 million-acre river trail. Collett and his class were intrigued, and they weren't alone.
What followed were exploratory meetings including TVA; state parks; the National Park Service's Rivers, Trails and Conservation Assistance Program; the Nature Conservancy and others who, along with students, helped craft a framework and timeline for what would come next.
The group often used the Appalachian Trail for comparison when discussing this project, and eventually the phrase, "North America's next great regional trail system" became the official tagline.
"Soon, requests were going out to pinpoint river communities that wanted to be part of a pilot program," says Clay Guerry, TVA recreation specialist who was on deck from the start. "The response was inspiring."
Five diverse communities in Alabama, Kentucky and Tennessee were chosen as a representative sample of all Tennessee River communities. This process was followed by "deep dive" meetings to discern what this body of water meant to the towns and how they envisioned the river's future. Residents, civic leaders, farmers, commercial investors, state and national park managers and other leaders joined the conversation. "It was a heady time when anything was possible and imaginations were in high gear," remembers Collett.
Ideas ran the gamut. Some individuals were interested in protecting threatened aquatic biodiversity. Gaining equitable public access to the river, while stimulating new investment was on the mind of others. As students pored over the responses, four principles stood out; these would become the pillars of the Tennessee RiverLine:
Environmental stewardship
Equitable access to the river
Economic investment and entrepreneurship in river communities
Public health through healthy lifestyles
In 2020, the Tennessee RiverLine selected 15 communities from across the region; they would serve as the inaugural cohort of Tennessee RiverTown's Program. Zoom calls became the norm as coordinators launched the program and community partners powered through the COVID-19 pandemic to learn from and learn with each other.
After five years of involvement and with a clear vision of the benefits that this project could bring to the valley, TVA made a transformative financial commitment that was announced in January at the 2021 Tennessee RiverLine Virtual Summit. In May, the Tennessee RiverLine celebrated the program's official launch by christening 60 kayaks at Suttree Landing in Knoxville bound for river communities to break down barriers to Tennessee River experiences.
The 15 Tennessee RiverTowns communities now share those kayak fleets as they each host one or more paddling events and one stewardship event annually, a benchmark to earn the prestigious Tennessee RiverTown designation.
"Many communities are offering more events than are required; that's how invested and enthusiastic they are about helping people experience the river," says Collett. The application period for new communities to apply for enrollment in the 2022 Tennessee River Towns cohort opened July 1.
"We're eager to see the impact that the Tennessee RiverLine will have on our area as we prepare to host our first paddling experiences this summer," says Blair Travis, director of marketing in Calvert City, Ky. Her community lies approximately 15 miles south of Paducah, KY where the Tennessee joins the Ohio on its journey to the Mississippi River. "On behalf of the Tennessee RiverTowns communities, I invite you to come paddle. This is your summer."
It's always a good time for fun on the Tennessee Valley's lands and waters. Not sure where to start? We have you covered! Check out some of the best recreational activities on our reservoirs. While you're enjoying the lakes, trails, picnic areas and campgrounds, share your own stories and photos on Instagram using #TVAfun.
River Neighbors Newsletter
Get the all the latest news and inside information about recreation on TVA public lands and lakes.
Paddle Pointers
Want to get the most out of your rafting, kayaking or canoeing adventure? Be prepared before you go. We make it easy with our paddle pointers checklist, which covers everything from safety basics to relevant U.S. Coast Guard law.