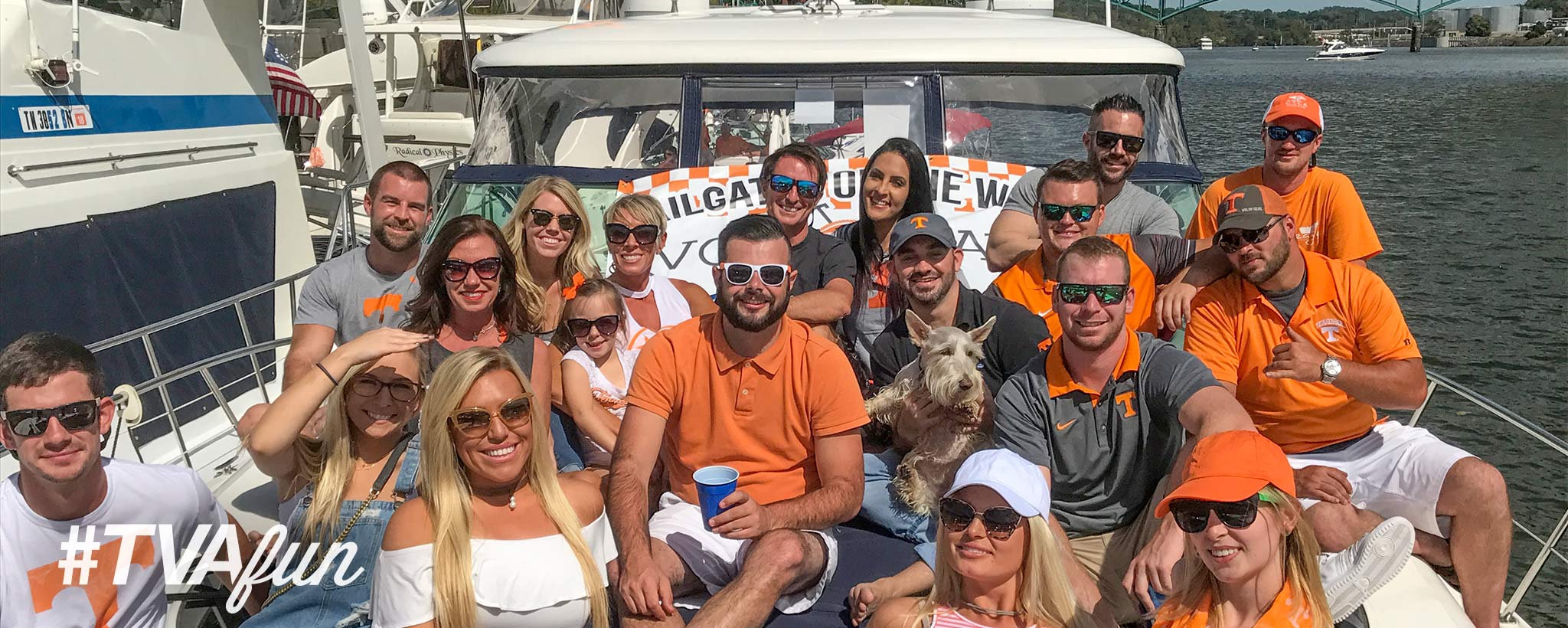 Sailgating with the Vol Navy
"Sailgating" is a grand tradition at the University of Tennessee, home to the storied Vol Navy, which ties up on the Tennessee River outside Neyland Stadium in Knoxville on football Saturdays.
There's a saying in the Southeast: All roads lead to Rome, and all waterways lead to Neyland Stadium. That's where the 200+ vessels that comprise the famous Vol Navy tie up every Saturday the University of Tennessee Volunteers plays a home game in Knoxville.
Tennessee's Neyland Stadium is one of only two major U.S. college football fields easily accessible via boat (the other being Husky Stadium at the University of Washington in Seattle).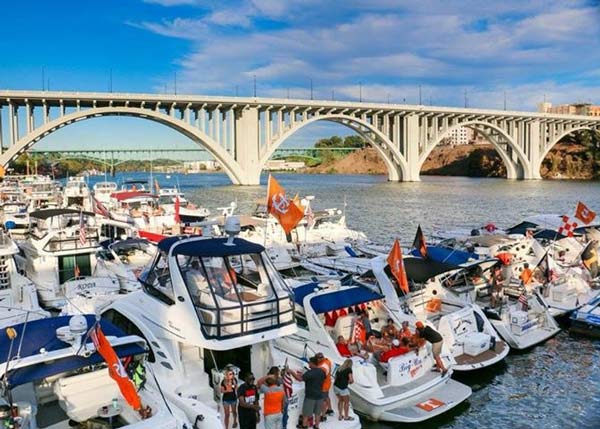 "You can get to Knoxville from many places in the country and even around the globe via water," says Nikki Berger, navigation program supervisor at TVA. "The Tennessee River stretches from Knoxville 652 miles to Paducah, Ky., where it connects with the Ohio River, which connects with the Mississippi and Missouri and the entire Inland Waterway system. It also connects with the Tennessee-Tombigbee, which is a shortcut to the Gulf of Mexico."
As laid out in the TVA Act of 1933, TVA must maintain a navigable channel on the Tennessee River of at least nine feet, 12 months out of the year. "We do better than that—we maintain 11 feet," Berger says. "That means you can safely navigate to Neyland Stadium even late in the season, after reservoir levels have dropped to winter pool following Labor Day."
Good Lock
Fans come from all points through the lock at nearby Ft Loudoun Dam, which gears up to handle the extra traffic every game day, according Matt Emmons, who is the lock master there. "It gets crazy here," he says. "We'll see anywhere from 60 to 150 additional recreational boaters locking through over a home game weekend—even more if Tennessee is playing Alabama and we have boats coming up from Wheeler, Wilson and Pickwick reservoirs in Alabama."
The added traffic poses a challenge, but one the lock operators embrace, according to Emmons. "We have fun with it, creating a dialog with the boaters, communicating safety information with them. They have to breast up and tie off to each other to lock through, and they're always so cooperative. It's a great, positive vibe. We take pride in making the process easy, and really look forward to this time of year." (Check out the Ft. Loudoun Lock Facebook page for up-to-date information about the lock and locking process.)
All Tied Up
Boats begin amassing the night before a game, and on game day, "things get really crazy," according Major Justin Wilson, a pilot in the Tennessee National Guard who—along with wife Tarah—is a prominent "sailgater" in the Vol Navy. The two social butterflies are founders of the Vol Navy Facebook page, which has amassed over 15,000 members since 2017and is still growing.
"There are two docks down on the water, and they're available on a first-come, first-served basis," Wilson says. "You'll see the bigger cruisers get there a day or two ahead of time and moor up, and then smaller boats arriving the day of the game. We just throw out lines and tie up and tie up and make a chain of boats until TWRA cuts us off and says enough."
The vibe is fun and festive—and open. "You sailgate going from boat to boat," he continues. "It's a fantastic family-friendly atmosphere and everybody enjoys each other. Some people don't even go to the game; they'll stay aboard and watch it on satellite television on their boat."
For Wilson, as for other members of the Vol Navy, sailgating has become a passion—the river, on certain autumn Saturdays, a channel for big orange fun. "Getting out on the water is a big part of game day for us," Wilson says. "It's a special experience, and we make the most of it."
Photos courtesy of Justin Wilson.
It's always a good time for fun on the Tennessee Valley's lands and waters. Not sure where to start? We have you covered! Check out some of the best recreational activities on our reservoirs. While you're enjoying the lakes, trails, picnic areas and campgrounds, share your own stories and photos on Instagram using #TVAfun.
River Neighbors Newsletter
Get the all the latest news and inside information about recreation on TVA public lands and lakes.