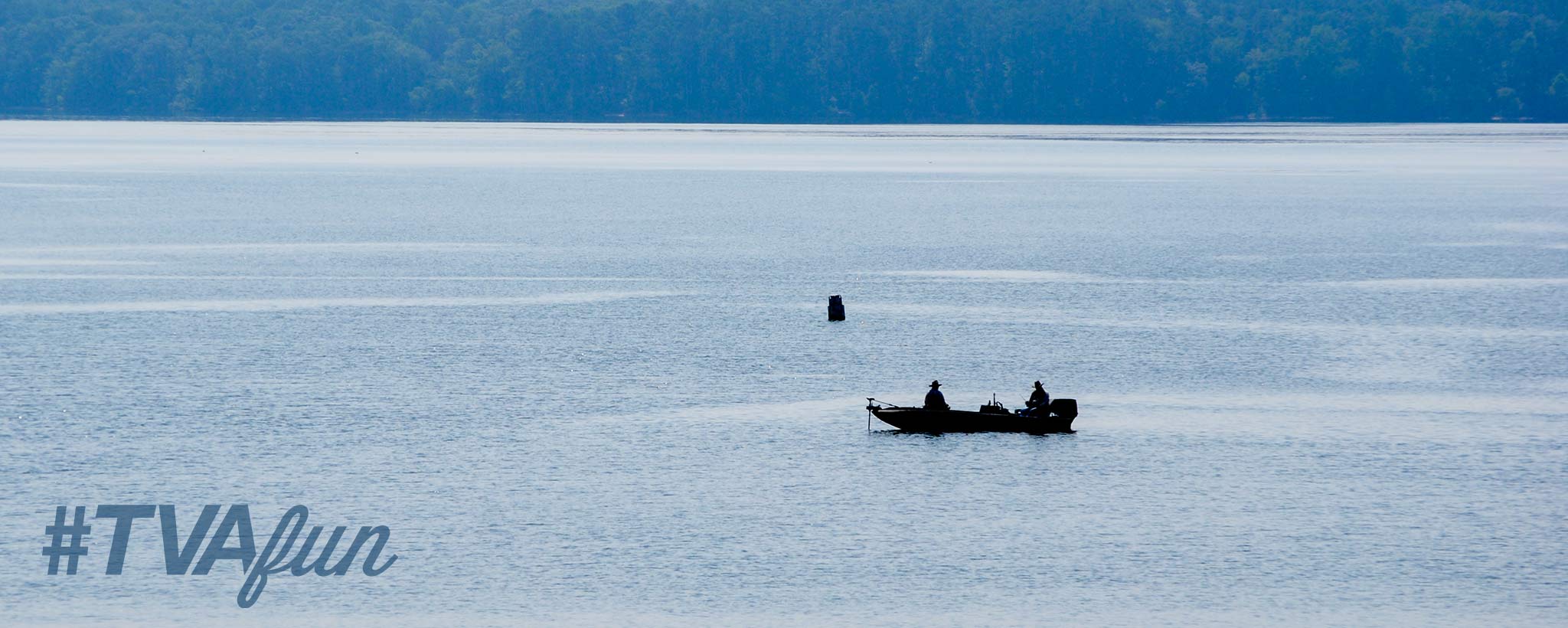 Summer Fun at Pickwick
"Go west, young man" is not just a famous quote; it's good advice to vacationers who want to have fun in the "west end" of the Tennessee Valley region. Pickwick Landing Dam and Lake offer action-packed days (and barbecue-filled nights).
Pickwick Landing Lake, located on the Tennessee River in southern Hardin County, Tenn., is a popular spot for boating, kayaking and canoeing. It's a hot spot for fishing enthusiasts, too—Pickwick is famous for its record-size smallmouth bass and catfish. Fish that are known to bite year-round are crappie, bluegill and white bass. In addition to hosting the Catfish World Championship Fishing Tournament, the annual Sauger Fishing Tournament and other area events, the park is an excellent location to take in the July 4th fireworks display sponsored by Hardin County.
Pickwick Landing offers three public swim beaches, totaling about two miles of lakefront.
"When we're out on the boat, we love going to Dry Creek," says Haley Bishop, a longtime visitor to Pickwick. "It's a cove where everyone goes to toss an anchor and have a cool drink. For the best waterskiing, we go to Tombigbee Waterway. It's a manmade channel that barges use to get down to the Gulf, and the water is smooth as glass. The waterfall is also a Pickwick staple."
Where to Stay
Pickwick State Park's inn is a traditional and popular spot, drawing tourists, honeymooners and fishing enthusiasts from several states. There are cabins nearby with central heat and air, fireplaces and full kitchens.
If camping is more your style, you could head for Pickwick Dam Campground, which is located among the pine trees below the dam. The campground is flat, with about 100 sites in all, 90 of them with electricity and water hookup. There are bathhouses, picnic tables, fire pits and grills, and a dump station for campers to use at no charge. A public fishing and boating area is across from the campground.
Not far away is Bruton Branch Recreation Area, a primitive campground and picnic area on the north side of the lake off Highway 128.
Birdwatchers will have excellent opportunities at Pickwick Landing, where over 145 species of birds have been identified in the park. It's considered one of the best state parks in West Tennessee for winter birding.
Nearby Attractions
Counce, Tenn., and other towns in the area are small and cozy, but there are plenty of restaurants to choose from, especially if you like barbecue. Pickwick is only about 120 miles from Memphis, which is considered the pork barbecue capital of the world, and barbecue reigns supreme in this part of the country. The Rib Cage restaurant is a popular spot for ribs and pulled pork, and it displays many local photographs on the walls. Freddy T's Restaurant and Beach Club on Highway 57 is another hot spot, with both indoor and outdoor seating.
"The Fillin' Station is a restaurant you can get to by either boat or car," says Bishop. "It's at the Aqua Marina and is a good place to get food and take a break from the sun."
Grand Harbor is a marina and gas station right around the corner from the Dry Creek cove where boaters can make a pit stop to refuel both boats and people.
There are good opportunities for side trips from Pickwick. Shiloh National Military Park is right up the road, and is worth a trip for any student of history. Here, nearly 110,000 troops took part in one of the largest battles of the Civil War on April 6-7, 1862. More than 23,000 men lost their lives—more casualties than in all of America's previous wars combined. About 4,000 soldiers and their family members are buried there. Also in the park are the Shiloh Indian Mounds, which are a National Historic Landmark themselves. And a few miles away is the Tennessee River Museum in Savannah, Tenn.
Memphis has plenty of attractions including Elvis Presley's home, Graceland; Beale Street, home of the blues; and events including the World Champion Barbecue Cooking Contest.
It's always a good time for fun on the Tennessee Valley's lands and waters. Not sure where to start? We have you covered! Check out some of the best recreational activities on our reservoirs. While you're enjoying the lakes, trails, picnic areas and campgrounds, share your own stories and photos on Instagram using #TVAfun.
River Neighbors Newsletter
Get the all the latest news and inside information about recreation on TVA public lands and lakes.
Pickwick Landing History
Pickwick Landing was named for a riverboat stop, which was in operation as far back as the 1840s.
In 1935, the site was chosen for a dam by TVA, and the dam went into operation on June 29, 1938. What comprises some of the park today was once the living area for TVA construction crews and their families—their "village" was once located where the post office, park office and day-use area are now.
In the summer of 1935 the TVA, the National Park Service, and the Civilian Conservation Corps (CCC) began work on the recreation demonstration area. CCC Company 3459, an African American company that named itself Company Paul Lawrence Dunbar in honor of the black poet, built trails, cabins, walls, restrooms and picnic shelters. One existing stone and timber shelter is an example of the rough-hewn appearance of Government Rustic style. From this vantage point are three different views of Pickwick Lake.
In 1969, the state of Tennessee bought all 681 acres from TVA and designated the area as a state park, eventually adding more land. In 1973, the golf course opened, which now draws destination golfers as well as locals.