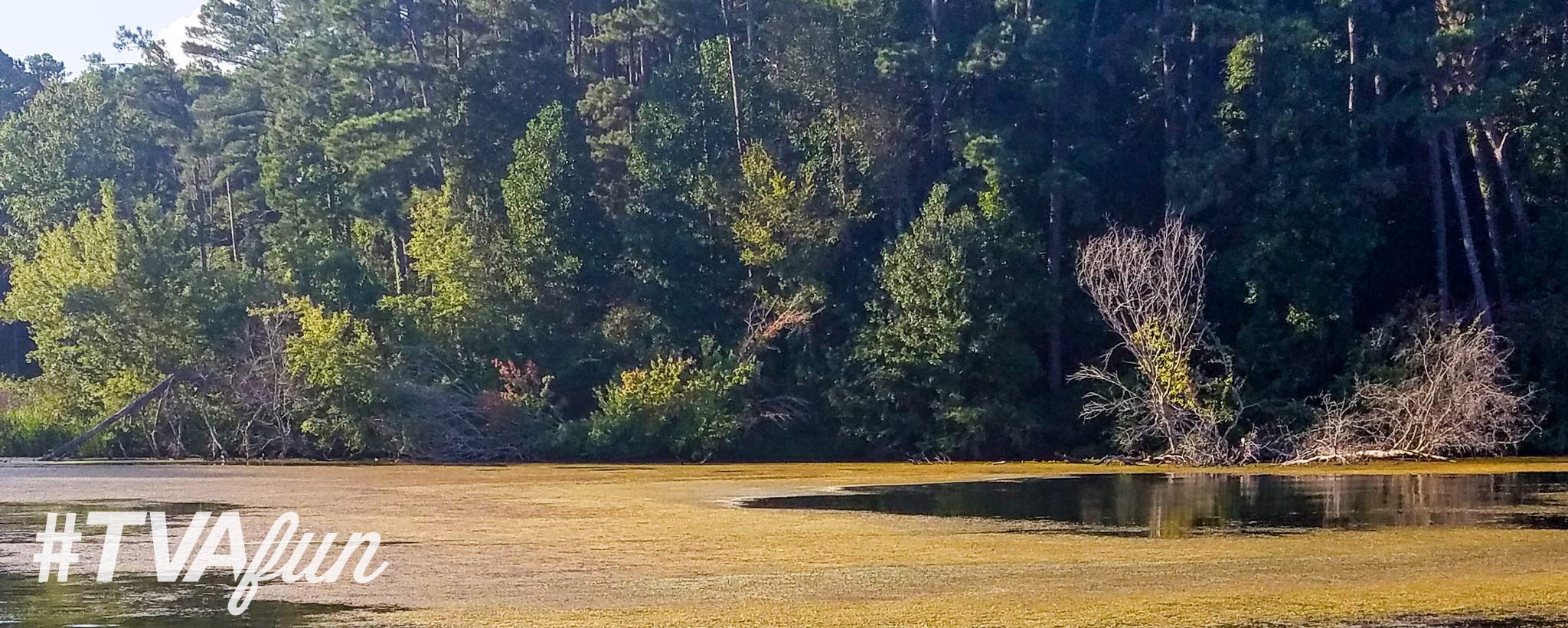 The Big Cheese
Fishing for bass on Guntersville is always good. In the fall, it's even better—if you know the right techniques for fishing the weeds this time of year. Our fishing expert shares his secrets.
There's no denying that Lake Guntersville is a world-class bass fishing destination. Part of the reason is the abundant aquatic vegetation—call it grass, weeds, moss, or what you will—that inhabits the lake and provides abundant cover for bass and baitfish.
As with all plants, aquatic vegetation goes through different cycles throughout the course of the year. In the autumn, its leaves turn to a brown then yellow color as the plants begin to senesce, or die off. The vegetation takes on a thick, sloppy, top-heavy character.
This "cheese mat," as it's called, ain't pretty, but it does offer some great opportunities for anglers looking to catch some serious bass, according to Kelvin Young, TVA watershed representative and bass fishing enthusiast. You just have to know how to fish it.
"Basically, in the fall the grass begins to die and eventually looks like floating cheese." Young explains. "In addition, the fall transition begins when shad migrates into the creeks and the coves. Where the shad go, the bass follows."
The cheese mats form a canopy for the bass to hide and hunt under, Young explains. The trick to catching them is to figure out which mats are hollow underneath and are active. You can determine this by simply listening and watching. Active mats will have baitfish such as shad and bluegill. The sound of an active mat is similar to that of milk pouring over Rice Krispies. Listen for the snap, crackle and pop of baitfish feeding in the mats.
"My favorite technique is to flip/punch to catch fish suspended underneath the mats and fish a hollow-body frog right on top," he says. "That frog mimics bluegill feeding or baitfish trapped on top of the mat, and will trigger a predatory bass to attack—they instinctively want to kill it."
To be successful with these techniques, you need the correct gear. Start with a heavy action rod 7 to 8 feet in length with a 6.8:1 – 8.1:1 gear ratio reel. Use braided fishing line 50- to 65-pound test, depending on the thickness of cover. "For frog fishing just throw the bait over the cheese and work it with short intermittent twitches of the rod tip," Young recommends. "For flipping, I prefer a compact creature or craw bait with a ¾ oz. to 1.5 oz. tungsten flipping weight pegged with a bobber stopper and 3/0 to 5/0 straight shank flipping hook."
Confused? No worries; any local outfitter can hook you up.
Though he's loathe to share his favorite fishing holes ("You don't give that stuff away!" he protests.), he shares three spots to start with: the mouth of North Sauty Creek, and upriver in both Mud and Town creeks.
Finally, Young shares one last bit of advice: "Follow the wind. That can be crucial this time of year because it pushes the shad against the grass lines and mats. The wind traps the baitfish against the mats and the bass will use that to their advantage. And remember—they're feeding for winter."
Happy fall fishing!
It's always a good time for fun on the Tennessee Valley's lands and waters. Not sure where to start? We have you covered! Check out some of the best recreational activities on our reservoirs. While you're enjoying the lakes, trails, picnic areas and campgrounds, share your own stories and photos on Instagram using #TVAfun.
River Neighbors Newsletter
Get the all the latest news and inside information about recreation on TVA public lands and lakes.