DECEMBER 1, 2020 — Spring 2021 at TVA's Browns Ferry nuclear plant will bring more than showers and flowers. TVA will load four new 3D-printed fuel assembly brackets at its Browns Ferry nuclear power plant during its scheduled refueling outage in March. The brackets demonstrate the latest innovations in additive manufacturing and artificial intelligence. They will be the first of their kind loaded into a commercial reactor.
"TVA is a leader in clean energy and innovation," said Dan Stout, TVA's director of Nuclear Technology Innovation. "Being the first to use these additively manufactured components supports an innovative manufacturing approach that could pave the path for use across the existing nuclear fleet and in advanced reactors and Small Modular Reactors. This is the type of innovation we envisioned taking place under the MOU we entered into with ORNL earlier this year."
The components were recently manufactured at Oak Ridge National Laboratory in a joint project with TVA and the utility's fuel supplier, Framatome, as part of the lab's Transformational Challenge Reactor program. The demonstration program is designed to introduce new manufacturing techniques and approaches to industry partners in order to speed up the deployment of nuclear systems.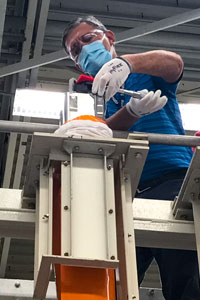 ORNL additively manufactured channel fasteners for Framatome's boiling water reactor fuel assembly using a micro-welding process. The team created this 3D-printed part in a coordinated effort with the Nuclear Regulatory Commission Office of Regulatory Research and nuclear vendors to be compliant with reactor safety regulations for deployment in a commercial reactor.
ORNL is also providing all of the 3D digital data captured during the manufacturing process that details each layer of the print, which can then be used to certify the quality of the bracket. The channel fasteners perform an essential function in the fuel assembly and are easily fabricated using the new manufacturing techniques. This made it an ideal part for the team to print and use for the demonstration, and could open the door to manufacturing more complex parts moving forward.
After the new brackets are loaded into Unit 2 at Browns Ferry next March, they will remain in the reactor for six years, with inspections planned during outages and after use.
Editor's Note: All pictures courtesy of Framatome.