November 6, 2019 -- The plant has been selected as a finalist for the Global Energy Award for the successful completion of the extended power uprate project, allowing the plant to safely power an additional 280,000 homes.
TVA's Browns Ferry Nuclear Plant, the nation's second largest power plant, has been selected by S&P Global Platt's as a finalist for the Global Energy Award - Construction Project of the Year - for the successful completion this year of the extended power uprate project. The extended power uprate (EPU) project was a five-year project that allows the plant to safely produce an additional 465 megawatts of carbon-free energy – enough electricity to power 280,000 homes.
"As the nation's largest public power utility, we share this recognition with everyone who benefits from Brown Ferry's clean, low-cost electricity," said Steve Bono, Browns Ferry site vice president. "Being selected as a finalist demonstrates TVA's leadership, innovation and commitment to safety in the nuclear industry."
Browns Ferry is the first three-unit site to implement EPUs. The EPUs also solidify Browns Ferry's position as TVA's leading power producer with up to 3,933 megawatts in total across all three units. Of the nearly 60 percent carbon-free energy TVA produces, more than 40 percent of that electricity comes from nuclear power.
TVA Leads Nation in Nuclear Power
TVA is a national leader in bringing new nuclear generation online with the successful completion of the second unit at Watts Bar Nuclear Plant, near Spring City, Tenn., in 2016. The Browns Ferry EPU project continues the utility's innovation and leadership in nuclear power.
In order to increase the plant's electricity output, a dedicated project team worked for nearly two years to conduct a rigorous engineering analysis and develop more than 200 plant modifications. Before work could begin the team presented to and gained approval from the Nuclear Regulatory Commission.
The EPU project itself was supported by more than 50 vendors from 20 states. Final EPU modifications were made in each of the unit's recent refueling outages starting in the spring 2018 and running through the summer 2019. During a typical refueling outage, approximately 300 additional personnel are added to the plant workforce. EPU outages required more than 150 extra personnel to support the additional work required for the uprate.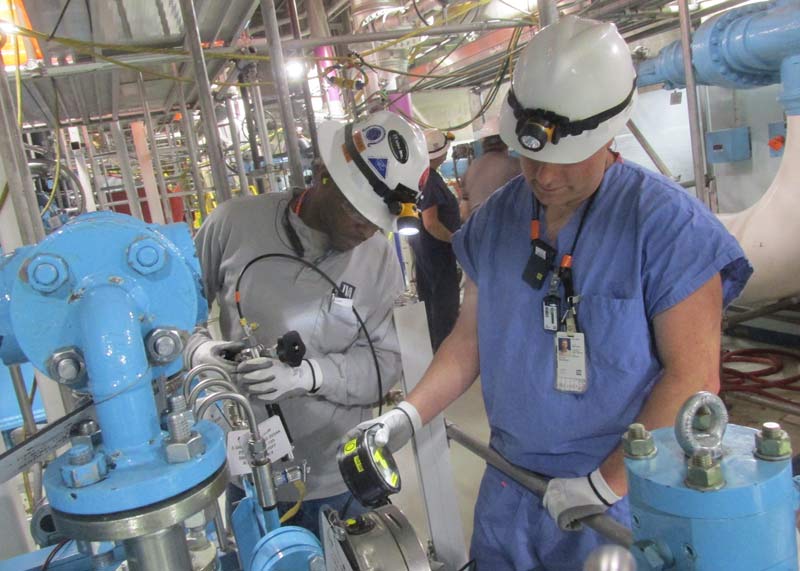 Browns Ferry Condensate Booster Pump Calibration
"This was a team effort all the way and demonstrates how TVA builds effective partnerships to meet the current and future energy needs of the Tennessee Valley," said Pete Donahue, EPU project lead.
EPU modifications included higher capacity pumps as well as replacement steam dryers and refurbished high-pressure turbine rotors. One of the industry issues with power uprate has been damage to the steam dryers as a result of higher steam flow. To overcome this problem, Browns Ferry replaced the steam dryers with a much more robust design capable of withstanding the higher steam flows.
In addition, TVA invested in training, control room simulator scenarios and procedure revisions to prepare licensed operators and other employees for safe and reliable plant operations at the higher EPU power level. TVA's EPU project team conducted extensive power ascension testing on each unit to ensure safety and verify plant response before going to full EPU power.
Bill Baker, senior manager of EPU operations, noted the importance of getting operators involved early on.
"We benefited from industry learnings as many plants have previously completed this work. We learned to engage operators early and often. We began to introduce changes and simulation tests two years before implementation. This helped operators identify challenges up front and be confident about the operation of the plant," says Baker. "This also helped us identify better processes that we are sharing across the industry."
Baker said it wasn't just operators but everyone across the plant came together to make the EPU a success. "Our employees are experts and engaging them in the process built confidence across each work group in the changing conditions," says Baker.
By listening to employees, Baker explained that various design changes were developed to improve safety margins, often resulting in margins greater than existed prior to EPU.
Innovative Heavy Lift
As part of the extended power uprate, Browns Ferry used an innovative method to move massive plant components using remote-controlled crawlers, which resulted in industry recognition with a 2019 Top Innovative Practice Award from the Nuclear Energy Institute in June.
A team of TVA and Barnhart Crane & Rigging employees combined two remote-controlled, low-profile crawler vehicles to transport 35.5 tons of feedwater heater tube bundles, which measured 46 feet in length and 7 feet in diameter; roughly the size of a school bus but twice the weight.
"These tube bundles are long and heavy," says Ashley Michael, Browns Ferry EPU implementation lead. "The typical fix for moving these kinds of components includes tracks or rails, but that would have required reinforcing the floor, which would have added extra time, labor, and materials to the outage.
"Instead, we put together two remote-controlled crawlers that could operate independently to navigate through the 90-degree turns from the inside of the turbine building, through the service building, and positioned outside to be lifted by a crane."
This is the first time that a double skid-steer configuration has ever been used to remove and replace plant components of this magnitude.
"By using this method, we reduced the outage schedule by seven days, and then once implemented, we finished seven days early, which is a significant cost and schedule savings for the project," Michael said.
Investing in Clean Energy
TVA made a significant investment in plant modifications, equipment upgrades, engineering analysis and training as well as revisions to procedures and processes, as a part of this project. This $475 million investment in the Browns Ferry EPU project was carefully planned from operating cash flows while also meeting TVA's goals of reducing debt and keeping rates low. Excellent planning, preparation and execution allowed TVA to complete the project on time and on budget.
"This substantial investment in TVA's generation resources is aimed at meeting the energy needs of the Tennessee Valley for decades to come," says Bono. "The additional carbon-free electricity produced will help TVA keep customer rates stable, as well as providing a catalyst for economic development."
Winners will be announced at the Global Energy Awards gala on Dec. 12 in New York City.