The Tennessee River is home to one of the best-kept secrets in the Southeast: November is the month to fill your boat with record-breaking crappie, a panfish that ranks among the top-tastiest freshwater fillets.
Each autumn, as TVA-managed reservoirs become still to summertime boaters and tournament anglers, the sleepy waters provide an unmatched angling experience for those hoping to score a fisherman's bounty against a backdrop of beauty.
Surrounded by landscapes burning with red and orange, crappie guides enjoy horizons painted the color of candy corn as they plunder brush piles and underwater structure with jigs and suspended minnows in their quest for three-pound monsters. Capitalizing on the fall feeding frenzy, these panfishing experts use years of experience to mimic nature's patterns.
"Every fall, crappie and other game fish gorge themselves as a survival mechanism to prepare for winter," said TVA Fisheries Biologist John Justice. "Generally speaking, when water temperatures fall below 70 degrees, this starts happening and then stops around 50 degrees. The bulk of the feeding happens around 60 degrees."
For those interested in cashing in on some of the Tennessee River's best crappie fishing, below are a few tips from angling experts across the Valley.
Kentucky Reservoir

Crappie Guide Steve McCadams says there are several attributes working in favor of anglers on Kentucky Reservoir. Among them are stable lake levels — the reservoir usually sleeps around the winter pool elevation of 354' to 355' — which help anglers hold onto depth ranges and patterns from week to week.
"Kentucky Lake's massive acreage offers a diversity of open water and big bays where anglers can dodge the wind if needed," McCadams said. "It's not unusual to see crappie taken at several different depths and different techniques at the same time here."
Still, McCadams contends that the biggest advantage for fall crappie fishing is the tranquility. "You can fight the fish, but not the crowd."
McCadams Hot Tip:
Work midrange depths of 8-13 feet. Drop a 1/16-ounce black/chartreuse-colored jig directly on the submerged structure or brush pile.
Watts Bar Reservoir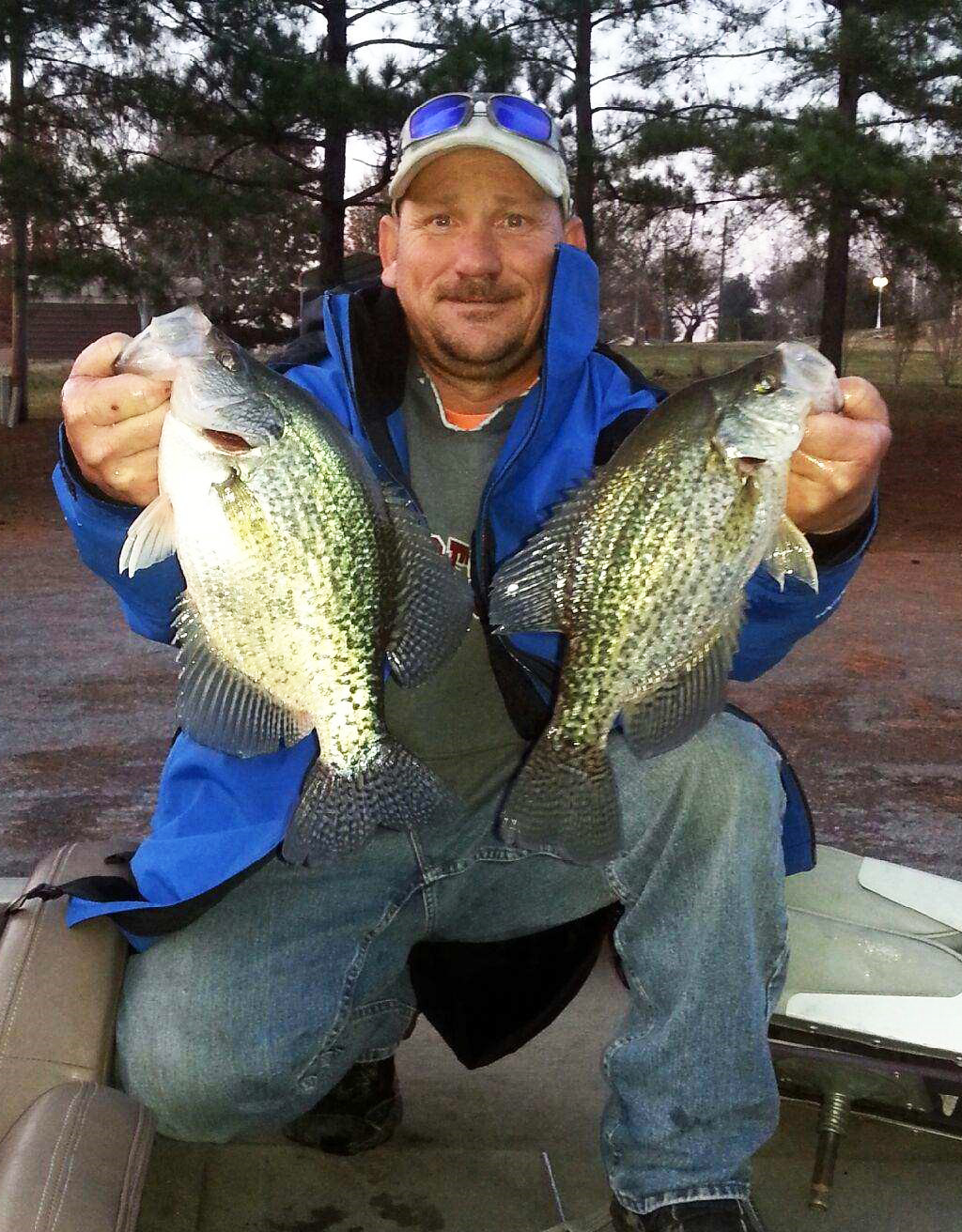 Crappie Guide Barry White says he's catching a limit of 30 crappie each time he
puts his boat in the water. He prefers fishing docks with artificial lures.
"November has become my favorite time of the year to fish for slab crappie," White said. "I've caught five crappie in my life over three pounds. Four of them came in the fall of the year."
White's Hot Tip:
Fish submerged brush or underwater structure at depths of 8-15 feet. Use a black/chartreuse 1/32-ounce jig or a black/chartreuse 1/16-ounce jig.
Normandy Reservoir

Crappie Guide Mark Travis is a spider rigger, meaning his boat is outfitted with as many as 16 rods at a time. He fishes several lakes in the Middle Tennessee area, but Normandy is his "honey hole" for the fall.
"Being a guide, you have to go where the fish are biting," Travis said. "Normandy is a place I take folks to catch giant crappie. It's a jewel."
Travis targets crappie with live bait. He prefers Tuffy minnows over Shiners.
"A Tuffy minnow will swim into the cover, whereas a Shiner will swim away from cover," Travis said.
Travis' Hot Tip:
Look for brush piles in the main river channel in 10-30 feet of water. Use a blade rig with a medium- or large-size Tuffy minnow. Use a No. 1 or No. 2 blue, light-wire Mustad hook.
Pickwick Reservoir

Crappie Guide Roger Stegall says fall fishing is all about the drop in river traffic. Because of the decrease in pressure from other anglers, it's easier to catch crappie when they begin to move to shallow waters for the fall.
"Pickwick has got Yellow Creek and Bear Creek, which have a lot of mud flats where crappie really congregate," Stegall said. "I fish with a cork and jig."
Stegall's Hot Tip:
Fish depths of 8-12 feet. Use bright-colored, orange and chartreuse 1/8-ounce jigs. When fishing a cork, drop to a 1/32-ounce jig.