Fishing for Scholarships
Valley-based Bethel University broke new ground by offering scholarships for bass fishing athletes. Now it's a collegiate fishing powerhouse.
AUGUST 16, 2018—Jig-and-pigs, teeny torpedoes, and crawdad fat raps are not playbook norms unless you are coach Garry Mason, who leads his team out on a 250-square-mile practice field—TVA's Kentucky Reservoir. It's Mason's vision and committed drive that makes Bethel University America's college fishing powerhouse.
The university was the first school to recognize bass fishing as an organized sport, divvying its budgeted scholarship monies out among angling and traditional athletes alike. In 2009, the very idea put Bethel's bass fishing program in a league of its own and gave the McKenzie, Tenn., school the ability to recruit some of the nation's finest fishing prodigies.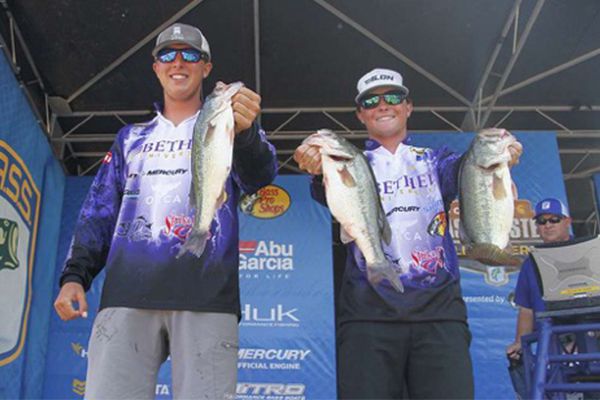 Bethel University anglers Cody Huff (left) and Garrett Enders (right) take the win at the 2018 Carhartt Bassmaster College Series National Championship. The team hauled in a 3-day sack weighing 41 pounds, 6 ounces. Photo courtesy of: Ronnie Moore, B.A.S.S.
Fueled by the dream of earning an education with a bait caster, Bethel's recruiting classes have consistently landed the university at the top of the leader boards in the three largest collegiate circuits—Bassmaster, Cabela's and Fishing League Worldwide (FLW).
This year the school awarded about $216,000 in fishing scholarships and touted a diverse, 36-man roster with team members stretching across 13 different states—some as far away as Washington, Idaho, Oregon, New York, and Maryland.
Bass 101
Following Bethel's lead, about 10 universities have now recognized bass fishing as a legitimate sport—modeling their programs after Bethel's.
Kevin Hunt, FLW Director of Tournament Operations, College Fishing, believes the number of programs offering scholarships will only continue to grow due to the recent surge in the popularity of the sport.
"Not everybody can play football or basketball," Hunt says. "For kids to be able to showcase their bass fishing talent and go to school on it, well—it's a pretty sweet deal."
Hunt says there were just 91 competitive collegiate fishing clubs in the country when the sport first spawned in 2009. Today, there are over 700.
Angler Garrett Enders of Mifflinburg, Penn., is studying business management at Bethel. His teammate, Cody Huff, of Ava, Mo., is studying business. The fishing duo recently knocked off Auburn University to win the 2018 Carhartt Bassmaster College Series National Championship.
"I've got my classes set up on Tuesday and Thursdays so I can I fish five days a week," Enders said. "It's awesome."
Huff agrees: "It's amazing. It's something that not very many people get a chance to do. For me, this is probably the only way I would have been able to earn a college degree."
Though the fishing is hot, the degree is primary. "We're about education first and fishing second," Mason says. "As their coach, I owe our kids education. If I can't give them that, I've failed them."
The Fishing Biz
Huff and Enders hope to fish professionally after college, but won't hesitate to put their business-related degrees to use as an alternative. Both plan to stay in the fishing industry regardless, hoping to score jobs representing one of the many national fishing brands or serve in marketing roles on a tournament circuit.
The idea is more than plausible. In 2016, Bassmaster reported that U.S. anglers generate more than $48 billion in retail sales each year. The recreational fishing industry supports more than 825,000 jobs and has an annual economic impact of about $115 billion nationally.
According to Jacinda Woodward, TVA's senior vice president of Resources and River Management, the Tennessee River reservoirs support more than 130,000 jobs alone, generating more than $12 billion in recreational revenue for the Valley each year.
"For over 85 years TVA has invested in the river to improve the lives of the people of the Tennessee Valley," she says. "Everyone at TVA is proud to support these students as they use this tremendous resource to further their education."
TVA lakes are a definite recruiting draw. "We fish Kentucky, Guntersville, Pickwick, Chickamauga, Douglas, Cherokee—the lakes that make up the Tennessee River chain are some of the greatest fisheries in the nation," Enders says. "People dream about coming to fish them, and we're lucky to get to fish them every day."
To watch Huff and Enders claim the 2018 National Championship, check out the Bassmaster's TV schedule. The event will air on ESPNU multiple times during the upcoming weeks.
​ ​
Share this story:
​