Today, the transportation sector is the single largest source of pollution in the United States. So when three new EPB-branded electric cars rolled onto Chattanooga streets this week as part of a citywide car share program, it was the culmination of a highly successful partnership to drive change by changing driving.
APRIL 6, 2017—When three new all-electric Nissan Leafs rolled onto Chattanooga streets wrapped in Electric Power Board messaging yesterday, it was a triumph. The cars—named Coolidge, Pearl and Smokey—were the latest addition to an already thriving GreenCommuter EV Car Share Program, a partnership between TVA, the Chattanooga Area Regional Transport Association (CARTA) and GreenCommuter. Through an app available on smartphones, the membership-based program allows users to rent the Leafs by the day or by the hour, 24/7, paying only for the time they need.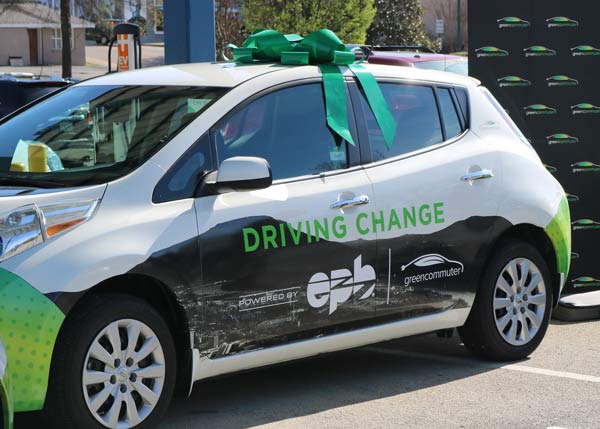 What was new was the branding—and the subsidized rates that came with it. The EPB Leafs are available for $4 per hour or $32 per day (as opposed to $7 and $45 for nonbranded cars). "The real news here today is the corporate sponsorship," says Drew Frye, power utilization engineer in TVA's Technology Innovation group and a specialist in the field of electric transportation. "I think we'll see more of this happening, and as we do we'll see the program become more affordable and accessible to more people. More engagement will only be a good thing for electric transportation—and electric transportation is a good thing for the environment.
Frye has worked for the past several years to make the moment possible, managing TVA's interest in a $3 million grant intended to get electric transportation off the ground in Chattanooga—part of a 2011 agreement between TVA and the Environmental Protection Agency. Though some of the money was spent in planning, the majority was put into action building the system.
"First we partnered with CARTA to help install 50 charging spots around the city—including solar sites at the airport, CARTA's main office and at Southern Adventist University," Frye recalls. "Then we partnered with GreenCommuter out of California to help launch an electric fleet of 20 Nissan Leafs in Chattanooga."
Transportation with a Mission
Frye spoke at the launch of EPB's Leafs, which were presented at Coolidge Park, a solar-powered charging site with 12kW of solar from a previous TVA project, which he translated into some nifty math for the audience at hand to demonstrate the benefits of both solar power and of electrical vehicles.
"This solar produces enough energy each year to drive a Nissan Leaf around the world more than two times," he told the crowd. "If you did that with a regular car, you'd burn 2,000 gallons of gasoline, which is like having one smaller tanker truck of gas rolling down the interstate. And that gas would emit 17 tons of CO2—which is the weight of 8 Nissan Leafs!"
It's a program that plugs quite nicely into TVA's mission around the three Es—energy, environment and economic development. "Electric cars are an efficient way to use our energy to have a positive impact on the environment," Frye explains. "And they're affordable—which allows consumers to spend less on gas and maintenance and have more money on hand to roll back into the local economy."
EPB shares the sentiment. "EPB is proud of this partnership that puts Chattanoogans in the drivers' seat of next-generation mobility," said EPB Marketing vice president J.Ed. Marston at the launch event. "It's a great option for people to commute around town in ways that support Chattanooga's environmental stewardship."