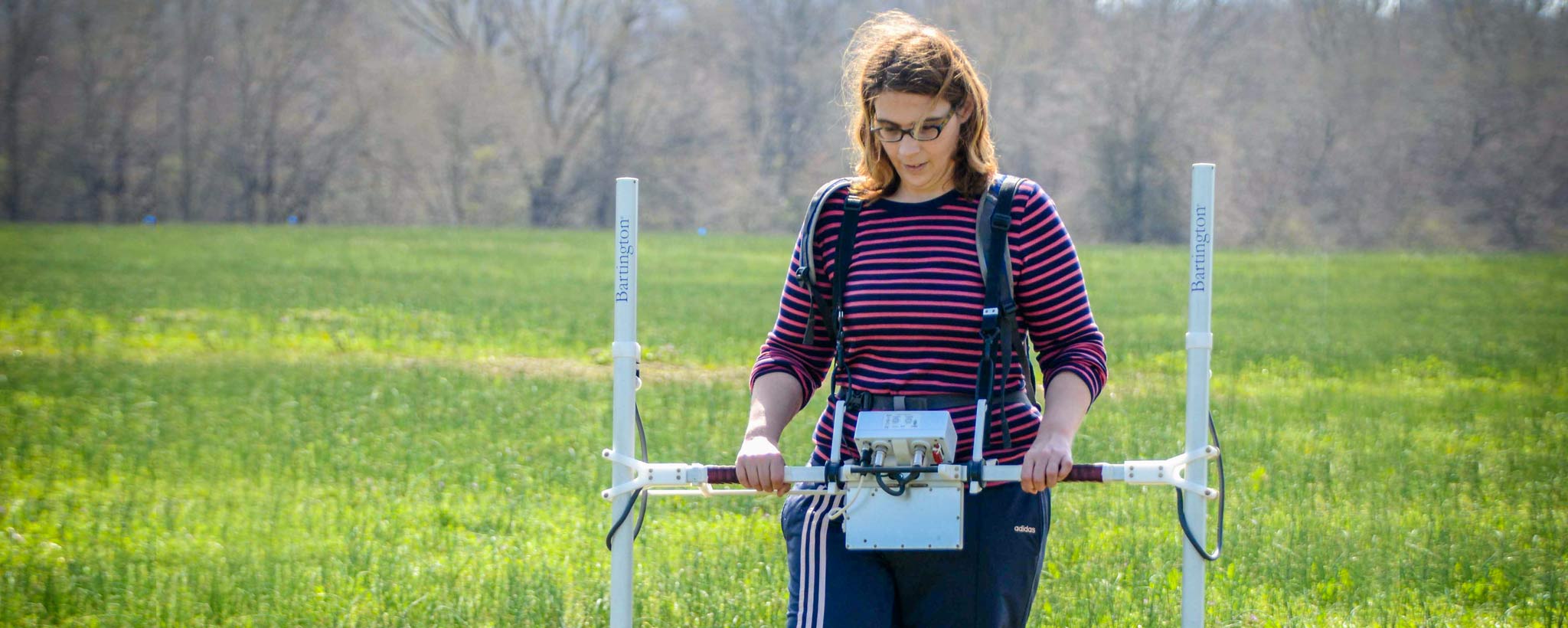 Modern Archaeology Was Shaped by Women
TVA archaeologist Michaelyn Harle (pictured above using a magnetometer, which maps spatial variations and contrast in the soil) was recently featured in the Tennessee Council for Professional Archaeology (TCPA) blog. Her article focused on the role women have played in shaping the modern study of archaeology. We sat down with her for a Q&A.
How did you get interested in the field of archaeology?
I grew up in Pennsylvania. When I was 13, my dad had a conference to attend in Greece, and my mom and I went with him. That trip started my obsession with archaeology.
Then when I was an undergrad at Indiana University of Pennsylvania, we did a "mound builders" trip all over the Southeast in which we studied Native American mounds. That's what led to my interest in this time period and part of the country. I started at TVA as a contractor and just loved it—TVA has some of the most significant sites in the Southeast. And I just never left.
What is it like to be a woman in your field?
I'm lucky because many trailblazers have come before me. I admire early female archaeologists such as Madeline Kneberg who made substantial contributions to the field back in the 1930s. She was somebody who changed the face of our understanding of Southeastern archaeology.
Back then, the excavations done by TVA and the Works Progress Administration uncovered millions of artifacts. Women were sometimes hired to help in the field, but you can see in old photographs that while men wore standard field clothes, women were still expected to wear dresses while they performed heavy labor.
For a long time, women were told that "women don't work in the field". Even now, you sometimes see a perception that women are the "lab people," staying indoors studying ceramics and so on, whereas men are supposed to be out running the field projects. But now look—we have five archaeologists here at TVA, and three are female! A lot of progress has been made.
What is your advice to a girl in high school considering going into this field?
I would say, get as much experience as possible. Don't be afraid to ask people, "Can I go with you?" "Can you be my mentor?" And don't be afraid to speak up, speak your opinion. I think many women were raised with the idea that females should be quiet, not hurt people's feelings, but in academia, if you don't speak your opinions you're going to be ignored.
Archaeology can be a tough field because especially in cultural resource management we're expected to travel a lot, and there's still the idea that women are the primary caregivers. People still say to me, "Isn't that great that your husband takes care of the kids? Isn't that so nice?" (laughs)
Work-life balance is something that women really struggle with anyway. I have two children of my own, so I'd say a supportive husband really helps. And I have two girls, so I want them to know that they can make any decision they want; they do not have to sacrifice their dreams for a personal life—they can have both. I want to show them that they can do and be whatever they want to do and be.
What are your thoughts about the future?
I have noticed a demographic shift where more women are going out to the field, and I think that's good because there's been more inclusion of female voices, and more inclusion of Native American voices, in the field. That has expanded the research done in archaeology because it was always so focused on what the men were doing in ancient times but now it's opened up. What were the women doing? And the study of children—what were their lives like?
Those new voices in the field have opened that up, and that's something that is really enriching for all of us.
​ ​
Share this story:
​