TVA Begins Prep Work for Construction at Pickwick
TVA is beginning exploratory work this week at Pickwick Landing Dam in preparation for upcoming construction to fortify the dam against potential impacts from a severe earthquake.
February 22, 2017—TVA is conducting exploratory drilling, clearing trees, operating barges, and other work on the reservoir and shoreline areas near Pickwick Landing Dam. The work will last for about two weeks and will be visible to travelers on State Route 128, which crosses the entire length of the dam. This initial work will not impact traffic; however, the installation of instruments in April and May will require some temporary lane closures. The dam will continue to operate on its regular schedule.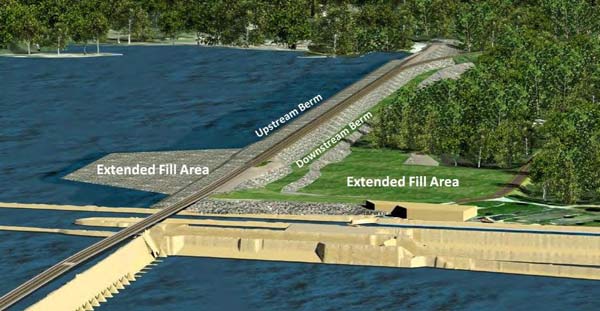 This exploratory work will provide important data for a major project to start later this year to help Pickwick Landing Dam withstand a major seismic event. That project will include upgrades to both the upstream and downstream sides of the dam's South earthen embankment. Berms will be constructed along the toe of each side of the embankment, and areas of extended fill will be placed in select locations.
Construction of the upgrades is planned to start this fall and end in late 2021. The project is not expected to change the operation of the reservoir—lake levels are expected to continue to follow the existing seasonal patterns. TVA issued a Final Environmental Assessment on Sept. 30, 2016, that proposes how the project will strengthen the dam's south embankment to lessen potential harm in case of a severe earthquake.
Pickwick is located near the New Madrid Fault Zone, which in 1811-12 experienced some of the most extreme earthquakes in American history. TVA continually monitors and evaluates the overall health of its 49 dams, including seismic stability. A 2014 analysis at Pickwick Landing showed that, in a large seismic event, the dam's South embankment has the potential for damage.
TVA's Dam Safety team took immediate action to mitigate the risks to the public downstream. TVA installed an early warning system to notify downstream residents in the unlikely event of an earthquake large enough to damage the dam's South earthen embankment. TVA also worked with local emergency management agencies, media, and other stakeholders to raise awareness of the alert system and educate the Pickwick community using informational materials, public meetings, and exhibits at local venues.
"We have a long history of operating our dams across the Valley, and they have performed well," says Bernie Auld, senior program manager, TVA Dam Safety. "Pickwick Landing Dam is a good operational dam, and our work here will stabilize the south embankment to meet dam safety criteria for an extreme seismic event."
​ ​
Share this story:
​