TVA Invests in Home Weatherization Program for Memphis
There's new hope for those with limited incomes coping with high power bills. Thanks to a unique partnership, more than 400 Memphis homeowners will get a life-changing home makeover.
MARCH 22, 2018—In an effort to develop an approach to sustainable limited income weatherization across the Valley, TVA is investing $1 million in the new Share the Pennies Weatherization Program. The program—sponsored by Memphis Light Gas and Water (MLGW) and the Metropolitan Inter-Faith Association (MIFA)—encourages local customers to assist with weatherizing homes for qualified limited-income residents by rounding their bill to the next-highest dollar amount.
Through this program, TVA's EnergyRight® Solutions Home Uplift team will partner with MLGW to weatherize about 400 homes in 18 months at no cost to the homeowner. The money from the Share the Pennies program will fund the first $4,000 for each home; TVA will fund up to approximately $8,000 of any remaining costs per home. To help continue this program, TVA is enlisting other organizations that can help weatherize even more residences.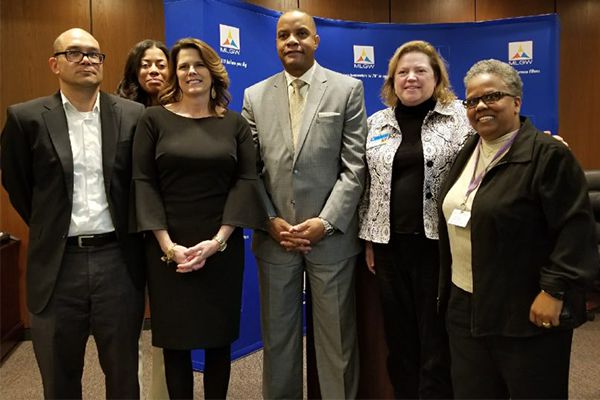 Pictured: Representatives from TVA, MLGW, and MIFA celebrate Share Your Pennies at the MLGW board meeting.
"TVA's support means an additional $1 million for the program, additional jobs in the community, and more improvements made to each home. As partners, our goal is to make this a sustainable program for the community," says J.T. Young, president and CEO, MLGW.
"Share the Pennies represents a great opportunity for TVA to partner with MLGW and community organizations to help limited income residents save money on their utility bills while making their homes healthier and more comfortable," says Cindy Herron, vice president of TVA EnergyRight® Solutions. "The additional funding doubles the amount of improvements each home will receive."
TVA and MLGW will be helping local citizens' homes receive energy upgrades that may include weatherization, air sealing, high-efficiency heat pumps, high-efficiency air conditioners, duct replacement/repairs, ENERGY STAR® windows, building envelope insulation, high efficiency lighting, crawl space and attic insulation, heat pump water heaters, ENERGY STAR® appliances and/or whole-house ventilation.
Many participants will be asked to be part of a phone study to determine if increased energy efficiency also improves comfort and health for residents of the home. Efforts to quantify non-energy benefits, especially health, will be used to help support existing and increased funding for limited-income weatherization.
The Home Uplift team is also supporting the City of Memphis' Weatherization Assistance Program (WAP) to weatherize approximately 90 homes by June 30, while preparing the City of Memphis to completely administer their program going forward.
Other Home Uplift FY18 initiatives include weatherization programs in Chattanooga, Knoxville and Nashville, Tennessee; Huntsville, Alabama; and Columbus, Mississippi.