TVA Is Committed to Protecting Human Health and the Environment
TVA is sharing results of new groundwater monitoring samples taken at its coal combustion residual (CCR) sites to identify areas for more study and possible action. Although this action is in response to requirements under the Environmental Protection Agency's CCR Rule, TVA has been transparent about its groundwater monitoring programs for years.
In 2015, the EPA issued its Disposal of Coal Combustion Residuals from Electric Utilities Rule, known as the CCR Rule, for the safe disposal of coal ash. The rule creates a comprehensive set of requirements and lays out a process—to be implemented over time—for monitoring, investigating and addressing any issues through corrective action.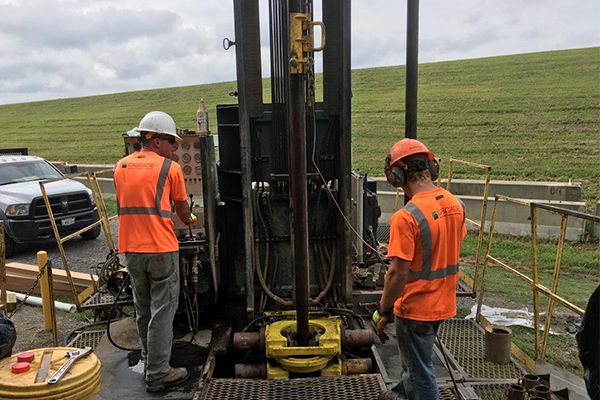 TVA's results, posted at tva.gov/ccr, contain about a year's worth of baseline information, as well as the statistical analysis from TVA's CCR Rule groundwater monitoring program. The data is similar to information TVA has been gathering for years and sending to state agencies for review. However, TVA gathered this most recent data from well networks enhanced to comply with the CCR Rule. The public web page also includes fact sheets and information specific to each site. These are not required by the CCR Rule, but they help explain work performed under the CCR Rule.
TVA's initial groundwater reports for the CCR Rule groundwater monitoring program indicate that some constituent levels, within property boundaries, may be higher than those found naturally in the surrounding groundwater. This does not mean that public drinking water is impacted or that a health risk exists. Public drinking water supplies are regularly tested to confirm they are meeting safe drinking water standards.
Surface Water Quality Is Healthy Around TVA Coal Plants
TVA's monitoring consistently shows that surface water quality is not being adversely impacted by TVA's operation of its coal plants, including ash management practices.
TVA has conducted decades of toxicity testing and ecological monitoring. None of this data indicates impacts to human health or the environment from coal ash storage at TVA sites. The biological population of fish and aquatic insects are abundant, diverse and healthy—all strong indicators of the health of the water.
TVA has a long history of monitoring water quality conditions in its reservoirs, as well as the streams and rivers that flow into them. TVA places great value in understanding and maintaining information on current and trending reservoir conditions.
Detailed Assessments Underway at Coal Plants to Ensure Continued Protection of Human Health and the Environment
Follow-up sampling and further investigations, as prescribed by the EPA's CCR Rule, are being conducted at TVA's coal plant sites to confirm that any exceedances over naturally-occurring conditions are not caused or contributed to by a laboratory error or a source other than CCR disposal units.
Any monitoring wells under the CCR Rule groundwater program with potential concerns are also being retested this year to learn more about the hydrology and geology beneath the CCR storage areas, as well as any other potential contributing sources. If necessary, TVA will augment the ongoing monitoring program in accordance with the CCR Rule for each site and work with the proper agencies to take appropriate action.
TVA Is Following EPA and State Regulatory Processes for Managing Coal Ash
In 2009, TVA launched a coal ash management program to convert coal combustion residuals from wet impoundments to dry systems (lined landfills). This conversion program provides for closure of all TVA wet coal ash handling units by 2022.
This process of moving to dry CCR storage will greatly reduce the possibility of impacts to groundwater. Many CCR impoundments have already been dried, closed and capped, and TVA expects to see downward trends in groundwater impacts at these closed units over time. Each site under the CCR Rule is also undergoing evaluation to choose the best method for closure.
TVA is committed to serving the people of the Tennessee Valley through its mission of providing low-cost reliable power, environmental stewardship and economic development. This commitment includes protecting human health, caring for the environment and complying with all applicable environmental regulations while safely managing coal ash at our plants.
​ ​
Share this story:
​